Triathlon News
The Cidade de Lugo Fluvial wins the Queen's Cup of Triathlon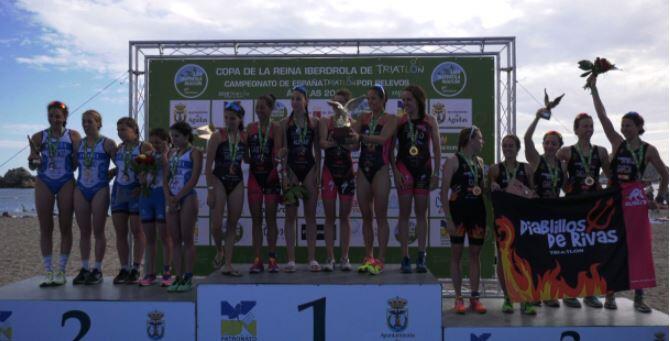 {wbamp-meta name = »image» url = »images / stories / news_08 / cidade-lugo-champion-copa-rey-reina-triatlon.JPG» width = »300 ″ height =» 150 ″}
The Galician of the Cidade de Lugo as winners with total authority. So the Cup stays in Galicia, since the title of 2017 was for the Ferrol Triathlon.
In the same way that it happened in the male test, the differences were based on the cycling segment, where the Fluvial triathletes signed an average of 38 km / h that allowed them to win with solvency, having also signed the best swimming and running races. In fact, their best time in the 750 meters of the first segment also allowed them to proclaim themselves winners of the Iberdrola Trophy.
With a very compact team formed by Sara Alemany, Saleta Castro, Sara Pérez, María Rico, Iria Rodríguez and Lucía Vergara, veteran and novice triathletes, the Galicians worked together like a clock and crossed the finish line with almost two minutes of advantage over your persecutors. That in this case were the previous winners, the Ferrol Triathlon, which competed in Águilas with the team formed by Melina Alonso, Morgan Branchoux, Ana Carvajal, Carmen Jiménez and Inés Santiago. The bronze medals were for the triathletes of the Rivas devils, who despite living a somewhat injured career achieved a meritorious bronze medal thanks to the efforts of its members (Mabel Gallardo Paula Garcia, Maeva Geyer, Ibone Sanchez and Xisca Tous) .
Open Women and School
The Open Women's race of the Copa de la Reina Iberdrola of Triathlon gave us a podium formed by three teams from Madrid, which won all the medals of this competition. The victory was for the members of CT Diablillos de Rivas (Raquel Benito, Irene Garcia, Marina Martinez and Eva Morales), the silver medals for the triathletes of CT Las Rozas (Bernaldez, Le Toulouzan, Llorens, Mariscal, Sánchez Alonso and Sánchez Sepúlveda) and the bronze ones for the AD Triathlon Ecosport Alcobendas (1: 22: 54).
The Championship of Time Trial for Teams in School Age was the test that opened the women's day in Águilas, with departures also in Open categories. And with the Galician of the Cidade de Lugo Fluvial getting the title of Champions of Spain, as later would their older companions. Carla Fernandez, Carla Guisande, Maria Eugenia Lopez, Myriam Lopez, Elsa Pena and Catarina Pereira were the ones who hung the gold medal. The silver was for the also Galician of the AD Náutico de Narón (Lorena Álvarez, Nerea García, Sara López, Noelia Serantes, Tabata Serrano and Andrea Trigo) while the bronze was for the Saltoki Trikideak components (Sofía Aparicio, Nerea Berasategui, Paula del Pozo, Irune Izaguirre, Aitana Moreno and Claudia Samitier).
FETRI