Three World Champions and five medals, balance of the Paratriarmada at the Abu Dhabi World Cup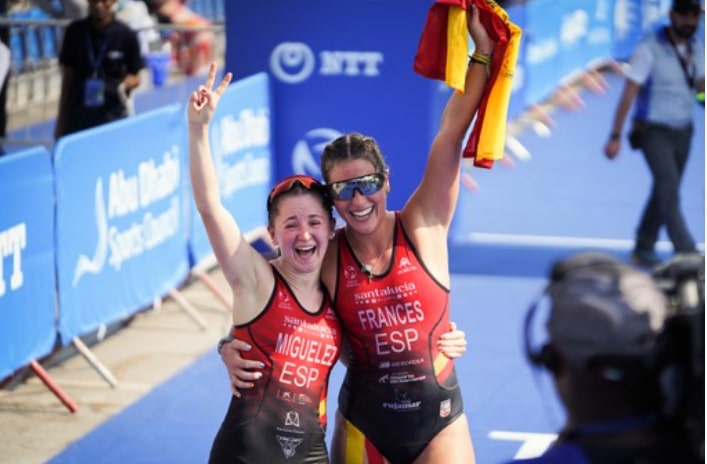 The Spanish Paratriarmada has kicked off today with the Paratriathlon World Championship which is taking place in Abu Dhabi.
Ours could not have done it on a better foot winning a total of 5 medals, 3 golds, a silver and a bronze,.
They have also placed second in the final medal table, only behind France (3 gold, 2 silver and one bronze) and ahead of the US (2 gold, 3 silver and 1 bronze medal).
Despite the fact that the races were held first thing in the morning at local time, the heat has hit the athletes hard, making the competitions even tougher than expected.
Even so, the Paratriarmada has achieved fantastic results as we are used to, headed by Susana Rodríguez y Dani Molina, achieving his umpteenth world titles in PTVI and PTS3,.
As well Andrea Miguelez, who has become PST4 World Champion after being World Champion last year in PTS3 (after this year's requalification).
In addition to the three golds for Susana, Dani and Andrea, they have also highlighted the runner-up in the world of the canary Lionel Morales after a great comeback on foot in the PTS2 class, and the bronze medal in the PTS4 category of Madrid Martha French after a beautiful fight with the North American paratriathlete who was finally 2nd.
As for the rest of the expedition, Héctor Catalá He has finished in 4th position in the PTVI category together with his new guide Carlos Oliver with whom he has barely been a month and entering the finish line 10 seconds from the medals.
The Madrilenian Eva Moral, after being a mother, has also had a great race with a good comeback in the third segment and finishing 6th in the PTWC category after returning to competitions.
In the PTS2 category Rakel Mateo she has suffered a lot in her career, the heat has affected her a lot in the run and she has finished in 5th position.
while last Jairo Ruíz y Kini Carrasco, In two categories with a high level and a lot of competition, they have finished in 10th and 9th places in PTS5 and PTS3 respectively.
Classifications World Championship – Paratriathlon Abu Dhabi 2022
PTVI – Female
1st Susana Rodríguez (Sara Loehr)
PTS3 – Male
1st Dani Molina
PTS4 – Female
1st Andrea Miguélez
3rd Marta French
PTS2 – Male
2º Lionel Morales
PTVI – Male
4th Hector Catala (Carlos Oliver)
PTS2 – Female
5ª Rakel Mateo
PTWC – Women
6th Moral Eve
PTS3 – Male
9nd Kini Carrasco
PTS5 – Male
10th Jairo Ruiz
On Friday and Saturday the turn of the elite
Tomorrow our Triarmada will enter the fray, and the competitions will be held over Olympic distance on a new circuit, outside the Formula 1 track normally used for the cycling sector, and with high heat and humidity conditions.
The Elite tests can be followed live through RTVEPlay at the following times:
ELITE WOMEN – FRIDAY 09:50
MALE ELITE – SATURDAY 11:50