Triathlon News
OF SPORT and Europa FM renew their agreement for 2015 by presenting the Europa FM Circuit by OF SPORT.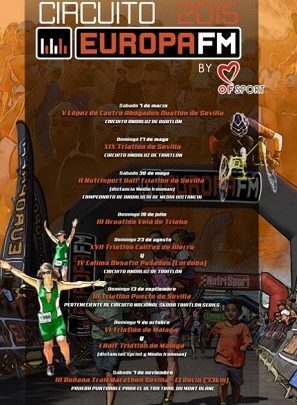 Once again, Europa FM becomes the official broadcaster of all the events organized by the OFSPORT organizing company.
In this sense, the bet of the Atresmedia Group is firm, trusting to take the brand to the top of the Spanish communication landscape.
A total of 10 tests will make up the circuit that will start the next 7 March with the Duatlón López de Castro Duathlon Lawyers of Seville
Saturday March 7: V López de Castro Lawyers Duathlon of Seville. CIRCUITO ANDALUZ DE DUATLÓN.
Sunday May 17: XIX Sato Sport Club Triathlon of Seville. TRIATHLON ANDALUZ CIRCUIT.
May 30 Saturday: VI Aquatics for Children Triathlon of Seville.
May 30 Saturday: II Nutrisport Half Triathlon of Seville (distance Half Ironman). CHAMPIONSHIP OF ANDALUCIA DE MEDIA DISTANCIA.
Sunday July 19: III Acuatlón Velá de Triana.
Sunday 23 August: XVII Califas de Hierro Triathlon and IV Calima Desafío Posadas (Córdoba). TRIATHLON ANDALUZ CIRCUIT.
September 13 Sunday: III Triathlon Port of Seville. BELONGING TO THE SKODA TRIATLÓN SERIES NATIONAL CIRCUIT.
Sunday October 4: VI Malaga Triathlon and I Half Triathlon of Malaga (sprint distances and Half Ironman).
Saturday November 7: III Doñana Trail Marathon Sevilla - El Rocio (73km). PROOF FOR THE ULTRA TRAIL DU MONT BLANC.
Further information: http://www.ofsport.es/
You may also be interested in this