The classification of the Spanish in the Club La Santa IRONMAN Lanzarote 2021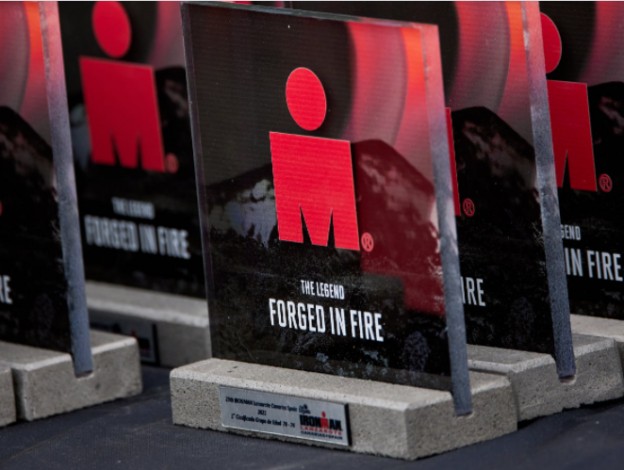 This past Saturday, July 3, the XXIX edition of the Club La Santa IRONMAN Lanzarote 2021, in a very special edition.
The victory in the test was for Andi Boecherer and Michelle Vesterby where the only Spaniard in the professional category has been Axel beci which finished in position 47 with a time of 10:38:43
256 Spanish finisher
In age groups finished the test 256 of the 300 Spaniards who competed, where many of them have obtained the Slot for the IRONMAN World Championship to be played in Hawaii in October.
The same day of the test the franchise decided to increase the number of slots from 44 to 100, being the IRONMAN Lanzarote one of the tests where more Spaniards have qualified.
This is the list of the age groups and the position they got in the competition.
Classification of Spanish age groups
| | | | | | | | | | |
| --- | --- | --- | --- | --- | --- | --- | --- | --- | --- |
| Place | Bib | Name | GGEE | Swim | T1 | bike | T2 | Run | Finish |
| 1 | 78 | Lucia Blanco Arriola | Female 45-49 | 1:20:56 | 06:00 | 6:25:00 | 04:03 | 3:31:42 | 11:27:39 |
| 1 | 70 | Junior Curbelo Barrios | Male 70-74 | 1:20:36 | 06:18 | 6:42:57 | 06:32 | 4:28:26 | 12:44:47 |
| 2 | 315 | Monica Falgueras-Velazquez | Female 40-44 | 1:17:09 | 04:20 | 7:10:50 | 04:14 | 4:08:28 | 12:44:59 |
| 2 | 71 | Tony Franco Salas | Male 70-74 | 1:48:08 | 11:38 | 8:47:14 | 10:43 | 5:18:19 | 16:16:00 |
| 3 | 409 | Gonzalo Escriva | Male 18-24 | 1:07:39 | 04:18 | 6:21:10 | 07:13 | 3:43:57 | 11:24:15 |
| 3 | 702 | Ricardo Rey Martinez placeholder image | Male 45-49 | 1:00:17 | 03:30 | 5:43:16 | 03:27 | 3:16:58 | 10:07:26 |
| 3 | 949 | Jose Maria Pardo Gimeno | Male 65-69 | 1:32:25 | 08:20 | 8:27:49 | 10:32 | 4:21:48 | 14:40:51 |
| 4 | 413 | Juan Padilla Muelas | Male 18-24 | 59:55 | 06:22 | 6:15:54 | 04:30 | 4:07:30 | 11:34:10 |
| 4 | 100 | Jose Arranz | Male 35-39 | 1:03:27 | 04:26 | 5:29:35 | 03:14 | 3:05:25 | 9:46:04 |
| 5 | 341 | Sergio Nephew Sierra | Male 40-44 | 59:52 | 04:47 | 5:44:15 | 03:17 | 3:14:42 | 10:06:52 |
| 6 | 318 | Patricia Serrano | Female 35-39 | 1:29:33 | 06:07 | 7:52:14 | 05:55 | 3:23:01 | 12:56:48 |
| 6 | 408 | Eñaut Galarraga Cenzano | Male 18-24 | 1:06:14 | 05:32 | 6:27:32 | 04:48 | 3:59:31 | 11:43:35 |
| 6 | 438 | Christian Villazala Carton | Male 25-29 | 1:08:12 | 05:22 | 5:59:56 | 04:49 | 3:15:06 | 10:33:23 |
| 7 | 382 | Ana Padron Armas | Female 40-44 | 1:24:16 | 09:27 | 8:21:28 | 09:21 | 4:38:37 | 14:43:09 |
| 7 | 388 | Sara Gozalo Barquilla | Female 45-49 | 1:18:09 | 05:38 | 7:12:28 | 04:22 | 4:40:13 | 13:20:47 |
| 7 | 398 | Jacky Camos Wiewel | Female 50-54 | 1:44:42 | 10:07 | 8:32:36 | 09:05 | 5:03:38 | 15:40:06 |
| 7 | 267 | Jorge Madera Falcon | Male 30-34 | 1:06:04 | 03:54 | 5:48:04 | 03:05 | 3:00:48 | 10:01:53 |
| 7 | 937 | Julian Sanchez Sal | Male 60-64 | 1:32:58 | 06:42 | 8:06:56 | 04:40 | 4:35:09 | 14:26:22 |
| 8 | 360 | Jennifer Lewinski Lopez | Female 30-34 | 1:44:59 | 07:33 | 7:47:51 | 06:22 | 4:09:03 | 13:55:45 |
| 8 | 367 | Guacimara Suarez Medina | Female 35-39 | 1:24:20 | 13:44 | 8:25:45 | 07:50 | 4:26:59 | 14:38:37 |
| 8 | 412 | Alvaro Fernandez Gil | Male 18-24 | 1:24:04 | 09:11 | 7:14:14 | 07:34 | 3:48:02 | 12:43:03 |
| 8 | 433 | Dimas Gonzalez Dominguez | Male 25-29 | 58:34 | 04:06 | 5:56:53 | 04:24 | 4:17:51 | 11:21:46 |
| 8 | 744 | Marco Antonio Santana Perera | Male 45-49 | 1:00:26 | 05:06 | 5:57:01 | 04:45 | 3:19:57 | 10:27:13 |
| 9 | 373 | Juana Jesus Espino Diaz | Female 35-39 | 1:29:24 | 13:59 | 8:55:53 | 13:23 | 5:40:24 | 16:33:00 |
| 9 | 383 | Maria Puig-Cid | Female 40-44 | 1:17:55 | 08:57 | 8:54:38 | 09:09 | 4:41:22 | 15:12:00 |
| 9 | 234 | Xavier Serrano | Male 50-54 | 1:18:22 | 07:04 | 6:06:28 | 04:58 | 3:19:06 | 10:55:56 |
| 10 | 957 | Ana Lopez de San Roman Blanco | Female 45-49 | 1:15:18 | 06:10 | 8:09:14 | 04:37 | 4:43:33 | 14:18:51 |
| 10 | 135 | Fernando Barahona de Andres | Male 50-54 | 1:13:04 | 04:33 | 6:16:41 | 04:31 | 3:20:43 | 10:59:29 |
| 11 | 378 | Maria del mar rodriguez leon | Female 40-44 | 1:27:51 | 07:40 | 7:22:44 | 06:41 | 6:22:41 | 15:27:35 |
| 11 | 431 | Aritz Cayon Ruiz | Male 25-29 | 1:08:09 | 05:19 | 6:36:35 | 03:10 | 3:53:54 | 11:47:04 |
| 11 | 466 | Jose Fernandez Maestre | Male 30-34 | 1:31:37 | 07:10 | 5:32:22 | 04:00 | 3:08:48 | 10:23:55 |
| 11 | 186 | Manuel Jesus Sanchez Gavilan | Male 35-39 | 1:02:43 | 04:42 | 5:44:26 | 03:45 | 3:23:45 | 10:19:20 |
| 11 | 693 | Antonio Jose Perez Narciso | Male 40-44 | 1:03:20 | 04:55 | 5:47:35 | 04:34 | 3:22:22 | 10:22:45 |
| 11 | 853 | David dams | Male 50-54 | 58:55 | 04:52 | 6:10:45 | 04:59 | 3:47:04 | 11:06:32 |
| 12 | 522 | Ivan Pereira-Iglesias | Male 35-39 | 1:14:23 | 04:35 | 5:40:30 | 04:36 | 3:16:31 | 10:20:33 |
| 12 | 124 | David toro | Male 45-49 | 1:12:20 | 03:51 | 5:56:54 | 03:27 | 3:17:07 | 10:33:37 |
| 13 | 429 | Javier Jimenez Jimenez | Male 25-29 | 1:21:12 | 09:17 | 6:46:33 | 07:47 | 4:19:06 | 12:43:52 |
| 13 | 652 | Nacho Cabal Garcia placeholder image | Male 40-44 | 1:08:40 | 04:55 | 6:04:39 | 03:52 | 3:04:53 | 10:26:56 |
| 13 | 300 | Oscar Rosingana Knight | Male 45-49 | 1:08:58 | 04:40 | 6:11:55 | 03:22 | 3:08:50 | 10:37:43 |
| 14 | 199 | Andres Gomez Junquera | Male 40-44 | 1:15:10 | 05:17 | 5:56:37 | 03:33 | 3:12:13 | 10:32:47 |
| 15 | 447 | Adam Arocha Rodríguez | Male 30-34 | 1:14:19 | 04:08 | 5:56:38 | 03:33 | 3:22:57 | 10:41:34 |
| 15 | 612 | Javier Martin Martin | Male 40-44 | 1:04:23 | 05:09 | 5:51:15 | 04:02 | 3:31:49 | 10:36:36 |
| 15 | 769 | Perdomo Cabrera Antonio Alexy | Male 45-49 | 1:08:19 | 04:54 | 6:13:09 | 06:26 | 3:08:29 | 10:41:15 |
| 16 | 452 | Senen Tarancon Perez | Male 30-34 | 1:10:15 | 03:30 | 5:58:09 | 03:43 | 3:28:10 | 10:43:46 |
| 16 | 278 | Juan Jose Foulquie Padilla | Male 35-39 | 1:20:59 | 03:41 | 5:55:02 | 02:57 | 3:09:38 | 10:32:16 |
| 16 | 279 | Luis Miguel Ruiz Perez | Male 40-44 | 1:08:53 | 04:21 | 6:01:00 | 02:45 | 3:20:35 | 10:37:33 |
| 16 | 858 | Fran Blazquez Hernandez | Male 50-54 | 1:21:23 | 10:50 | 6:38:58 | 06:17 | 3:26:41 | 11:44:07 |
| 17 | 427 | David Sanchez Urbano | Male 25-29 | 1:10:15 | 06:22 | 6:42:59 | 06:45 | 5:07:18 | 13:13:37 |
| 17 | 782 | Jacinto Manuel Fernandez Rojas | Male 45-49 | 1:06:49 | 04:29 | 6:04:35 | 03:32 | 3:32:53 | 10:52:17 |
| 17 | 866 | Sergio Hernandez Benitez | Male 50-54 | 1:17:17 | 04:51 | 6:35:23 | 04:39 | 3:43:39 | 11:45:47 |
| 18 | 425 | Sergio Sanchez Aranda | Male 25-29 | 1:12:19 | 07:34 | 6:26:08 | 06:52 | 5:36:02 | 13:28:53 |
| 18 | 742 | Juan Francisco Serrano-Navarro | Male 45-49 | 1:06:32 | 05:37 | 6:19:05 | 02:49 | 3:19:19 | 10:53:20 |
| 18 | 841 | Antonio Roldan Dominguez | Male 50-54 | 1:13:28 | 06:04 | 6:40:20 | 05:56 | 3:41:24 | 11:47:10 |
| 19 | 465 | Just Ibanez Bismarck | Male 30-34 | 1:17:45 | 06:21 | 5:53:40 | 04:34 | 3:31:44 | 10:54:02 |
| 19 | 562 | Ignacio Gargallo Redón | Male 35-39 | 1:05:34 | 06:26 | 6:05:31 | 09:24 | 3:30:22 | 10:57:16 |
| 19 | 242 | emilio rodriguez barber | Male 55-59 | 1:43:55 | 08:01 | 7:27:40 | 05:49 | 4:13:42 | 13:39:04 |
| 20 | 641 | Antonio Escobar of The Church | Male 40-44 | 1:03:20 | 04:13 | 6:11:22 | 06:24 | 3:23:13 | 10:48:31 |
| 21 | 174 | Inaki Aranzabal | Male 30-34 | 1:08:49 | 07:17 | 6:01:20 | 05:40 | 3:49:19 | 11:12:22 |
| 21 | 123 | Jose Maria Camacho Fernandez placeholder image | Male 45-49 | 1:18:01 | 06:25 | 5:50:52 | 04:27 | 3:37:10 | 10:56:53 |
| 22 | 338 | Nicholas Dominguez Garcia | Male 35-39 | 1:03:49 | 04:51 | 6:07:37 | 10:00 | 3:45:21 | 11:11:37 |
| 22 | 205 | Alvaro Gil Gil | Male 40-44 | 1:06:35 | 05:06 | 6:15:18 | 04:51 | 3:19:59 | 10:51:47 |
| 22 | 237 | Demetrius Gonzalez | Male 50-54 | 1:16:12 | 04:52 | 6:40:52 | 04:54 | 3:50:30 | 11:57:18 |
| 22 | 904 | Manuel Santos Montiano | Male 55-59 | 1:16:25 | 08:19 | 8:06:04 | 07:12 | 4:14:27 | 13:52:25 |
| 23 | 264 | Kevin Aguilar Salamanca | Male 25-29 | 1:41:14 | 09:52 | 8:33:34 | 11:42 | 4:54:23 | 15:30:44 |
| 23 | 546 | Jose Antonio Martinez Sanchez | Male 35-39 | 1:08:35 | 04:47 | 6:17:03 | 03:43 | 3:39:48 | 11:13:54 |
| 23 | 289 | Garikoitz Arregi Ormazabal | Male 40-44 | 1:10:32 | 06:09 | 6:14:18 | 03:42 | 3:19:54 | 10:54:32 |
| 23 | 209 | Cesar Borges Alvarez | Male 45-49 | 1:07:08 | 04:35 | 6:26:00 | 03:43 | 3:17:43 | 10:59:07 |
| 24 | 783 | Fernando Francis Rodriguez | Male 45-49 | 1:00:19 | 04:23 | 5:52:37 | 04:20 | 4:01:47 | 11:03:24 |
| 25 | 530 | Daniel Soriano Gomez | Male 35-39 | 1:07:14 | 06:03 | 6:11:05 | 04:58 | 3:48:48 | 11:18:06 |
| 25 | 101 | Carlos Vives Gaseni | Male 40-44 | 1:05:39 | 03:11 | 5:54:18 | 04:43 | 3:48:59 | 10:56:48 |
| 25 | 847 | Miguel Cabrera Fdez | Male 50-54 | 1:19:35 | 04:51 | 5:57:16 | 03:09 | 4:43:29 | 12:08:18 |
| 26 | 179 | Jaime Martin Garces | Male 30-34 | 1:14:08 | 06:44 | 6:26:20 | 06:16 | 3:36:44 | 11:30:10 |
| 27 | 477 | Samuel Rodriguez Sánchez | Male 30-34 | 1:10:07 | 07:39 | 6:06:45 | 06:29 | 4:01:25 | 11:32:23 |
| 27 | 843 | Miguel Escribano Giraldo | Male 50-54 | 1:19:33 | 09:16 | 6:45:36 | 05:41 | 3:56:44 | 12:16:49 |
| 27 | 931 | Jose Antonio Grau Juan | Male 55-59 | 1:25:22 | 12:40 | 8:04:49 | 09:22 | 4:46:31 | 14:38:42 |
| 28 | 483 | zeus lopez perez | Male 30-34 | 1:06:20 | 04:18 | 6:21:00 | 05:59 | 4:09:10 | 11:46:44 |
| 28 | 553 | Nicolas Braojos placeholder image | Male 35-39 | 1:08:13 | 05:21 | 6:12:01 | 03:32 | 3:58:48 | 11:27:53 |
| 28 | 296 | Rodrigo Rocha Sarmiento | Male 45-49 | 1:11:35 | 04:08 | 6:34:24 | 03:50 | 3:19:04 | 11:12:59 |
| 29 | 520 | Santana Pelegr¡n Carlos Juan | Male 35-39 | 1:29:54 | 05:22 | 6:27:13 | 06:11 | 3:29:26 | 11:38:03 |
| 29 | 688 | Jesus Santamaria Calleja | Male 40-44 | 1:15:50 | 06:28 | 6:11:09 | 03:56 | 3:31:35 | 11:08:56 |
| 29 | 911 | Pablo Garces Llorente | Male 55-59 | 1:29:14 | 09:27 | 8:25:37 | 04:39 | 4:38:53 | 14:47:49 |
| 30 | 629 | Francisco Montoro-Escano | Male 40-44 | 1:05:51 | 05:05 | 5:58:45 | 04:19 | 3:57:46 | 11:11:44 |
| 30 | 302 | Moises Hernandez Ramirez | Male 45-49 | 1:14:36 | 04:57 | 6:23:46 | 05:02 | 3:30:16 | 11:18:34 |
| 31 | 491 | Adrian Santana Molina | Male 35-39 | 1:14:47 | 06:03 | 6:26:51 | 06:17 | 3:47:49 | 11:41:46 |
| 31 | 632 | David Valdivielso Piqueras | Male 40-44 | 1:15:28 | 05:08 | 6:21:37 | 04:50 | 3:25:10 | 11:12:10 |
| 31 | 800 | Ibon Iriondo Goenaga | Male 45-49 | 1:23:07 | 07:45 | 5:59:15 | 04:41 | 3:44:40 | 11:19:27 |
| 32 | 568 | Jose Angel Gonzalez Concepcion placeholder image | Male 35-39 | 1:12:07 | 04:35 | 6:13:19 | 03:13 | 4:17:00 | 11:50:12 |
| 32 | 282 | Ruben Almendro Enrique | Male 40-44 | 1:11:45 | 05:27 | 6:24:28 | 05:25 | 3:26:03 | 11:13:06 |
| 32 | 860 | Toni Hernandez Hernandez | Male 50-54 | 1:19:33 | 06:37 | 6:46:34 | 07:53 | 4:22:20 | 12:42:55 |
| 33 | 175 | Ruben Espinosa Gil | Male 30-34 | 1:11:51 | 05:24 | 6:36:12 | 03:49 | 4:06:51 | 12:04:04 |
| 34 | 219 | Alberto Velasco Rozada | Male 45-49 | 1:07:29 | 04:29 | 6:18:31 | 04:05 | 3:56:43 | 11:31:15 |
| 35 | 212 | Daniel Hervas Rubio | Male 45-49 | 1:09:02 | 04:49 | 6:19:04 | 04:59 | 3:56:05 | 11:33:57 |
| 36 | 498 | Sebensui Martin Rodriguez | Male 30-34 | 1:09:21 | 07:16 | 6:41:40 | 06:02 | 4:08:27 | 12:12:45 |
| 36 | 554 | Antonio Zamorano Diaz | Male 35-39 | 1:20:52 | 06:20 | 7:02:48 | 04:31 | 3:32:39 | 12:07:09 |
| 36 | 706 | Moises Gutierrez Gonzalez placeholder image | Male 45-49 | 1:12:55 | 05:33 | 6:01:52 | 04:48 | 4:10:10 | 11:35:16 |
| 36 | 235 | Ruben Jimenez de Armas | Male 50-54 | 1:08:46 | 06:37 | 6:45:09 | 08:18 | 4:45:57 | 12:54:45 |
| 37 | 439 | Francisco Javier Caraballo Robayna | Male 30-34 | 1:11:05 | 08:10 | 6:41:18 | 05:48 | 4:12:04 | 12:18:23 |
| 37 | 539 | Luis Del Rosal Serrano | Male 35-39 | 1:13:17 | 04:48 | 6:52:07 | 07:49 | 3:51:38 | 12:09:37 |
| 37 | 798 | Santiago Palace Fernandez | Male 45-49 | 1:14:24 | 06:33 | 6:45:30 | 05:27 | 3:27:48 | 11:39:40 |
| 37 | 927 | Carmelo Ruiz-Sanchez | Male 55-59 | 1:19:46 | 13:01 | 9:12:31 | 07:22 | 5:12:10 | 16:04:48 |
| 38 | 472 | Pedro Javier Ramos Village | Male 30-34 | 1:14:51 | 07:01 | 6:55:22 | 06:53 | 3:56:24 | 12:20:29 |
| 38 | 607 | Antonio Hedesa Gomez | Male 40-44 | 58:59 | 03:51 | 6:27:56 | 04:17 | 3:53:13 | 11:28:15 |
| 38 | 226 | Sergio Rodriguez Páez | Male 45-49 | 1:13:26 | 04:26 | 6:27:42 | 05:08 | 3:51:36 | 11:42:15 |
| 39 | 118 | Rafael Angel Carralero Garcia | Male 40-44 | 1:03:13 | 04:16 | 6:15:54 | 04:33 | 4:01:07 | 11:29:00 |
| 39 | 905 | Juan Luis Afonso Martin | Male 55-59 | 1:28:52 | 11:10 | 8:28:58 | 09:33 | 6:07:44 | 16:26:16 |
| 40 | 556 | Antonio Damian Atienza Gil | Male 35-39 | 1:26:14 | 06:19 | 6:39:19 | 05:59 | 4:04:33 | 12:22:22 |
| 41 | 577 | Josep Maria Sanz Liebana | Male 35-39 | 1:19:58 | 14:22 | 6:36:18 | 10:40 | 4:01:20 | 12:22:36 |
| 41 | 671 | Michael Alvarez Leal | Male 40-44 | 1:09:43 | 06:23 | 6:28:22 | 05:21 | 3:42:55 | 11:32:42 |
| 42 | 531 | Juan Galera Perez | Male 35-39 | 1:11:31 | 06:38 | 7:01:49 | 05:20 | 4:00:55 | 12:26:10 |
| 42 | 634 | Ivan Diaz Chacon | Male 40-44 | 1:09:09 | 07:51 | 6:26:18 | 04:16 | 3:48:00 | 11:35:31 |
| 42 | 839 | Mark Aguilar Benito | Male 50-54 | 1:28:43 | 08:06 | 7:48:17 | 06:39 | 3:51:23 | 13:23:07 |
| 43 | 541 | Sergio Rivera Medina | Male 35-39 | 1:11:31 | 06:50 | 7:16:13 | 05:25 | 3:48:13 | 12:28:09 |
| 44 | 557 | David Baldovi Orti | Male 35-39 | 1:16:50 | 05:45 | 6:51:54 | 05:45 | 4:13:18 | 12:33:30 |
| 44 | 719 | Ivan Rodriguez Martin | Male 45-49 | 1:04:48 | 04:17 | 6:14:27 | 04:47 | 4:28:19 | 11:56:36 |
| 45 | 524 | Giovani Garcia Estévez | Male 35-39 | 1:28:32 | 08:28 | 7:00:36 | 06:29 | 4:01:18 | 12:45:21 |
| 45 | 781 | Clemente Sanchez Garcia | Male 45-49 | 1:23:24 | 05:34 | 6:31:13 | 04:18 | 3:52:14 | 11:56:41 |
| 46 | 131 | Antonio Gomez Gonzalez placeholder image | Male 45-49 | 1:15:56 | 05:34 | 7:05:00 | 04:35 | 3:25:50 | 11:56:53 |
| 47 | 493 | Javier Lopez Castrillo placeholder image | Male 30-34 | 1:16:18 | 09:33 | 7:23:41 | 07:21 | 4:29:22 | 13:26:13 |
| 47 | 859 | Alexander Dominguez Gonzalez | Male 50-54 | 1:14:21 | 09:28 | 7:46:17 | 08:35 | 4:24:47 | 13:43:26 |
| 48 | 458 | Angel F Zafra Herrera | Male 30-34 | 1:20:24 | 10:11 | 7:22:24 | 08:12 | 4:30:08 | 13:31:17 |
| 48 | 544 | Carlos Martin Canales | Male 35-39 | 1:13:53 | 12:36 | 7:22:08 | 08:40 | 3:55:04 | 12:52:18 |
| 48 | 615 | Joseph Romero Batista | Male 40-44 | 1:16:52 | 09:29 | 6:17:40 | 05:16 | 4:02:59 | 11:52:13 |
| 48 | 848 | Luis Barbel Fernandez | Male 50-54 | 1:13:32 | 06:49 | 7:07:13 | 08:52 | 5:09:06 | 13:45:30 |
| 50 | 533 | Fernando Sainz from La Maza Llano | Male 35-39 | 1:58:59 | 06:07 | 6:14:28 | 04:31 | 4:36:22 | 13:00:25 |
| 50 | 889 | Teodoro Gonzalez Perez | Male 50-54 | 1:24:34 | 12:21 | 7:45:12 | 07:05 | 4:25:24 | 13:54:34 |
| 51 | 538 | Christ Socorro Artiles | Male 35-39 | 1:09:23 | 04:52 | 7:05:50 | 05:51 | 4:35:19 | 13:01:14 |
| 51 | 669 | Roman Jesus Perez Quintana | Male 40-44 | 1:18:09 | 07:28 | 6:43:44 | 04:57 | 3:52:38 | 12:06:54 |
| 51 | 763 | Luis Miguel Fernandez Calleja | Male 45-49 | 1:27:32 | 08:02 | 6:37:01 | 07:12 | 3:49:04 | 12:08:50 |
| 52 | 547 | Carlos Jesko from Astica Cranz | Male 35-39 | 1:23:04 | 09:54 | 7:25:40 | 05:40 | 3:57:15 | 13:01:30 |
| 52 | 672 | Jose Fernandez Pinto placeholder image | Male 40-44 | 1:17:23 | 06:57 | 6:41:37 | 05:42 | 3:58:48 | 12:10:25 |
| 52 | 791 | Jose Maria Coronilla Rincon | Male 45-49 | 1:19:34 | 08:36 | 7:09:36 | 07:15 | 3:29:09 | 12:14:09 |
| 53 | 462 | Juan Antonio Garcia Lax | Male 30-34 | 1:19:13 | 11:31 | 7:29:23 | 08:44 | 4:31:33 | 13:40:21 |
| 53 | 579 | David tabares | Male 35-39 | 1:15:56 | 05:32 | 7:14:02 | 05:47 | 4:27:59 | 13:09:15 |
| 53 | 288 | Vicente Roig Riera | Male 40-44 | 1:14:41 | 06:58 | 6:31:50 | 07:49 | 4:09:12 | 12:10:29 |
| 53 | 874 | Rafael Amazares Stew | Male 50-54 | 1:24:29 | 09:48 | 8:10:28 | 06:57 | 4:18:23 | 14:10:04 |
| 54 | 479 | Michael Barragan Seville | Male 30-34 | 1:58:10 | 14:20 | 7:16:40 | 10:02 | 4:13:18 | 13:52:28 |
| 54 | 703 | Carlos Alavedra Cayuela | Male 40-44 | 1:21:04 | 09:33 | 6:40:51 | 06:41 | 3:52:36 | 12:10:44 |
| 54 | 292 | Inigo Garcia Zabala | Male 45-49 | 1:02:49 | 04:09 | 6:54:29 | 06:37 | 4:07:08 | 12:15:10 |
| 54 | 834 | Daniel Lazaro Moya | Male 50-54 | 1:17:44 | 12:19 | 7:49:47 | 09:32 | 4:53:05 | 14:22:25 |
| 55 | 494 | Luis Alfonso Soria Moya | Male 30-34 | 1:28:03 | 10:45 | 7:45:56 | 11:39 | 4:26:35 | 14:02:55 |
| 55 | 550 | Horacio Jose Varona Morato | Male 35-39 | 1:31:02 | 10:32 | 7:16:31 | 08:59 | 4:13:04 | 13:20:06 |
| 55 | 746 | Jose M Martinez Vicente | Male 45-49 | 1:09:38 | 05:00 | 6:47:43 | 05:17 | 4:08:39 | 12:16:15 |
| 56 | 571 | Evelio Roche-Garcia | Male 35-39 | 1:22:17 | 05:40 | 7:28:19 | 07:59 | 4:19:01 | 13:23:14 |
| 56 | 735 | Agustin Anguita Hinojosa | Male 45-49 | 1:35:23 | 07:20 | 6:20:06 | 05:32 | 4:12:46 | 12:21:06 |
| 57 | 488 | Joaquin Yetano Garces | Male 35-39 | 1:15:36 | 18:42 | 7:39:10 | 15:33 | 4:02:08 | 13:31:07 |
| 57 | 657 | Francisco Jimenez Mendez | Male 40-44 | 1:05:56 | 09:58 | 6:59:04 | 10:38 | 3:46:10 | 12:11:44 |
| 57 | 754 | Marcos Llorente Lecen | Male 45-49 | 1:08:46 | 06:13 | 6:41:16 | 04:37 | 4:26:04 | 12:26:53 |
| 58 | 474 | Manuel Fernandez Maldonado | Male 30-34 | 1:18:06 | 07:24 | 8:02:04 | 09:45 | 5:18:39 | 14:55:55 |
| 58 | 601 | Carlos Francisco Afonso Del Rosario | Male 40-44 | 1:23:52 | 05:56 | 6:53:04 | 06:13 | 3:44:27 | 12:13:30 |
| 59 | 490 | Joan Sellas Boquet | Male 30-34 | 1:11:21 | 10:58 | 8:31:19 | 13:19 | 4:51:13 | 14:58:09 |
| 59 | 651 | Juan Jose Ruiz Acevedo | Male 40-44 | 1:18:18 | 09:02 | 6:49:00 | 07:20 | 3:51:25 | 12:15:03 |
| 59 | 814 | Javier Viseda Valle | Male 45-49 | 1:25:35 | 10:50 | 6:51:35 | 05:39 | 3:56:33 | 12:30:10 |
| 60 | 844 | Jose Carlos Martin Diaz | Male 50-54 | 1:29:16 | 14:15 | 8:16:08 | 10:02 | 4:36:59 | 14:46:38 |
| 61 | 528 | Tanausu Rangel Toledo | Male 35-39 | 1:11:52 | 06:12 | 7:25:15 | 11:20 | 4:51:23 | 13:46:00 |
| 62 | 473 | Pablo Herrera Gascón | Male 30-34 | 1:29:48 | 11:07 | 7:37:55 | 08:25 | 5:45:18 | 15:12:31 |
| 62 | 519 | Alex Narea Sanchez | Male 35-39 | 1:27:23 | 08:30 | 7:19:58 | 07:11 | 4:48:07 | 13:51:07 |
| 62 | 725 | Rafael Jesus Caro Gonzalez | Male 45-49 | 1:18:17 | 09:00 | 6:49:16 | 07:07 | 4:14:40 | 12:38:18 |
| 63 | 485 | Aitor Flores Montelongo | Male 30-34 | 1:26:58 | 07:41 | 7:46:57 | 07:48 | 6:04:00 | 15:33:23 |
| 64 | 542 | Miguel Angel Gil Conde | Male 35-39 | 1:28:52 | 15:44 | 7:49:38 | 08:13 | 4:14:26 | 13:56:51 |
| 64 | 647 | Pedro Romero Fernandez | Male 40-44 | 1:10:43 | 06:22 | 7:02:01 | 07:24 | 3:52:15 | 12:18:42 |
| 65 | 854 | john garcia perez | Male 50-54 | 1:20:20 | 10:04 | 8:02:23 | 09:54 | 5:16:36 | 14:59:15 |
| 66 | 287 | Jonathan Jesus Rodriguez Duarte | Male 40-44 | 1:14:57 | 07:43 | 6:55:23 | 04:46 | 3:56:54 | 12:19:41 |
| 67 | 516 | Eduardo Mendez Mesa | Male 35-39 | 1:22:17 | 07:22 | 6:42:05 | 05:17 | 5:48:32 | 14:05:31 |
| 67 | 644 | Jorge Montoro Seat | Male 40-44 | 1:03:25 | 04:38 | 6:47:39 | 04:22 | 4:21:09 | 12:21:12 |
| 68 | 699 | Jose Manuel Ortega Muñoz | Male 45-49 | 1:11:03 | 05:30 | 6:59:30 | 05:57 | 4:27:33 | 12:49:31 |
| 68 | 813 | Andres Gomez Marrero | Male 50-54 | 1:27:47 | 07:47 | 7:50:13 | 06:14 | 5:47:49 | 15:19:50 |
| 69 | 566 | Juan Jose Jimenez Benavent | Male 35-39 | 1:40:43 | 08:02 | 8:11:49 | 08:17 | 4:05:24 | 14:14:12 |
| 70 | 673 | Antonio Jesus Atienza Doncel | Male 40-44 | 1:44:32 | 10:50 | 6:56:39 | 07:30 | 3:26:18 | 12:25:46 |
| 70 | 861 | Jose Diego Parrado Sojo | Male 50-54 | 1:42:41 | 09:04 | 8:29:12 | 07:28 | 4:57:19 | 15:25:42 |
| 71 | 517 | Primitivo Rovira Sanjuan | Male 35-39 | 1:34:01 | 16:24 | 7:26:00 | 12:02 | 4:48:11 | 14:16:36 |
| 71 | 794 | Alberto Andres Vilches Galan | Male 45-49 | 1:21:39 | 09:59 | 7:13:03 | 06:44 | 4:02:40 | 12:54:04 |
| 71 | 876 | Fernando Gallego Commanded | Male 50-54 | 2:07:25 | 14:01 | 8:31:27 | 12:59 | 4:27:37 | 15:33:27 |
| 72 | 816 | David Moreno Perez | Male 45-49 | 1:13:00 | 08:44 | 7:21:52 | 05:58 | 4:06:38 | 12:56:10 |
| 74 | 596 | Alejandro Rios Fernandez | Male 40-44 | 1:22:35 | 07:33 | 7:18:58 | 05:11 | 3:37:43 | 12:31:57 |
| 74 | 218 | Juan Antonio Navarro Gomez | Male 45-49 | 1:21:58 | 08:26 | 7:13:43 | 07:50 | 4:06:13 | 12:58:08 |
| 74 | 868 | Manuel Ramos Fernandez | Male 50-54 | 1:24:40 | 10:18 | 8:48:13 | 12:36 | 5:19:21 | 15:55:07 |
| 75 | 677 | Sergio Martinez | Male 40-44 | 1:06:58 | 07:46 | 6:55:30 | 07:38 | 4:14:35 | 12:32:24 |
| 75 | 747 | Candid Vicente Misa Romero Good Man | Male 45-49 | 1:42:25 | 07:35 | 6:56:38 | 09:34 | 4:02:18 | 12:58:28 |
| 76 | 507 | Alberto Garzon Barrero | Male 35-39 | 1:32:23 | 07:48 | 7:27:06 | 07:05 | 5:11:45 | 14:26:05 |
| 76 | 774 | Daniel Marin Zorita | Male 45-49 | 1:20:16 | 07:03 | 7:06:29 | 05:16 | 4:22:02 | 13:01:05 |
| 78 | 604 | Oliver Sampedro Valino | Male 40-44 | 1:26:28 | 07:44 | 7:02:17 | 06:34 | 3:54:56 | 12:37:57 |
| 78 | 799 | Daniel Alabadi | Male 45-49 | 1:07:59 | 07:58 | 7:20:38 | 05:31 | 4:23:07 | 13:05:10 |
| 78 | 870 | Michael Ballarin | Male 50-54 | 1:40:03 | 08:56 | 8:48:10 | 15:42 | 5:51:46 | 16:44:36 |
| 79 | 510 | Carlos Lledo Pazpatti | Male 35-39 | 1:20:59 | 10:43 | 7:35:20 | 09:01 | 5:38:40 | 14:54:41 |
| 79 | 696 | Javier Ángel Grau from Los Reyes | Male 40-44 | 1:20:59 | 06:23 | 7:15:44 | 07:20 | 3:47:48 | 12:38:13 |
| 79 | 293 | louis sanchez medina | Male 45-49 | 1:28:52 | 03:13 | 6:54:30 | 03:22 | 4:36:10 | 13:06:06 |
| 80 | 580 | Jose Antonio Rodriguez Quintana placeholder image | Male 35-39 | 1:27:49 | 14:59 | 8:04:39 | 09:37 | 5:14:19 | 15:11:20 |
| 81 | 728 | Gustavo Garcia-Garcia | Male 45-49 | 1:10:49 | 06:55 | 7:22:32 | 05:28 | 4:22:03 | 13:07:44 |
| 85 | 620 | Francisco Concepcion Melián | Male 40-44 | 1:11:17 | 07:40 | 6:54:04 | 08:45 | 4:31:33 | 12:53:18 |
| 86 | 567 | Jose Benitez Gonzalez | Male 35-39 | 1:42:55 | 16:31 | 8:14:15 | 15:21 | 5:31:21 | 16:00:21 |
| 86 | 680 | Juan Manuel Gallego de La Calle | Male 40-44 | 1:07:29 | 06:50 | 7:02:37 | 08:50 | 4:28:06 | 12:53:49 |
| 86 | 712 | Morante Blacksmith Juan Manuel | Male 45-49 | 1:21:08 | 07:02 | 7:16:57 | 08:21 | 4:25:50 | 13:19:16 |
| 87 | 509 | Manuel Morgado Jimenez | Male 35-39 | 1:07:06 | 08:51 | 9:13:46 | 07:34 | 5:30:06 | 16:07:20 |
| 87 | 797 | Francisco Javier Guerra Martin | Male 45-49 | 1:27:03 | 13:57 | 7:15:37 | 07:34 | 4:15:47 | 13:19:57 |
| 88 | 561 | Javier Lopez Garcia | Male 35-39 | 1:26:34 | 07:55 | 8:44:38 | 09:47 | 5:40:56 | 16:09:48 |
| 89 | 586 | Andres Gonzalez Ortiz | Male 40-44 | 1:22:02 | 07:31 | 7:38:38 | 05:55 | 3:44:32 | 12:58:36 |
| 90 | 643 | Francisco Javier Ramirez Herrera | Male 40-44 | 1:28:33 | 07:46 | 7:05:49 | 07:18 | 4:10:03 | 12:59:26 |
| 91 | 618 | Samuel Philip Curbelo | Male 40-44 | 1:17:18 | 08:26 | 6:44:58 | 08:28 | 4:43:28 | 13:02:35 |
| 92 | 645 | Carlos Alberto Martinez-Garcia | Male 40-44 | 1:24:33 | 08:15 | 7:05:22 | 08:08 | 4:16:23 | 13:02:39 |
| 92 | 727 | Kilian J. Cabrera Dorta | Male 45-49 | 1:06:28 | 05:37 | 7:12:00 | 06:03 | 4:57:10 | 13:27:16 |
| 93 | 627 | Rogelio Ojeda Orts | Male 40-44 | 1:07:37 | 05:34 | 7:24:27 | 07:06 | 4:23:17 | 13:07:59 |
| 94 | 765 | Luis Ricardo Collado Macias | Male 45-49 | 1:15:14 | 13:44 | 7:37:57 | 08:57 | 4:28:48 | 13:44:39 |
| 95 | 207 | Jaume chiva | Male 40-44 | 1:21:51 | 06:06 | 6:51:36 | 06:13 | 4:44:55 | 13:10:39 |
| 96 | 602 | Manuel Luis Barreto placeholder image | Male 40-44 | 1:41:27 | 07:35 | 6:56:57 | 06:28 | 4:19:05 | 13:11:30 |
| 96 | 731 | Antonio Orfe Garcia Camacho | Male 45-49 | 1:06:59 | 08:21 | 7:29:52 | 08:17 | 4:58:34 | 13:52:01 |
| 97 | 721 | Alberto Taboada Penela | Male 40-44 | 1:32:19 | 06:08 | 6:55:53 | 04:46 | 4:33:11 | 13:12:15 |
| 97 | 795 | Francisco Gabriel Hidalgo Granados | Male 45-49 | 1:37:10 | 09:18 | 7:48:12 | 07:00 | 4:21:41 | 14:03:19 |
| 98 | 709 | Borja Alejo Gallardo | Male 40-44 | 1:15:54 | 07:57 | 7:22:07 | 06:39 | 4:26:58 | 13:19:33 |
| 98 | 752 | Jesus Antonio Gil Hernandez | Male 45-49 | 1:24:33 | 07:45 | 7:30:14 | 06:58 | 4:56:17 | 14:05:46 |
| 99 | 646 | Marc Key Guerrero | Male 40-44 | 1:24:26 | 09:07 | 7:25:12 | 05:50 | 4:17:17 | 13:21:50 |
| 100 | 682 | Gonzalo Aguiar Ramos | Male 40-44 | 1:29:29 | 09:15 | 7:44:18 | 09:04 | 3:56:38 | 13:28:42 |
| 100 | 736 | Alexander Romero Luzardo | Male 45-49 | 1:35:16 | 10:00 | 7:40:48 | 07:13 | 4:35:41 | 14:08:55 |
| 101 | 726 | Roig Bartholomew | Male 45-49 | 1:23:35 | 07:59 | 7:25:40 | 06:22 | 5:11:08 | 14:14:42 |
| 103 | 605 | Adrian Rodriguez Mendoza | Male 40-44 | 1:25:54 | 09:01 | 7:03:15 | 06:13 | 4:47:02 | 13:31:24 |
| 104 | 639 | Noel Perez de Las Cruces Martin | Male 40-44 | 1:24:49 | 08:23 | 7:53:16 | 06:41 | 4:05:08 | 13:38:15 |
| 105 | 225 | Ferdinand Eusebius | Male 45-49 | 1:36:28 | 09:43 | 8:03:45 | 12:38 | 4:15:20 | 14:17:53 |
| 107 | 700 | Francisco Lopez Garcia placeholder image | Male 45-49 | 1:20:25 | 07:08 | 7:46:50 | 07:30 | 4:57:18 | 14:19:10 |
| 108 | 738 | Christian Etcheverry Suarez | Male 45-49 | 1:28:58 | 10:24 | 7:38:35 | 06:36 | 4:54:44 | 14:19:16 |
| 109 | 664 | German Lemes | Male 40-44 | 1:33:00 | 07:27 | 7:31:42 | 11:12 | 4:30:13 | 13:53:31 |
| 109 | 222 | Jacobo Oliver Jimenez Perez | Male 45-49 | 1:32:55 | 06:32 | 8:38:04 | 08:47 | 4:02:38 | 14:28:55 |
| 110 | 715 | Christian Carranco Arno | Male 45-49 | 1:42:28 | 09:03 | 7:31:01 | 08:41 | 4:58:38 | 14:29:50 |
| 111 | 820 | Daniel Garcia Flórez | Male 45-49 | 1:19:51 | 06:36 | 7:19:47 | 06:50 | 5:42:54 | 14:35:56 |
| 112 | 582 | Miguel Isaac Martin Bermejo | Male 40-44 | 1:25:06 | 07:38 | 7:16:31 | 07:56 | 5:00:03 | 13:57:12 |
| 114 | 804 | Ricardo French Melian | Male 45-49 | 1:21:15 | 10:55 | 8:11:00 | 10:19 | 4:49:07 | 14:42:34 |
| 115 | 803 | Jose Antonio Oliva Martin | Male 45-49 | 1:13:10 | 12:25 | 7:39:09 | 09:55 | 5:31:21 | 14:45:58 |
| 116 | 587 | Mikel Irastorza | Male 40-44 | 1:20:52 | 10:20 | 7:06:34 | 11:33 | 5:12:22 | 14:01:39 |
| 117 | 584 | Juan Jose Munoz Jimenez | Male 40-44 | 1:15:59 | 07:18 | 7:07:50 | 07:29 | 5:28:43 | 14:07:18 |
| 117 | 220 | Jose Antonio Marques Vilaplana | Male 45-49 | 1:18:38 | 06:57 | 6:54:28 | 11:37 | 6:30:18 | 15:01:55 |
| 118 | 649 | Javier Vicente de Vera Salvatierra | Male 40-44 | 1:25:06 | 08:57 | 7:51:24 | 11:17 | 4:34:53 | 14:11:34 |
| 118 | 806 | Sergio Manuel Rodríguez Molina | Male 45-49 | 1:50:52 | 12:52 | 8:05:39 | 08:47 | 4:52:03 | 15:10:11 |
| 119 | 732 | Christopher Ruiz Pelaez | Male 45-49 | 1:21:17 | 16:41 | 8:09:06 | 08:04 | 5:27:40 | 15:22:46 |
| 120 | 663 | Jonathan Gonzalez Del Rey | Male 40-44 | 1:15:32 | 07:06 | 8:12:54 | 06:14 | 4:35:32 | 14:17:15 |
| 121 | 624 | David Valbuena Garcia | Male 40-44 | 1:31:05 | 07:45 | 7:47:42 | 06:37 | 4:44:18 | 14:17:23 |
| 122 | 724 | Daniel Rodriguez Moreno | Male 45-49 | 1:22:15 | 06:42 | 7:41:08 | 04:42 | 6:23:54 | 15:38:39 |
| 123 | 674 | Vega Pérez Alfonso | Male 40-44 | 1:45:47 | 17:27 | 7:33:31 | 08:10 | 4:35:30 | 14:20:23 |
| 123 | 772 | Kenty Siverio | Male 45-49 | 1:35:26 | 07:23 | 8:53:57 | 08:33 | 4:57:30 | 15:42:48 |
| 124 | 630 | Luis Alberto Fernandez Moreno | Male 40-44 | 1:43:20 | 08:58 | 7:47:45 | 11:41 | 4:32:13 | 14:23:56 |
| 124 | 737 | Enrique Llimona Valonero | Male 45-49 | 1:19:40 | 11:27 | 8:20:59 | 08:22 | 6:01:28 | 16:01:54 |
| 125 | 591 | Ivan de la Rosa Rodriguez | Male 40-44 | 1:29:55 | 07:15 | 7:50:52 | 08:47 | 4:48:28 | 14:25:15 |
| 127 | 588 | Ignacio Jimenez Garcia | Male 40-44 | 1:19:15 | 09:06 | 7:14:43 | 11:55 | 5:36:44 | 14:31:42 |
| 128 | 631 | Tanausu Arbelo Medina | Male 40-44 | 1:27:53 | 08:32 | 8:34:45 | 07:03 | 4:22:06 | 14:40:17 |
| 128 | 757 | Ruben Colomina Arroyo | Male 45-49 | 1:55:18 | 11:06 | 8:24:37 | 07:19 | 6:00:47 | 16:39:06 |
| 130 | 697 | Jaime Romero Marquez | Male 40-44 | 1:27:06 | 13:42 | 7:25:39 | 10:18 | 5:29:14 | 14:45:57 |
| 132 | 666 | Jose Ramon Queiruga Calo | Male 40-44 | 1:29:01 | 09:57 | 8:03:11 | 08:21 | 4:55:58 | 14:46:26 |
| 136 | 606 | Raul Sosa Velazquez | Male 40-44 | 1:31:42 | 07:04 | 7:55:02 | 08:27 | 5:14:16 | 14:56:29 |
| 138 | 202 | Daryn Wiese | Male 40-44 | 1:23:03 | 10:53 | 8:02:26 | 06:36 | 5:22:21 | 15:05:17 |
| 140 | 640 | Reuben Sicily | Male 40-44 | 1:29:40 | 09:46 | 8:27:14 | 07:52 | 5:04:17 | 15:18:47 |
| 141 | 685 | Carlos Couple Cornello | Male 40-44 | 1:24:33 | 08:04 | 7:33:13 | 12:37 | 6:02:54 | 15:21:19 |
| 142 | 642 | Victor Martinez Cuervo | Male 40-44 | 1:07:05 | 07:00 | 8:19:53 | 08:17 | 5:41:30 | 15:23:43 |
| 145 | 597 | Jose Maria Campos Roman | Male 40-44 | 2:06:19 | 07:37 | 8:13:36 | 06:17 | 5:08:04 | 15:41:49 |
| 147 | 679 | Angel Alfaro Girona | Male 40-44 | 1:20:05 | 07:33 | 7:51:30 | 04:22 | 6:23:50 | 15:47:18 |
| 148 | 654 | Mario Table Guzman | Male 40-44 | 1:33:33 | 11:11 | 8:43:04 | 08:38 | 5:19:04 | 15:55:29 |
| 149 | 590 | Juan Manuel Benitez Gonzalez | Male 40-44 | 1:41:58 | 17:26 | 8:14:01 | 15:34 | 5:31:22 | 16:00:20 |
| 150 | 704 | Xavier Monfort Martin | Male 40-44 | 1:36:09 | 11:31 | 8:36:15 | 09:02 | 5:53:25 | 16:26:20 |
| 151 | 600 | Rayco Jesus Martin Gutierrez | Male 40-44 | 1:50:40 | 08:54 | 8:56:40 | 07:15 | 5:25:33 | 16:29:00 |
| DNF | 414 | Ion Bermejo | Male 18-24 | 1:11:25 | | | | | |
| DNF | 451 | Aithami Reyes Rodriguez | Male 30-34 | 1:13:05 | 04:52 | 5:53:13 | 04:59 | | |
| DNF | 455 | Manuel Lopez Silva | Male 30-34 | 1:21:37 | 09:50 | | | | |
| DNF | 489 | Damian Martinez Baz | Male 30-34 | 56:57 | 04:17 | 5:55:43 | 03:23 | | |
| DNF | 529 | Oriol Martinez Baquero | Male 35-39 | 1:11:23 | 04:35 | 6:28:19 | 04:45 | | |
| DNF | 537 | Antonio Bartolomé Buil | Male 35-39 | 56:24 | 05:08 | 6:08:17 | 06:01 | | |
| DNF | 560 | Adrian marquez toro | Male 35-39 | 1:15:02 | 10:53 | 7:18:26 | 08:38 | | |
| DNF | 200 | Alberto Rodriguez Ares | Male 40-44 | 1:09:08 | 05:42 | 5:58:35 | 05:10 | | |
| DNF | 611 | Sergio lopez lopez | Male 40-44 | 1:19:10 | 08:10 | | | | |
| DNF | 622 | Zebenzui Hernandez Lopez | Male 40-44 | 1:14:10 | 04:59 | | | | |
| DNF | 625 | Ruben Romero Rodriguez | Male 40-44 | 1:18:14 | 06:17 | | | | |
| DNF | 129 | Julio Alvarez | Male 45-49 | 1:08:10 | 05:24 | 6:37:57 | 19:57 | | |
| DNF | 260 | Juancar Jimenez Diaz | Male 45-49 | 1:29:44 | 10:04 | | | | |
| DNF | 750 | Robert Gonzalez Pascual | Male 45-49 | 1:14:12 | 07:01 | 6:28:36 | 04:51 | | |
| DNF | 751 | Luis Perez Pascual | Male 45-49 | 1:27:19 | 11:08 | | | | |
| DNF | 762 | Santiago Castellano Fernandez | Male 45-49 | 1:28:50 | 08:50 | 7:36:05 | 08:40 | | |
| DNF | 771 | Tomas Enrique Brito Ferraz | Male 45-49 | 1:35:54 | 14:43 | | | | |
| DNF | 789 | Josep Carles Anadon Espachs | Male 45-49 | 1:15:50 | 07:40 | | | | |
| DNF | 143 | Joseba Iriondo | Male 50-54 | 1:08:35 | 04:39 | 6:29:00 | 04:39 | | |
| DNF | 233 | David Exposito Munoz | Male 50-54 | 1:15:10 | 04:45 | 6:09:40 | 04:03 | | |
| DNF | 835 | Jesus Ramon Ortin Aviles | Male 50-54 | 1:20:50 | 06:13 | 6:05:32 | 05:05 | | |
| DNF | 862 | Joaquin Mario Morales Romero | Male 50-54 | 1:18:53 | 09:01 | | | | |
| DNF | 864 | Adrian Vega Perez | Male 50-54 | 1:51:21 | 15:18 | 8:26:09 | 3:20:53 | | |
| DNF | 919 | Oscar Sanz | Male 55-59 | 1:47:43 | 12:09 | | | | |
| DNF | 943 | Anton Arrien Araluce | Male 60-64 | 1:38:12 | 14:44 | 6:29:35 | | | |
| DNF | 950 | Fernando Atienza Cuenca | Male 65-69 | | | | | | |
| DNF | 72 | Javier Merida | Male 70-74 | 1:13:23 | 07:27 | | | | |
| DNS | 98 | Alejandro Married | Male 35-39 | | | | | | |
| DSQ | 372 | Belinda Oliva-Martinez | Female 35-39 | 2:38:10 | | | | | |
| DSQ | 377 | Aida Maria Gonzalez Hernandez | Female 40-44 | 2:39:43 | | | | | |
| DSQ | 392 | Isabel Criach Dos Santos | Female 45-49 | 2:22:09 | | | | | |
| DSQ | 393 | Yaara Tam | Female 45-49 | 1:30:10 | 14:45 | | | | |
| DSQ | 395 | Nadine christiansen | Female 45-49 | 2:29:08 | | | | | |
| DSQ | 400 | Gemma Gonzalez | Female 50-54 | 1:49:56 | 16:18 | | | | |
| DSQ | 892 | Miguel van Daele Gabarain | Male 50-54 | 1:41:57 | 08:53 | | | | |