The Atleti Triathlon Club, forced to change its name, since Atlético de Madrid does not let them use their image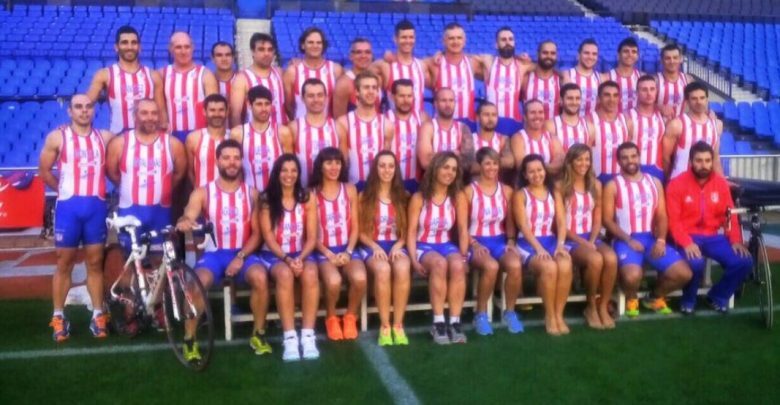 {wbamp-meta name = »image» url = »/ images / stories / news_07 / club-triatlon-atletico-madrid-change-name.JPG» width = »300" height = »150"}
The Atlético de Madrid Football Club has forced the Atleti Triathlon club to change its name since it will not let him use his name and the shield, so the club has been renamed Atletico triathlon.
The Triathlon Club was born in 2011 with the goal to unite the two hobbies of its founders, the Triathlon and the Athletic of Madrid. In 2015 he obtained the Verbal permission from Atlético to continue using the shield with the name of the Atlético de Madrid Foundation. However, now, the mattress club has asked you to stop using the name Atleti and the shield. To avoid problems with the colchonero club, this sports club for Atletico fans will be called from now on Club Triathlon Athletic.
According to the brand newspaper, since this summer the lawyers and leaders of the club have been taking steps so that the members of the triathlon stopped using the name of Atleti and also the shield. All of this has now led to the club being renamed the Athletic Triathlon Club.
From Atlético they completely distance themselves from this club because they say that today there are only football teams under their name, thus distancing the aforementioned triathlon club from any relationship, in addition to insisting that they have never had a section of this sport.
This is the official statement that the Atleti Triathlon has published on its Facebook page
TRIATLÓN ATLETI nació en 2011, de la mano de sus fundadores Mario y Nano, con la intención de aunar dos aficiones: el triatlón y el Atlético de Madrid.Para cada uno de los integrantes de este club desde su nacimiento, siempre fue un orgullo lucir las rayas rojiblancas en cada entrenamiento y competición, y siendo nuestra única intención temporada tras temporada, dejar en lo más alto el nombre del Atleti en nuestro deporte, participando en cientos de pruebas por todo el territorio nacional y el extranjero y cosechando podiums en campeonatos regionales, pruebas nacionales o carreras populares de todo tipo, sin olvidarnos de nuestro máximo exponente, Jairo Ruiz López (numerosas veces Campeón de España en las diferentes disciplinas de este deporte, así como, Subcampeón de Europa, Subcampeón del Mundo y Bronce Paralímpico en Río'16).
Tras diversos acercamientos al Club Atlético de Madrid, S.A.D. sin conseguir respuestas positivas, en el año 2015 obtenemos el permiso verbal para poder usar el escudo oficial con el logo de la Fundación Atlético de Madrid, un hecho que nos animaba a seguir luchando por los colores rojiblancos y nos acercaba a nuestro anhelado objetivo de formar parte del club de nuestros amores.El pasado 28 de julio recibimos un requerimiento desde los abogados del Club Atlético de Madrid, S.A.D. tras el cuál debimos paralizar nuestras RRSS y se bloquearon nuestra web y la página de venta de nuestra ropa (una venta que no tenía ninguna intención de lucro).
Tras una reunión de parte de nuestra junta directiva con dirigentes atléticos el 26 de octubre, se nos insta a dejar de usar el nombre ATLETI, así como el escudo de la Fundación Atlético de Madrid (cuyo uso teníamos autorizado desde 2015) o el escudo fundacional de nuestro CLUB TRIATLÓN ATLETI.Club Triatlón Atleti celebró su Asamblea General Ordinaria el pasado 11 de noviembre, en la cuál se expuso a los socios del club la situación actual con el Club Atlético de Madrid, S.A.D. Para evitar nuevos conflictos con el Club Atlético de Madrid, S.A.D. se acordó de forma unánime por los asambleistas adaptar el nombre fundacional del club a CLUB TRIATLÓN ATLÉTICO con el que será inscrito a partir de ahora en el registro de entidades deportivas, así como en las competiciones federativas, pero con la idea clara de que el espíritu de este club seguirá siendo el mismo y que seguiremos peleando por los colores rojiblancos en cada entrenamiento y competición.
Agradecemos todo el apoyo de aficionados y amigos rojiblancos recibidos en los últimos días y, por supuesto, agradecemos a todos y cada uno de los triatletas que han hecho grande a este club año tras año; ahora más que nunca permaneceremos juntos y fuertes para llevar los colores rojiblancos a lo más alto.Madrid, 13 de Noviembre de 2017Club Triatlón Atlético
Photo @TriatlonAtleti