News Triathlon News - Pure Triathlon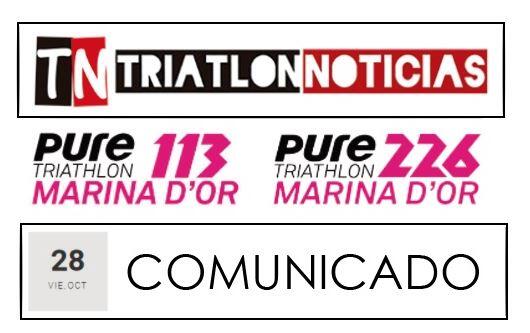 After the news published last Sunday about the career chronicle sent by the organization PURE TRIATLÓN, and after the criticism of the event that has been reflected in the Social Networks of Triathlon News, from address we send this statement to our readers:
- Triathlon News was limited to publish the official information received by the organization, this being the only information received in an official way and not being able to provide more verifiable data as there is no editor covering this event on the day of the test.
- After the complaints made against triatlonnoticias.com in Social Networks for "hiding" information, we contacted the organization to confirm this information that you were sending us.
- The organization today has only confirmed that there was certainly a delay in the departure without giving us more explanations, despite the insistence, about the causes of it.
- From TriatlónNoticicas.com at the moment that the Valencian Triathlon Federation sent us a statement (same Sunday) was reflected in the news, where said delay is stated.
https://www.triatlonnoticias.com/noticia/triatlon/ivan-alvarez-y-jose-almagro-ganan-pure-triathlon-2016
- Last Wednesday we got back in touch with the Valencian Federation to see if they could give us more information and they sent us to the news published on their website
http://www.triatlocv.org/116-noticias-triatlon/2347-la-reduccion-del-trazado-ciclista-y-el-retraso-de-casi-dos-horas-en-su-inicio-no-impide-la-celebracion-del-ii-pure-marina-d-or-2016
The content that is published in the medium always comes from official sources (organization and / or federation) or by a media editor.
From TriatlonNoticias.com we work in the promotion of sports, trying to do the job with the utmost seriousness and truthfulness, proof of this is that none of the comments published in Social Networks has been eliminated or deleted, even questioning the professionalism of the staff medium.
We stand on the sidelines in our opinion on this type or other type of actions, since it is a medium only informative and not opinion.
Today we leave this topic settled and we appreciate the contributions you have given us through Networks, we always listen to your comments.
We feel for our part that we can not help you any more in this aspect, because we have not covered the event and can not solve your complaints because we are not part of the PURE organization and we remain on the sidelines. On the other hand we invite you in a public way to get in direct contact with the organizer so that you can make the relevant claims in a personalized way.