Get your free trainings to successfully complete your EXTREME MAN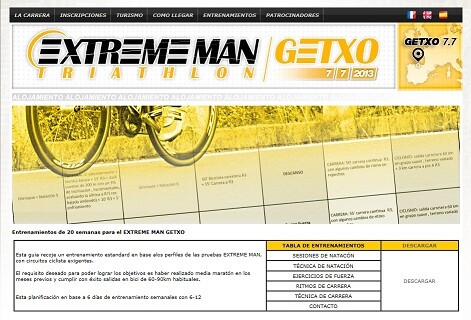 EXTREME MAN, the largest national circuit Half Distance Triathlon, Through its website, it offers all triathletes the possibility of having free training sessions to successfully complete their challenge to finish their EXTREME MAN Medium Distance triathlon.
These trainings are structured in 20 weeks and have been specifically designed for the tests of this circuit, adapting the sessions to the demanding profiles of the cycling segments of the same.
To download them you only have to enter the menu of the organization's own website in the section "TRAINING".
In the yellow box where the text "DOWNLOAD" appears you can download the file with the 20 sessions, in the gray box in "DOWNLOAD" you will find the Annex with all the necessary information for its realization.
EXTREME MAN will this 2013 count on Salou (05.05) Getxo (07.07) Narbone (08.09) and Minorca (23.09)
You no longer have an excuse: www.extreme-man.com