Triathlon News
David Mcnamee and Sara Löerh take victory in the Challenge Salou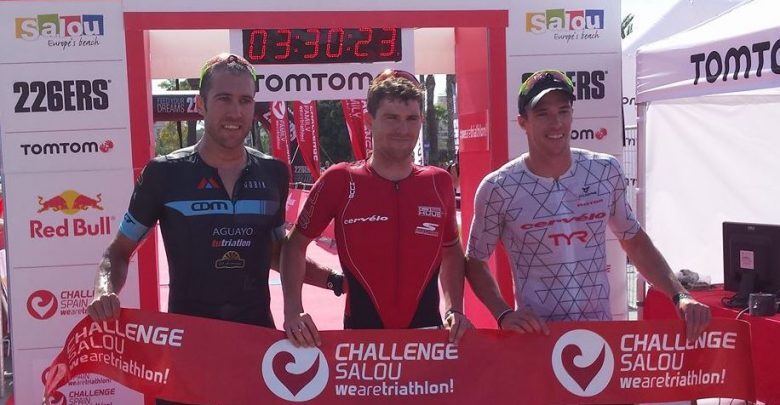 {wbamp-meta name = »image» url = »/ images / stories / news / podium-mascullino-challenge-salou.JPG» width = »300 ″ height =» 150 ″}
Today a new edition of Challenge Salou was held, where the British David Mcnamee won the men's category and Sara Löerh won the women's event.
Today a new edition ofl Challenge Salou where the british David Mcnamee he has achieved victory in the men's category.
The first to get out of the water was Pablo Dapena followed by David Mcnamee and Jeremy Jurkiewicz I by a group formed by Balazs Csoke, Emilio Aguayo and Davide Giardini-
Already in the 90 km of cycling, the British David Mcnamee he was the fastest arriving at the T2 with 1: 30 of advantage that served him to get the victory with a time of 03: 26: 04 followed by Emilio Aguayo (03: 28: 26) and for James Cunnama (03: 28: 30) occupying the third final position. The great comeback in the race on foot has led the Valencian Emilio Aguayo, surpassing up to six rivals in this segment and reserving forces for a last change of pace that has allowed him to obtain the second place with a time of 3: 28: 26.
Pablo Dapena it was fifth and Miquel BlanchartAtte Skechers was eighth in the general A great Jaume Leiva, was the fastest in the segment with 1: 03: 48 in the race 21 km.
TOP 10 MASCULINE
| | | |
| --- | --- | --- |
| Pos | Name | Official T. |
| 1 | DAVID MCNAMEE | 3:26:04 |
| 2 | EMILIO AGUAYO MUÑOZ | 3:28:26 |
| 3 | JAMES CUNNAMA | 3:28:30 |
| 4 | IVAN KALASHNIKOV | 3:28:35 |
| 5 | PABLO DAPENA GONZALEZ | 3:29:11 |
| 6 | VANDENDRIESSCHE KENNETH | 3:30:38 |
| 7 | JURKIEWICZ JEREMY | 3:31:58 |
| 8 | MIQUEL BLANCHART RED | 3:32:15 |
| 9 | TREVOR WURTELE | 3:32:16 |
| 10 | RAPHAEL JAN | 3:33:31 |
As for the female event, the winner has been Sara Löerh with a final time of 3: 59: 01 followed by Nikki Bartlet (4: 00: 42) and for Erika Csomor (4: 05: 20) in third position. Maria Pujol (4: 09: 01) has finished in sixth position and Aintzane Argaiz (4: 11: 14) octave
TOP 10 FEMALE
| | | |
| --- | --- | --- |
| Pos | Name | Official T. |
| 1 | SARA LOHER | 3:59:01 |
| 2 | NIKKI BARTLETT | 4:00:42 |
| 3 | ERIKA CSOMOR | 4:05:20 |
| 4 | SIMONA KRIVANKOVA | 4:05:33 |
| 5 | EWA KOMNANDER | 4:07:42 |
| 6 | MARIA PUJOL | 4:09:01 |
| 7 | CATHERINE JAMESON | 4:09:23 |
| 8 | AINTZANE ARGAIZ CASTRO | 4:11:14 |
| 9 | JUSTINE LYNCH | 4:19:56 |
| 10 | TASH JACKSON | 4:26:16 |
| | | |
Photo: Facebook Challenge Salou