The largest pool in the world: An oasis in Chile
This spectacular pool is located in Valparaíso and measures 1.012 meters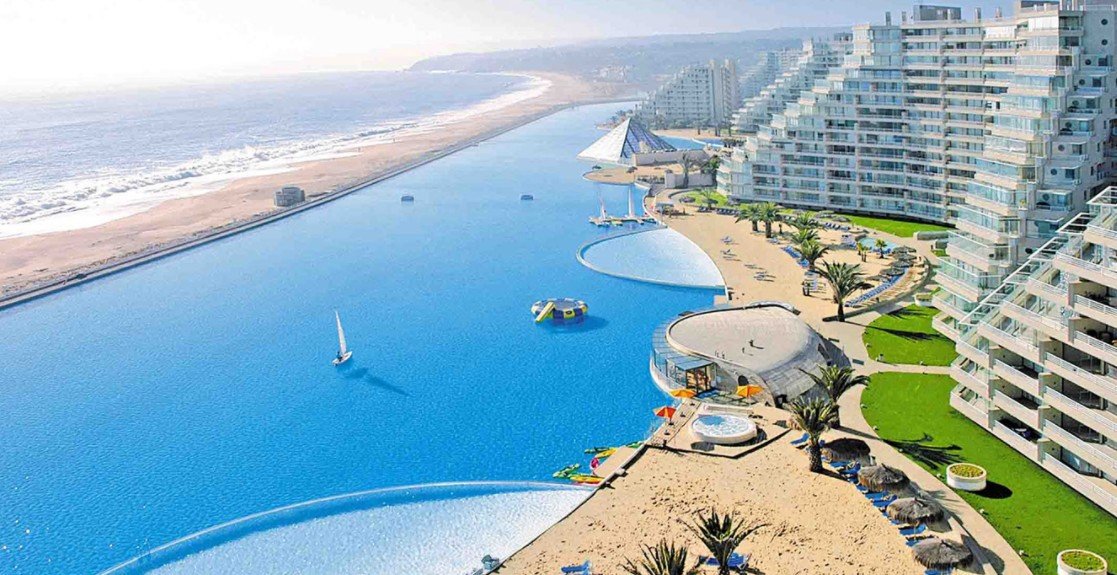 The largest pool in the world is located in the San Alfonso del Mar tourist complex, in Algarrobo, Chile.
has a distance of 1.012 meters and has a capacity for 250 million liters.
This spectacular pool is located in Valparaiso (Chile) and enters the Pacific dfrom the amazing complex of San Alfonso del Mar., located in the Chilean town of Algarrobo.
Pool dimensions and records
With an extension of more than 1 kilometer long, 3,5 meters maximum depth and a total area of ​​8 hectares, is considered the largest pool in the world according to the Guinness Book of Records.
In addition, contains approximately 250 million liters of water, extracted and treated from the same Pacific Ocean.
This amount could be used to fill a whopping 6.000 family pools 8 meters long.
The water temperature is heated and It exceeds in some areas nine degrees the temperature of the sea.
During the summer it maintains the warmth of its waters and can reach 26ºC.
A unique tourist destination
San Alfonso del Mar is a tourist complex that offers its visitors an unforgettable experience, with various aquatic and recreational activities.
In addition to the largest pool in the world, it has restaurants, gyms, sports courts and a spa.
It also offers a spectacular outdoor aquarium, where you can observe different marine species in a natural environment.
The longest pool in the world
Although the San Alfonso del Mar pool is the largest in terms of surface area, the longest pool in the world is in Italy.
La orthlieb pool, located in Casablanca, Morocco, holds this title with a length of 480 meters.
La
Swimmingpool
m
á
s
deep
of the
world
se
find
en
Oak
á
i
,
Emirates
Á
arabs
,
y
se
flame
Deep Dive Dubai.
This
achievement
de
la
engineer
í
a
ha
sido
recognized
by
el
Book
Guinness
de
that
R
é
strings
as
la
Swimmingpool

m

á

s

deep

of the

world
,
lo
which
la
convert
en
un
place
ú
nico
for
that
entusiastas
of the
diving
y
that
sports
now
á
ticos
.
It has a capacity of 14 million liters (six Olympic pools) and is 60 meters deep.
---
---
Only professional divers reach the bottom as it requires significant physical effort and later going through a decompression room.
A curiosity is that the water is kept at 30 degrees continuously and you don't need a neoprene suit.
It is not only for training but also for enjoyment since it has several levels, night tours, you can play chess, table football inside or visit a temple among other things.