Dani Molina, Marta Francés and Susana Rodríguez take the podium in Pontevedra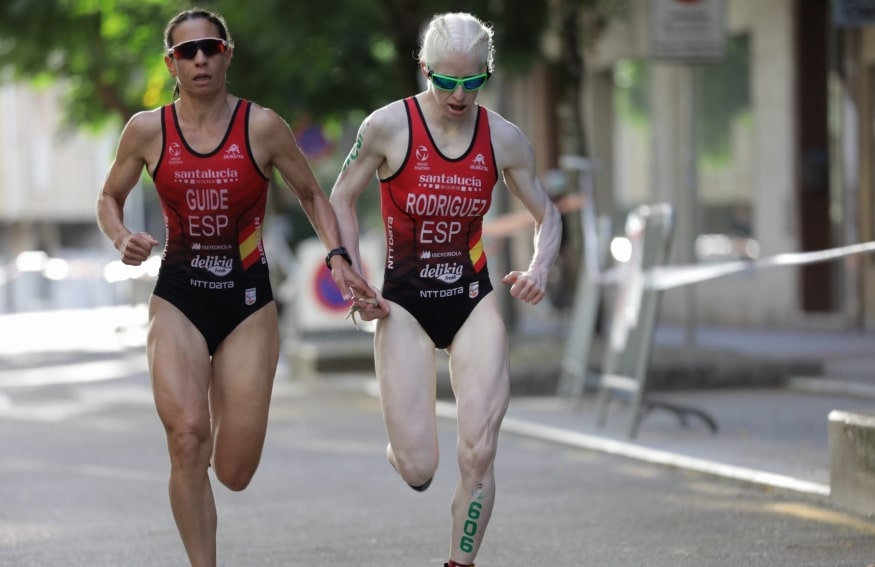 The third day of competition in the Grand Final of the World Series in Pontevedra it has been especially exciting.
The Paralympic Triathlon World Championship not only offered the opportunity to take the world crown in various categories, but qualification for the next Paralympic Games in Paris was also at stake.
The Spanish Delegation
The Spanish representation has been larger than ever, with a total of 16 triathletes.
Our triarmada has managed to add three metals: the silver of Susana Rodríguez (PTVI) and Martha French (PTS4), and the gold of Dani Molina (PTVI).
The protagonists
Dani Molina, the Madrid native, has won his sixth World Championship, highlighting that this has a "very special meaning" as it is at home.
For its part, Martha French She was very satisfied with her second place, especially after a not so favorable result in Coruña.
The Case of Susana Rodríguez
However, not everything was celebration. Susana Rodríguez and their guide Sara Loehr faced a sanction that, according to them, was unfair.
This sanction took them away from the fight for gold, which finally went to Francesca Tarantelo.
Although she was the great favorite to win the gold, a sanction in the cycling segment kept her from her aspirations. "It is a shame and very sad that there are officials measuring the races who do not know what they have to do"Declared the athlete from Vigo, visibly excited.
The sanction was due to an alleged blocking of some male cyclists during a climb.
According to La Voz de Galicia, the officer who was supposed to time the stop during the sanction was not prepared, which resulted in a considerable loss of time. "We lost 40 seconds and from then on I couldn't get back into the race."Lamented Susana.
Despite the controversy, he wanted to thank the people of Pontevedra for their support and highlighted the importance of promoting paratriathlon.
General Results
In addition to the medalists, other members of the Spanish team had outstanding performances, although they could not get on the podium.
Among them, Héctor Catalá (PTVI Men) who finished in fifth position, and Lionel Morales (PTS2 Men) who finished fourth.
| category | Athletes | Positions |
| --- | --- | --- |
| Female PTVI | Susana Rodríguez | 2° |
| PTVI Male | Dani Molina, Héctor Catalá, Jose Luis García | 1st, 5th, 9th |
| PTS2 Male | Lionel Morales | 4° |
| PTS2 Women | Rakel Mateo | 8° |
| PTS3 Male | Kini Carrasco | 8° |
| PTS4 Women | Martha French | 2° |
| PTS4 Male | Nil Ruidavets, Alejandro Sanchez Palomero | 4th, 11th |
| Women's PTWC | Eva Moral | 4° |
| Men's PTWC | Jose Cristobal Ramos | 9° |
| PTS5 Women | Andrea Miguelez, Cristina Miranda | 6 °, 9 ° |
| PTS5 Male | Jairo Ruiz | 10 º |
Towards Paris 2024
This championship has been crucial for qualification for the Paris Paralympic Games.
With these results, several of our athletes already have one foot in the next Olympic event, which predicts a bright future for the Spanish Paralympic triathlon.