Daniela Ryf will start her season at the Portocolom Triathlon on April 19
Daniela Ryf, the best long distance triathlete in the world, will start the season at the Portocolom Triathlon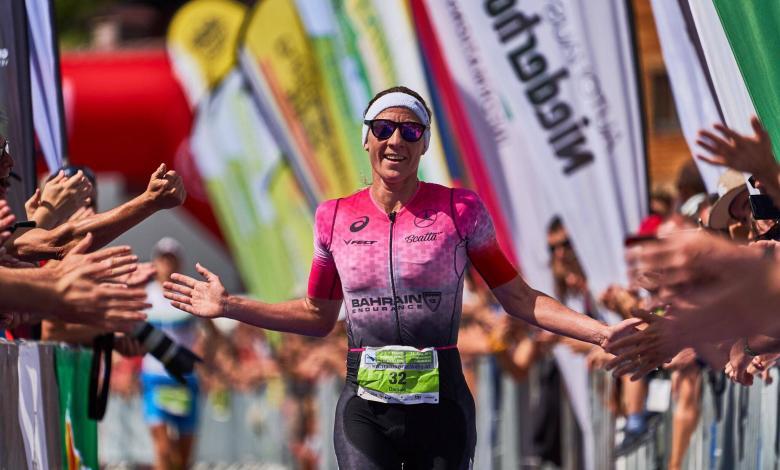 The Switzerland Daniela Ryf, the best long distance triathlete in history has confirmed that the 2020 season will start fighting the victory in the Portocolom Triathlon, Majorca
Ryf is the best triathlete in the distance thanks to her four titles of world champion Ironman and his five in distance 70.3 ,, from where he wants to start his way to a new world title in Hawaii.
Will compete in distance 111
Ryf, who has also been Olympic, is the great dominator of the long distance triathlon in the last five years and has chosen the traditional Portocolom Triathlon as his first competition under the 111 format (1 kilometer of swimming, 100 kilometers of cycling and 10 kilometers of running).
The 32-year-old Switzerland will be the favorite for victory in the goal located in the Club Náutic, after swimming in the spectacular bay of Portocolom and double rise to Sant Salvador by bicycle and the segment on foot through the town center and the coast to the famous lighthouse.
Take advantage of our discount promotion
Big names have competed in Portocolom
Daniela Ryf thus joins the illustrious names that have passed through the history of Portocolom, which has seen some of the greatest myths of the world triathlon compete.
Great triathletes like the Australian Chris McCormack, Raelert brothers, Normann Stadler o Maik Petzold, as well as the Spaniards Eneko Llanos, Marcel Zamora, Alejandro Santamaría or a very young Mario Mola, next to the premises Carlos López, Joan Nadal o Miguel Ángel Fidalgo, have chosen this test to start the season.
2 distances, 111 and 55.5
The two tests of next April 19 they are disputed over 111 and 55.5 km, and will take the 1.000 triathletes to the same routes as in the past editions.
Those enrolled in 111 will have to go around the cycle circuit twice while those of 55.5 will only give one, climbing once the 494 meters of Sant Salvador.
Swimming will be in the Crystal clear waters of the Nautic Club of Portocolom, while the final 5 or 10 km foot race will have the goal in the heart of this Mediterranean town.
In addition to the two tests, on Saturday, April 18 from 10:30 a.m. duathlon for minors (TriKids), which is the one with the largest participation in the Balearic Islands.
The Portocolom Triathlon officially joined the Spirit Triathlon Series last year.
This circuit focuses on very special triathlons, hard for the participants and of great beauty and attractiveness, promoting the participation of elite triathletes with non-professionals, which increases the prizes for the winners
In addition, it adds value to those who debut or start in this sport through seminars and training platforms, and turn the circuit into a league in which athletes add points through a ranking system and also compete for prizes to the end of tests
Further information: https://www.triathlonportocolom.net/