Declaration of Gómez Noya, European Pontevedra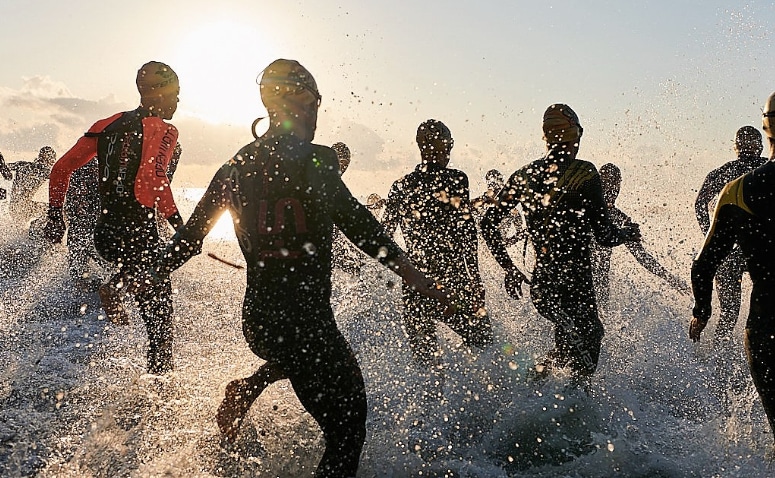 Next we will put the statement of Javier Gómez Noya regarding the incident that occurred in the European Triathlon Championship, held this weekend in Pontevedra.
Hello friends,
Last Saturday the European Championship was played in Ponteverda. As a local triathlete, it was a competition that I was especially excited about and that I had prepared conscientiously and with very hard work to arrive in the best possible shape.
However, acute stomach problems prevented me from running on foot, causing me to stop twice. The second of them I thought that I could not continue but with the amount of public that had gathered in the streets of the city and also with the encouragement of Iván Raña, who seeing me stop encouraged me to continue, even if it was rolling, I decided that out of respect for everyone he had to cross the finish line even if it was very far from the leaders. And so I did, I continued running with Iván and we both ended up far from our initial goal.
The truth is that from the bike I did not find myself
good. It is true that the excessive heat does not suit me very well but the sensations were of being too thirsty, I drank and drank (hot, since the drink in the bottles became like broth) but it did not satiate me and I had the feeling that the liquid it only accumulated in the stomach but did not assimilate it.
Of course, I am very sorry and angry that I was not able to compete and fight for positions of honor because I think that all the public deserved it and, without a doubt, I had trained for it. But this is sport and not math, and sometimes things don't turn out as expected. Within the negative I cannot say that it was a day to forget. In fact I think it was a day that I will never forget because people showed me respect and support that really moved me. When you win, you are used to applause from the audience and you don't really think about it much because it is normal. The public logically applauds the winners. But when you are in a moment of pain, when the race escapes you, when you suffer and cannot give what you carry inside and people continue to encourage, support and give their love ... that feeling has never been experienced, that's why this career I will not forget. As I said, I am very sorry that I was not able to perform well but I hope that everyone enjoyed a great triathlon show, with many of the best triathletes in the world competing.
Given the barrage of comments, opinions, messages, etc ... given the controversy generated by Harry Whiltshire's performance in swimming, I am forced to speak on the subject and I would like to explain what happened.
First of all, I want to make it clear that everything that happened in the water had nothing to do with the problems that I had later and that prevented me from performing ... unless the cause of my stomach problems was the amount of water that this guy gave me. made swallow. But I do not think so.
Second, to say that the Brownlee were the best in this championship and, therefore, just winners.
I have been competing in triathlon for 13 years and have gone through races of all kinds of levels and in all kinds of conditions. I have received thousands of blows, I have come out with black eyes from water, cuts, scratches ... and who who is dedicated to this has not happened? I understand that in the water there can be blows, kicks and others, especially in the buoys because everyone wants to go the same place and that causes tense and sometimes quite aggressive situations. That is normal. What is not normal is that a guy looks for you, finds you and only focuses on you making a bad race and knocking you out.
Most of you will have seen a video that circulates on the Internet in which you see a SMALL PART of the attacks I suffered. It all starts in the second lap, when I am installed between 6th and 7th position, that is to say, quite well placed and in the slipstream of the first. The first thing that happens and that I notice is that someone grabs my foot and pulls back, losing a bit of distance with respect to those who precede me, but I manage to start quickly and not lose positions (this is not seen in that video). The second thing that happens is that (and this is clearly seen in the video) Harry rushes me and sinks me, grabbing my head and shoulder. Then, when I start again, it gets parallel to me, to my left, and instead of going towards the buoy, it drives me to the right, swimming out of the correct path to go towards said buoy. I struggle with him to correct and finally we reach the buoy where he literally collides with it and runs there without speed blocking my path and losing a few positions (this is not seen in the video either). When, with blows, I manage to turn with him in paraleo, the worst happens in terms of wasting time. Instead of following in the wake of those who preceded us, who were going near the bank of the river heading the last pitch before leaving the water, this guy pushes me to the right, that is, towards the center of the river, coming out of the slipstream of those in front, which is a considerable waste of time (this, in part, is also seen in the video, two guys swimming away from each other). At first I think that he has become disoriented and I struggle to make him see that he has to go left to follow the others. But I soon realized that he had no intention of correcting his trajectory. I, parallel to him on the right, could not close and he had no problem hitting me if I tried to push him to close. I increased my pace to get ahead of him and be able to close later, but he also accelerated and kept swimming parallel to me. Finally, fed up, I stood up, let him pass and quickly began to swim to the left, to the right side. Now I had him to my right and he quickly swam towards me again, this time taking me to the other side, very close to the rocks on the shore.
Thus, after a brutal energy expenditure and an even greater loss of time, we reach the water exit stairs where it closes me (and this is very clear in the video) and instead of getting up and running towards the transition, look back and stands still blocking my way. Then another thing you don't see is that when we run through the transition he continually glances back, slamming me against the fence when I try to overtake him until I finally push him away and I have a clear path. His performance, in addition to a monumental anger and a brutal expenditure of energy, cost me to lose the leading group (I repeat, with 400m left for the transition I was 6th or 7th in the slipstream of the first, at most 5 seconds behind the leader and I ended up coming out of the water 18 to 22 seconds headlong.
But his dirty work did not end here since when we cycled hard to hunt down the group in front, he used to get between the relays to get in the way, creating situations of real danger in the group, rolling in sections at more than 60 km / h. Fred Belaubre, Laurent Vidal and David Hauss have also complained about this. In addition, journalists who were on a motorcycle following the race witnessed it.
I know this explanation has been a bit long and roll but I prefer to tell exactly what happened and make it clear that, as a triathlete, I feel very upset that a partner instead of going out to compete and doing the best possible, like everyone else, came out with the clear objective of eliminating and hurting a rival, in this case me. I think it is unacceptable behavior that goes against the fundamental values ​​that sport should instill, so I hope that it will never happen again in the future.
I was asked if I think this was a deliberate tactic by the English team. Obviously I cannot know. My personal opinion is that no, absolutely. Both Alistair and Jonathan are good enough to win races fairly and I consider them great champions who I have great respect for. Also, I have nothing against the English federation or anyone that is not the cause of this situation. I have many friends in the English team, many of whom have shown their support and whom I thank for their words. As well as all the other triathletes who condemn this type of action.
With this explanation, for my part I consider the issue settled and my concern right now is to recover my stomach and do the relevant tests to find the cause of the problem and focus on the next important race that will be in Hamburg on July 16.
Thank you very much to everyone, especially to the public who took to the streets in Pontevedra.
Javi.
From trimadrid, we support our champion in everything, we hope that he makes a quick recovery and once again shows everyone what he is worth in the next competition. Cheer up Javi!
source: /www.javiergomeznoya.com