Del Corral will be the Spanish option in the fight for medals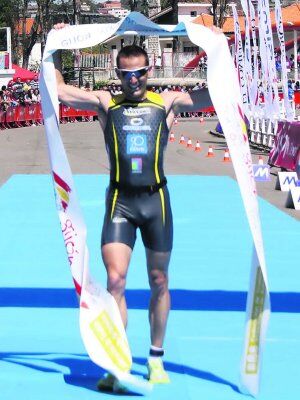 The Catalan athlete was fourth in the last edition and comes ready to remove the thorn and try to get on the podium
The absence of Javier Gómez Noya places the Catalan Víctor del Corral as one of the great Spanish options to hang a medal in the Duathlon World Cup, which will be held in Gijón from tomorrow. The Barcelona athlete arrived in the city yesterday and has no doubt that "it will be a great competition." Last year he was fourth in the World Cup in Edinburgh, so he goes to Gijón ready to "try to get rid of my thorn and try to get on the podium".
Víctor del Corral won the title at the National Championship held in Gijón, which is "an unbeatable place for a competition of these characteristics." "The high participation of the championship shows that people like their circuits very much, although the only downside is perhaps that the layout of the elite competition is too flat and very simple," he said.
The duathlete from Barcelona was surprised by the large number of participants in the championship: «I didn't expect it. In general, the European and the World Cup are events with a lot of participation, but I have never reached such an important number of riders as here in Gijón ».
The national champion of the specialty stressed that in this World Cup "there will be a lot of level. I think it is going to be one of the most demanding editions of the one disputed so far. People come to the championship with very good preparation and this will lead to a very demanding test.
A powerful team
Víctor del Corral regretted the absence of Javier Gómez Noya at the starting line, since "the presence of Javi in ​​a competition always gives us all greater confidence." «It is a pity that he is not with us in the championship, because he represented a sure medal for Spain. Even so, we have a powerful team, with which we can fight for the maximum, "he added. The Catalan international also valued the quality of his rivals and was resounding in stating that "the French have a great team and the Americans also have a good training and will be there."
He also made an analysis of how the competition will develop: «The race will be very fast, since the track does not present too many difficulties. It will be a tactical test that will be decided in the end. In addition, we will have to be very careful not to be cut off and stay in the group of the strongest »
Regarding the options for the women's team, Víctor del Corral was confident and stated that "we have a good training and can be among the best."
"I hope the championship has a good atmosphere, since the participants are very motivated and it will be a great competition," he said.
Source: elcomercio.es