Triathlon News
Imps of Rivas Mar de Pulpí winner of the National Ranking of Clubs 2019
It remains in the first position of the National Club Ranking, with a total of 4.532 points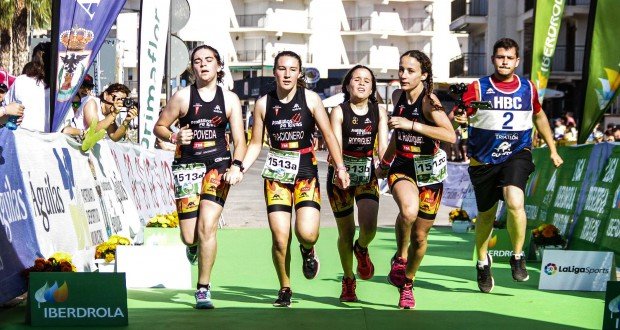 After the dispute of the last tests of the official season 2019 the Spanish Triathlon Federation has published the final classification of the National Ranking of Clubs
The Club Imps from Rivas Mar de Pulpí remains in the first position in the National Club Ranking, with a total of 4.532 points, of which 2.253 have been achieved by the club's triathletes, and 2.279 by the triathletes.
Cidade de Lugo Fluvial, with 4.407 points in total, it is classified in second position, being the third position for the Saltoki Diquesí Trikideak with 4.396.
El Marlins Triathlon Madrid ascends to fourth place, and in fifth place the Tri Infinity Móstoles.
Classification
| | | | | |
| --- | --- | --- | --- | --- |
| POS | POINTS | M | F | Clubs |
| 1 | 4532 | 2279 | 2253 | RIVAS DIABLILLOS TRIATHLON CLUB |
| 2 | 4407 | 2181 | 2226 | CITY OF LUGO FLUVIAL |
| 3 | 4396 | 2123 | 2273 | SALTOKI DIQUESI TRIKIDEAK |
| 4 | 4078 | 2055 | 2023 | MARLINS TRIATLON MADRID |
| 5 | 4058 | 2098 | 1960 | TRI INFINITY MOSTOLES |
| 6 | 3904 | 2050 | 1854 | ARCADE INFORHOUSE SANTIAGO |
| 7 | 3652 | 1896 | 1756 | AD TRIATHLÓN ECOSPORT ALCOBENDAS |
| 8 | 3481 | 1724 | 1757 | ADSEVILLA |
| 9 | 3405 | 1677 | 1728 | LAS ROZAS TRIATLON CLUB |
| 10 | 3367 | 1276 | 2091 | CEA BÉTERA |
| 11 | 3269 | 1778 | 1491 | TRITRAIN4YOU O2-CABBERTY |
| 12 | 3197 | 1883 | 1314 | ISBILYA - SLOPPY JOE´S |
| 13 | 3017 | 1642 | 1375 | MONTILLA-CORDOBA TRIATLON |
| 14 | 2971 | 1630 | 1341 | CT ARENA ALICANTE |
| 15 | 2936 | 1777 | 1159 | TRIATLON ALBACETE |