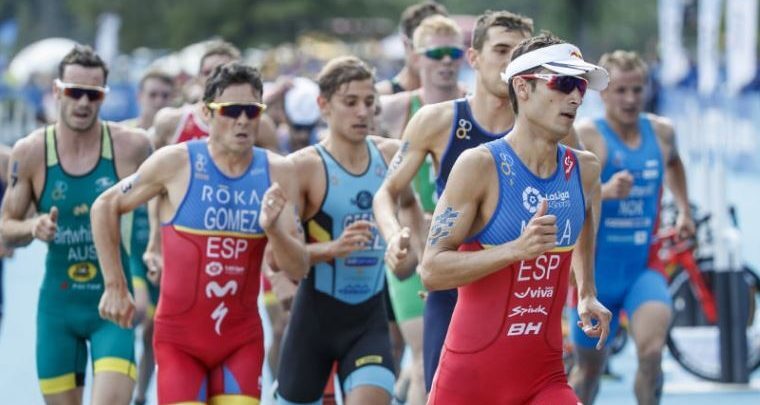 {wbamp-meta name = »image» url = »/ images / stories / noticias_07 / previous-grandfinal-world-series-rotterdam.JPG» width = »300 ″ height =» 150 ″}
If you can not see the test, from Triathlon News we will do the live so you do not miss the details of the test

---
Jonathan Brownlee stays in the top group, this can give Javier Gómez Noya the money
---
Last 2,5 km of carrear with Mola and Noya pulling the group in the lead
---
In the half-way pass the group of 4 passed with Noya, Mola, Brownlee and Vicent Luis
---
Fernando Alarza has to finish ahead of Richard Murray to get on the podium
---
Javier Gómez Noya reaches the top group
---
Jonathan Brownlee and Blummenflet take the lead, Mola goes fifth
---
Noya and Mola are already running looking for the head and Fernando Alarza a little behind
---
Only 2 km to leave the bike, everything will be decided in the race on foot
---
7 km to T2, with the Spaniards in the lead, go for the treble !!
---
I pass through the 5th lap, the difference between the leading group and the pursuer is already 2 minutes.
---
Iván Raña withdraws from the test
---
The poor conditions of the circuit are causing no attacks in the group, we will have to wait for the last lap
---
I go through the fourth lap, the difference over the Uxio group 1:30, Iván Raña has not passed
---
He went through the third lap in a group of 25 with Noya, Mola, Alarza, Hernández, brownlee, Murray, Royle and Blummenflet in the leading group.
---
In the passage through the second lap, the groups are unified, so all the favorites are in the leading group, Uxío Abuín and Iván Raña go to 1:15 in the chasing group
---
16: 33 is the best brand of @Varga_triathlon in a WTS Olympic distance in 2017 in the #WTSLeeds
---
@Varga_triathlon is the best ITU swimmer, in 4 WTS has been the first to cover the first segment
---
In the passage through the 1st lap, the distance decreases, passing the second group with Mola and Alarza to 15 seconds
---
Leading a group of 15 with Noya, Brownlke, behind 20 »Alarza and Mola pulling the group along with Chente, Uxio, Raña 1 minute behind
---
The transition of Noya, Alarza and Mario Mola
Vamoooos the T1 of @Jgomeznoya @Fernando_Alarza y @mariomola Go Go GO! https://t.co/LhPdl4JroD #RotterdamGF pic.twitter.com/hYpE7bwIms

- Triathlon News (@triatlonnoticia) 16 September 2017
---
The 1.500 meters of swimming finish, Richard Varga 1st in the water, Noya 4th in 5 seconds, Alarza at 15, Mola at 17, Uxio at 26 and Chente at 28
---
A group in head with Varga and the Polyanskiy brothers in the first positions
---
I go through the 1st lap of swimming .. #RotterdamGF https://t.co/LhPdl4JroD pic.twitter.com/RamMpcGY9B

- Triathlon News (@triatlonnoticia) 16 September 2017
---
Richard Varga in the lead with Jonathan Brownlee behind
---
The test is already underway, 1,5 km of swimming, 40 km of cycling and 10 km of running on foot to meet the 2017 Triathlon World Champion
---
---