Distances in the triathlon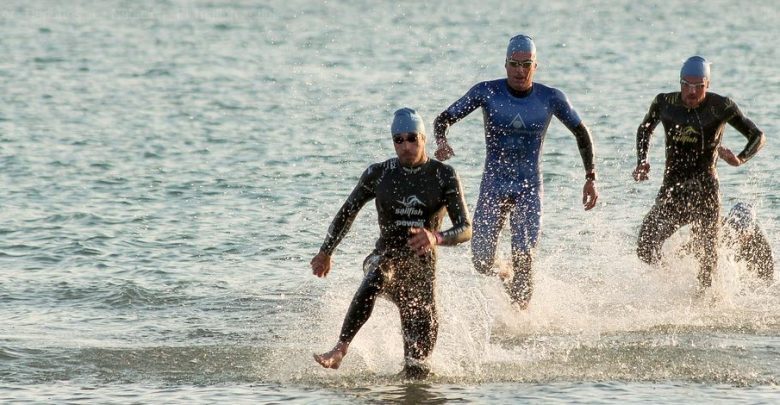 When you start to start in this sport, you will see that there are many different distances in triathlon, so we want to help you differentiate them and thus choose the one that best suits your conditions.
Triathlon is a mix of 3 sports (swimming, cycling, and running) and triathlon distances vary.
In this article we take a look at the most common triathlon distances out there.
Medium1.900 to 3.000 m80 to 90 km20 to 21 km
PTO1.900 to 3.000 m80 to 90 km20 to 21 km
| | | | |
| --- | --- | --- | --- |
| Distance | Swimming | Biking | Race on foot |
| Ironman | 3.8 km | 180 km | 42.195 km |
| Long | 1.000 to 4.000 m | 100 to 200 km | 10 to 42,2 km |
| Media | 1.900 to 3.000 m | 80 to 90 km | 20 to 21 km |
| PTO | 2.000 m | 80 km | 18 km |
| Olympic | 1.500 m | 40 km | 10 km |
| Shorts | 900 m | 40 km | 10 km |
| Sprint | 750 m | 20 km | 5 km |
| Super sprint | 250 to 500 m | 6,5 to 13 km | 1,7 to 3,5 km |
| Kids | 200 - 500 m | 5-15 km | 1-5 km |
What distances does the triathlon have?
In theory, a triathlon can be finished at any distance. However, some of the most famous triathlon events in the world, such as the Alpe d'Huez Triathlon, have custom lengths.
IRONMAN or Full distance
IRONMAN is a brand, but other independent companies organize iron distance (or full distance) events.
Their distances are 3.800 meters of swimming, 180 kilometers of cycling and 42 kilometers of running.
The fastest times over this distance were set at Challenge Roth in Germany.
Half-Ironman / Ironman 70.3
The Ironman 70.3, also known as half or medium distance, is an increasingly prominent challenge among triathletes and has developed so much that there are now more opportunities to run this distance than to face the full Ironman.
Its distance is half that of the IRONMAN. 1.900 meters of swimming, 90 kilometers of cycling and 21 kilometers of run on foot
70.3 means the total distance traveled in miles during the entire event.
The first Ironman 70.3 World Championship was held in Florida in 2006, but the growing demand is now shifting annually to different parts of the world.
Olympic
The Olympic triathlon consists of 1,5Km of swimming, 40Km of cycling and 10 Km of running, this can be translated into two hours and half, so you must have a good aerobic endurance base worked and adjust your nutrition and hydration for the effort (this is also trained).
To face the Olympic distance, our recommendation is that you have accumulated experience in at least 2 or 3 sprint distance triathlons.
In addition, it is important that you have done several races of 10Km, but also after riding a bike at a high intensity, since your legs accumulate fatigue and the sensations are very different.
Just like in sprint distance, you can find cut times for the different segments or for the total of the test, so you must be consistent with your level and physical form to do it.
It is always better to enjoy a shorter test and want to continue progressing, than to be disappointed in the first experience for not being a realistic challenge.
Sure you know many "daring" people to start with longer distances, but from our professionalism and knowledge we advise consistency, you will always have time for major challenges with training and experience, so enjoy the "little steps"!
Shorts
This is a competition that is increasingly seen in testing. It is between the sprint and the standard and is ideal to have the sensations and prepare the jump to endurance sports.
Their distances are usually 900 meters of swimming, 40 kilometers of cycling and 10 kilometers of running although there are variations depending on the competition
Sprint
The sprint distance consists of 750 meters of swimming, 20 km of cycling and 5 km of running.
To debut in this distance with pleasure and enjoyment, we advise you that you have already accumulated between 6 and 8 months of training of the three disciplines and be able to separately complete the union of two of the three segments (swim-bike, bike-race).
Check the regulations of the test you want to take, since in many cases a maximum time is established for the swimming and / or cycling segment. T
Take into account the time it may take you to finish the triathlon by making a rough estimate of the rhythms of each sector (if it is the first, it may be around an hour and a half). Prepare yourself physically and mentally for this effort.
Super Sprint
Thanks to their shorter distance, Supersprints are usually performed in a pool (16 lengths of a 25-meter pool) before heading to the bike tour.
Distances: from 250 to 500 meters of swimming, 6 to 13 kilometers of cycling and 1,7 to 3,5 kilometers of running
As a result, there is no need to wear a wetsuit or worry about swimming in open water.
Other Formats
PTO distance
The PTO has entered the world of triathlon with great force and its competitions are held with a distance slightly less than a medium distance triathlon.
This is the distance that is called PTO : 2 km of swimming, 80 km of cycling and 18 km of running.
ultra triathlon
The 'Ultra' triathlon distances include double, triple and quad iron distance events, up to one deca and even double deca, with these last 20 iron distance races in 20 days or a continuous and overwhelming 48 mile swim 2240 miles and 524 miles of running.
The first day you swim 10 kilometers (6,2 miles) and then you do 144,8 kilometers of cycling (90 miles).
On the second day, they cycle for 273,5 kilometers (170 miles).
On the third and final day, participants do 84,3 kilometers (52,4 miles)
Super League Triathlon
The Super League Triathlon Distance is a new, exciting and super short race format. Fast and wild, the Super League triathlon is contested by some of the best short distance triathletes from around the world, including Olympic medalists and champions from around the world.
Slt Arena Games
The big difference from the SLT Arena Games is that you swim in a pool, ride a roller bike, and run on a treadmill.
In addition, the race takes place on the virtual platform Zwift, so viewers also have the opportunity to see their avatars in direct competition with the Zwift interface.
We recommend reading this article What distance do I choose to debut in triathlon?