Mantecón and Serrat double in the European Triathlon Championship in Valencia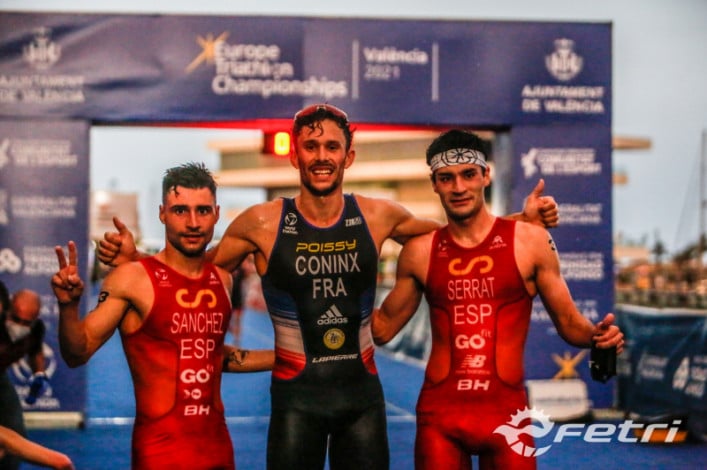 Today the elite triathlon European cup was held in Valencia where Spain has won two medals.
In the test that has been contested on Olympic distance he has won it Dorian Conix followed by Roberto Sánchez Mantecón y Antonio Serrat in third position
Without a doubt, the most exciting race of the day awaited at 18.00:XNUMX p.m. with Roberto Sánchez Mantecón running at home and Spanish triathletes among the favorites such as Antonio Serrat, Sergio Baxter, Alejandro and David Castro.
From the beginning of the test, everyone would show that they wanted to win the Championship. Sánchez Mantecón showed his leadership and was cutting positions to get closer to the leading group, which included David Castro, Alberto González and Antonio Serrat.
At the moment Sergio Baxter and Genis Grau were accompanying him in the race. David Castro would end up cut in the cycling segment. The manchego would be able to integrate into the second race group but would lose any chance of being part of the top positions.
Meanwhile the competition progressed and did so at a good pace, with the Spaniards cutting positions, and maintaining the first places when getting off the bike. Roberto Sánchez was running at home and quickly surrounded by the shouts of the public, he set a fast pace that would make him distance himself from Antonio Serrat.
Not so from the French Dorian Coninx. In the last entry to transition the podium was sentenced with Coninx in first position, Sánchez Mantecón in second and Serrat a bronze medal.