Historic double by Javier Gómez Noya and Pablo Dapena in the Challenge of Prague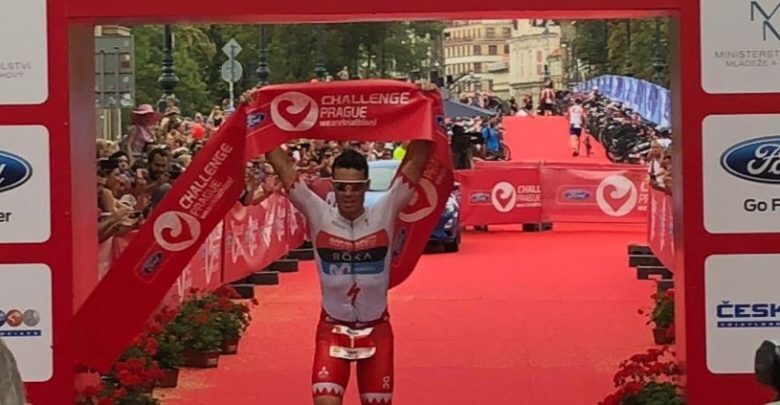 {wbamp-meta name = »image» url = »images / stories / news_08 / javier-gomez-noya-challenge-praga.JPG» width = »300" height = »150"}
Galician double in the Challenge Prague, with Javier Gómez Noya taking the victory thanks to an imperial race on foot and with Pablo Dapena second to 6 'of his partner and friend.
Today, the Challenge of Prague, in the capital of the Czech Republic, in another of the great events on the circuit Challenge Family which is committed to holding its competitions in large state capitals, as is also the case Challenge Lisboa or Challenge Madrid.
The test started at an unusual time, at the 12: 00 at noon with the 1.900 meters of swimming on the Vltava River. From the first stroke the Spaniards take the lead, with Javier Gómez Noya leading the swim and with Pablo Dapena stuck to your feet.
Swimming exit
1500 athletes started today at @challengeprague follow the pro race on social. pic.twitter.com/3UPHjc6za8

- Challenge Family (@Challenge_Famil) July 28, 2018

Both world champions came together for the first transition, with one minute of advantage over the Belgian Pieter Heemerych and two minutes of rent on a group of seven triathletes where the Germans were Carnation y Buck among others.

Noya y It's pitiful they started the cycle segment where the 90 km were together, always respecting the 20 meters away to avoid drafting. Behind the Belgian little by little was cutting time. When passing through the 18 kilometer the Galicians had only 30 »of rent on Heemerych while behind the group of Carnation passed to 1'30 »of the leaders.

In the 45 kilometer, in the middle of the cyclist segment the differences remained the same, Javi y Pablo in the lead with the Belgian half a minute and a trio from behind with the Germans Block, Carnation and the Austrian Birngruber to 1'20 »from the head of the race.

When passing through the 62 kilometer »the differences stabilized between the six heads but in the last kilometers Noya y It's pitiful they slowed down a bit before the race on foot and this was taking advantage of the Belgian Heemeryck to hunt them, getting off the bike first with Noya y It's pitiful together with him. For its part, the pursuing trio also cut time and left the bike to 1 'leaders.

Transition Javier Gómez Noya

Heemeryck leaves transition first. pic.twitter.com/bss8Na330a

- Challenge Family (@Challenge_Famil) July 28, 2018

In the running race Noya it imposes a very hard rhythm from the beginning, in the purest WTS style, where he is the best in Olympic distance history and he goes alone in search of victory.

When passing through the 5 kilometer, your rent was already over one minute Heemeryck that remained in second position. For its part Pablo Dapena it was third to less than 20 »of the Belgian. Behind the Germans and the Austrian ran at a slower pace than the trio head.

When passing through the 10 kilometer, Noya he was still leading with authority, while Pablo It's pitiful climbed to second place, to the detriment of the Belgian who was third.

When passing through the 15 km Noya He continued "comfortably" in the lead, marking the best partial on foot. For its part Pablo It's pitiful maintained the second position with a rhythm identical to the Belgian Heemeryck Behind the Portuguese Azevedo he had ascended to fourth place with a great race on foot and fifth was Czech Kocar

Finally victory for Javier Gomez Noya, who adds her third triumph in the Challenge Family circuit, along with Wanaka this season and the 2013 Challenge Barcelona. Noya's goal time was 3: 44: 40. Second position for an impressive Pablo It's pitiful (3:50:53) getting her fifth podium in the Challenge circuit this season and third was the Belgian Pieter Heemeryck (3:51:55) with a great career standing up to the world champions.

Num1 at @challengeprague is @Jgomeznoya cc @Challenge_Famil pic.twitter.com/8FKp1etXQI

- Juanan Running (@Juanan_Runners) July 28, 2018

Classification

| | | |
| --- | --- | --- |
| 1 | GOMEZ NOYA Javier | 3:44:40.7 |
| 2 | DAPENA GONZÁLEZ Pablo | 3:50:53.7 |
| 3 | HEEMERYCK Pieter | 3:51:55.0 |
| 4 | AZEVEDO Filipe | 3:54:48.7 |
| 5 | BOCK Niclas | 3:58:59.7 |

Photos: Challenge_Famil