Triathlon News
Domenico Passuello and Emma Bilham win the Portocolom International Triathlon
This edition the test becomes part of the Spirit Triathlon Series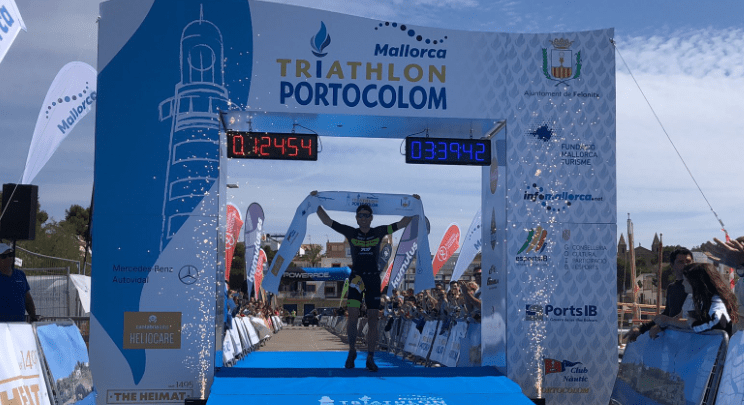 Today, in the beautiful Mallorcan town of Portocolom, a new edition of the Portocolom Triathlon, where the Italian Domenico Passuello y Emma Bilham They have taken the victory.
The test had two distances, the 111 and the 55.5 where in the race reigns the victory has been for Domenico Pasuello with a time of 3: 39: 38 followed by Milosz Sowinski (3: 41: 23) and for Markus Hoerman (3:44:42), in the female category the victory has been for Emma Bilham with a final time of 4: 04: 41 followed by Nina Derron (4: 07: 49) and for Chantal Cummings (4: 09: 17) occupying the third position.
Domenico Pasuello winner of @TriPortocolom #TriPortocolom19 pic.twitter.com/sXtrhm5XBj

- Triathlon News (@triatlonnoticia) April 14 2019
Nearly 800 athletes began their triathlon season in Europe in Mallorca, at the 2019 international portocolom (111 and 55.5 distances). Swiss triathlete Emma Bilham and former professional cyclist Domenico Passuello were the winners of this edition, set against segments of hard bikes with a double climb from Sant Salvador.
Emma bilham secured a victory after a awesome bike performance. After being beaten in the last season, she returned with a vengeance, and with an attack on the double ascent to the hill of Sant Salvador, she made a gap with respect to her 3 'rivals that assured her a second victory in the Nautic club of Sant Salvador. Nina Deron, also from Switzerland, was second with a winning career sector, and the British Chantal Cummings It has been third.
The Italian veteran former cyclist Domenico Passuello It also achieved a great victory based on a robust cycling sector. He achieved victory after riding the entire bike alongside the Swiss star, Manuel Kung, who had to retire in the race due to an injury.
The four-time champion of the event, Michael van cleven He was also unable to finish the test since he suffered an accident at the point of the 50 km of the bicycle. The rising star polish athlete, Milosz Sowinski finished two minutes behind Passuello followed by Markus Horman, third.
The Spanish Miquel Riusech Cardona (1 h54: 07) and Sabrina Stadelmann (2 h12: 50) were the winners in the 55.5 category
The portocolom triathlon was today the kick off event of the new Spirit Triathlon Series, which is a European long distance triathlon circuit, consisting of iconic triathlon events in four countries.
111 results
Men
1. Domenico Passuello 3h39: 38
2. MILOS SOWINSKI 3 h41: 22
3. Hormann 3 h44 frames: 41
Women
1. Emma bilham 4 h04: 00
2. Nina Derron 4h07: 48
3. Chantal Cummigs 4h09: 17
More information: https://www.triathlonportocolom.net/