Ecotrimad, 80 Athletes recognize the route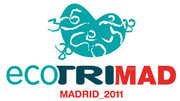 Last Saturday about 80 triathletes attended the 1st appointment to cycle and walk the ECOTRIMAD route, Triatlon sponsored by the community of Madrid to be held 14 May 2011 in Buitrago de Lozoya
Madrid, December 12, 2010 - The call was made through the Ecotrimad website, Facebook, forums and by email. Attendees covered 63 of the 76 km of the bicycle section and the last kilometers of the foot race that coincide with the passage through the wall and the completion of the test in the magnificent castle of Buitrago de Lozoya. Before starting, nutritional products from Victory Endurance, sponsor of the test, were distributed to the attendees.
The athletes considered the course "tough, spectacular and different." It began in the recreational area of ​​the Riosequillo reservoir, in whose pools, thanks to the Canal de Isabel II, will be the transition zone. The weather was good and future competitors recognized this ECOTRIMAD initiative as innovative and fun.
Representatives from the following Triathlon clubs attended the event: Aguaverde, Corebo, Pegaso H30, Ecosport, Enphorma, Tritalevera, Trialcorcon, Zest and Berraco de los Montes. Given the success of the call, Ecotrimad will organize similar events in the coming months of February and April.
Further information: www.ecotrimad.com