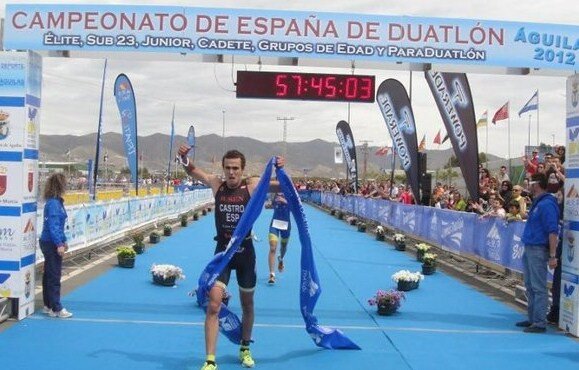 The Castilian triathlete from La Mancha, David Castro Fajardo has reached an agreement to run with the bicycles of the Spanish-Swiss factory Berria Bike The next seasons.
This young triathlete, is already, despite his youth, one of the Firm candidates to be the number one triathlon in Spain.
David Castro, that in this 2013 has gone from junior to sub-23 category, It has an impressive palmares, it's two-time champion of Spain in triathlon (Vigo 2011 and Pontevedra 2012), two-time champion of Spain in team triathlon (Vigo 2011 and Pontevedra 2012), two-time duathlon Spain champion (Soria 2011 and Águilas 2012) and Spain duathlon team champion (2012 eagles).
It has also been 15 international times, in training categories, and three times in the absolute category. This wide list of winners together with his youth, made Berria Racing bet on this young promise that is called to be an indisputable in the triathlon elite.
The young triathlete is currently training and planning the 2013 season at the High Performance Sports Center in Madrid, it is confirmed that Castro will participate in the 5 international tests that will take place in Spain, as David tells us "these tests are very important, since there is a very high level and a lot of experience is gained ". It is also confirmed that from April he will participate in the European Cup events in which he will try to take ITU points. To prepare for the season and catch the rhythm of the competition, Castro is going to start with several duathlones and popular athletics races, he tells us, "I really like these preseason races, since I take away the competition bug".
Berria Racing He has made available to the young triathlete, a Berria Belador (UCI approved) completely customized for him. The Belador frame is built in 3 ultra high modulus carbon types (HM3X) in UD finish and manufactured with Tube2Tube system (T2T), which makes it unrivaled in terms of stability / lightness / stiffness.
This manufacturing system allows the sections (HST) and tube shapes (2ST) to be refined to the maximum. The weight of the frame is only 860 grams, assemble a BB30 bottom bracket and the address is oversized to 1 "1 / 8 - 1" 1 / 2 (OHS) thus achieving a truly amazing stability.
David Castro, has been delighted with his new Berria Belador, "is a bicycle with a great weight and aerodynamic relationship, I train daily with her, I'm sure it will help me a lot to improve in the bicycle segment"