Briton Tom Vickery and Austrian Lisa-Maria Dornauer are the absolute winners of the Long Course Weekend Mallorca 2019
Today the run day has been played with the marathon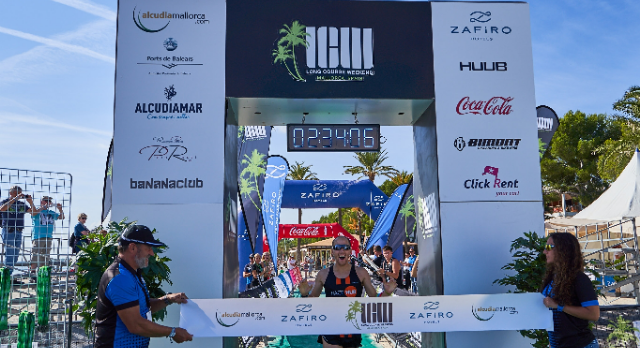 The marathon of the Run Day has crowned Tom Vickery for the third consecutive time as the absolute winner of Long Course Weekend 2019 in a very tight and exciting final in this test on 42.195 meters, where the chrono has stopped in 2h34: 05.
He has managed to reduce the 7 minutes of disadvantage over the leaders of the previous day to be crowned champion again, ahead of the German Fabian Knobelspies, second less than a minute from the British, and the Swedish Fredrik Ekström, third.
In the women's category, the winner has been the Austrian Lisa-Maria Dornauer that a marathon was running for the first time (3h22: 06) and that this time has also served to neutralize the advantage that the first classified after swimming and cycling until today, the British Nicola Kaye who has finally come down until fourth place.
The Spanish Chloé Serra Jodin it has been the second of the general to slightly less than 9 minutes, while the British Michell Parsons He finished third despite having been the fastest woman in the foot race today from the Queen Distance.
The Half category
In the "Half" Long Course Weekend category the final victories have been for Sharon taylor and to Fernando Colom Cario.
The second edition of the Long Course Weekend Mallorca has ended today with the Run Day in which races have been held 5, 10, 21 and 42 kilometers in Alcudia.
The competition started on Saturday with swimming in the bay of Alcúdia, continued with the cycling day on Sunday and concluded today with the race on foot.
This afternoon at 15h30 the finishers of the three queen distances throughout the weekend receive the fourth medal that makes them 'Legends' of the test. A total of 1.500 participants from more than 20 different nationalities have taken part in any of the tests.
The Long Course Weekend Mallorca is organized by Kumulus, with the invaluable cooperation of the Ajuntament d'Alcúdia. More information in www.lcwmallorca.com.
Final classification full distance Long Course Weekend
Women:
Lisa-Maria Dornauer 9h28: 25
Chloé Serra Jodin 9h29: 05
Michelle Parsons 9h43: 04
Men:
Tom Vickery 8h09: 14
Fabian Knobelspies 8h20: 03
Fredrik Ekström 8:22:36
LONG COURSE WEEKEND MALLORCA 2019. 26-28 OCTOBER.
Classification full distance Long Course Weekend
Women (Swimming + Cycling):
Nicola Kaye 5:54:17
Chloé Serra Jodin 5:56:13
Lisa-Maria Dornauer 5:56:23
Men (Swimming + Cycling):
Fredrik Ekström 5:27:30
Thomas Steger 5:29:30
Fabian Knobelspies 5h29: 58
LONG COURSE WEEKEND MALLORCA 2019. 26-28 OCTOBER.