The Cidade de Lugo, with Gómez Noya, sweeps the relays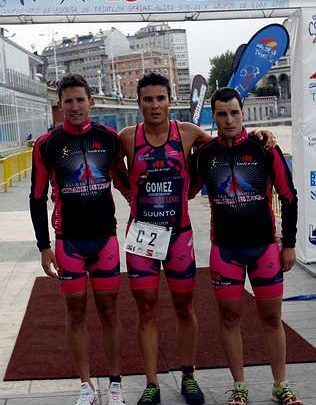 The Galician triathlon dominated the first day of the Spanish Triathlon Championship, in which the relay events were disputed. In both the men's and women's competition, the absolute winner was the Cidade de Lugo Fluvial.
In the men's competition, the Cidade de Lugo Fluvial, with Jesús Gomar, Adrián Vázquez and Javier Gómez Noya stopped the timer at 1? h 17 min, while the second classified, the Arcade Santiago (with Alberto Trillo, Roberto Barral and Brais Canosa), did a time of 1 h 18 min and 5 sec.
The triathletes had to face a gusty wind that made a circuit that invited big brands difficult. Despite this, the Galicians made a difference with the third-placed team in both categories, the Seville team, who finished at a notable distance.
Javier Gómez Noya showed his good form for the Madrid World Cup event and Aida Valiño his full recovery after a long absence due to an injury to the Achilles heel. Saleta Castro He will not participate in today's tests (the Spanish Sprint Triathlon Championship) because he is preparing the national long-distance race, which is somewhat incompatible.
In women, the members of the Lugo team (Aida Valiño, Saleta Castro and Beatriz Tenreiro) stopped the clock at 1 hour 29 minutes and 32 seconds. The Ferrol Triathlon (with Melina and Camila Alonso, and Miriam Casillas) achieved a time of 1.31.11.
Today, the same Riazor circuit in A Coruña will host the National Sprint in the elite categories, sub-23, age groups and national series of cadets and juniors with more than half a thousand participants.
Source: http://www.lavozdegalicia.es