The triathlon day is five years old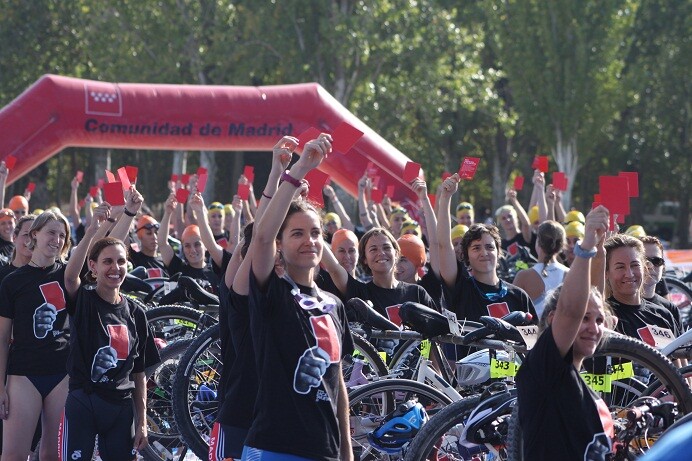 The Casa de Campo de Madrid has once again hosted the Women's Triathlon-Triathlon Day, where about 800 popular and federated triathletes have come to enjoy this great day.
Rushing the last hot days of the year, hundreds of athletes have gathered today in the "Triathlon day", an initiative that aims to get closer to the federated and popular triathlete to make this sport known.
The tests began at 9.30 in the morning, with the Olympic distance, to continue with sprint and Aquathlon. After a short break, in the afternoon the participants of the women's super sprint distance and triathlon were started.
The star of the day has been the young Micaela Bernal of the Marlins club, who was not satisfied with climbing to the top drawer of the podium in the Aquathlon event, but one in the afternoon, she repeated a feat, achieving third place on the podium in the Women's Triathlon.
One more year, young and not so young triathletes, but all with a fighting spirit, have joined the initiative "get the red card" to demonstrate in this way against gender violence. Minutes later the Women's Triathlon started.
The first to reach the finish line was the very young Cecilia Santamaría, daughter of the renowned triathlete Carlos Santamaría. at the time of the foot race and in this way I managed to reach the finish line in first position "
For Lorenzo Bernal, President of the Madrid Triathlon Federation "this is the fifth consecutive year that Casa de Campo has held this event and it has always been very well received. Despite the fact that this year the dates have been changed to the end of summer, we had an excellent day in which triathletes and the public have been able to enjoy the great triathlon party. There are still steps to be taken, but it is true that licenses in the Community of Madrid have grown by approximately 15% in the last year. The total number of female licenses is 17% of the total, it is important to have initiatives such as Triathlon Day and Women's Triathlon to bring our sport closer to more people every day "