The Spanish Jon Erguin manages to enter the Top 10 in the Winter Triathlon World Championship.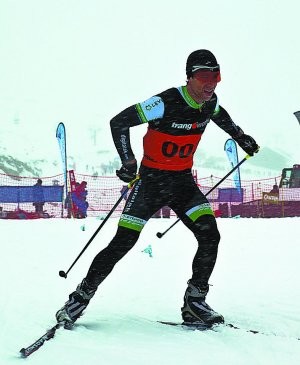 Jon Erguin has achieved a magnificent ninth position in the Winter Triathlon World Championship held today in the Finnish city of Jamijarvi.
The Russian Pavel Andreev prevailed in the men's category, this being the second time that he achieved a world title followed by the Italian Daniel Antonioli, and the Swedish Andreas Svanebo obtaining the bronze.
In the women's category, Czech Helena Erbenova prevailed in the event, thus achieving her first world title, followed by Finnish Maija Oravamäki and Norway Borghild Løvset occupying third place.
Jon Erguin, current Spanish Winter Triathlon champion, second in the Oberstaufen European Cup and fifth in the European Championship, finished the event in ninth position with a final time of 01:22:45
Male Classification:
| | | | | |
| --- | --- | --- | --- | --- |
| POSITION | NAME | LAST NAME | COUNTRIES | TOTAL TIME |
| 1 | Andreev | Paul | RUS | 01:19:27 |
| 2 | Antonioli | Daniel | ITA | 01:19:43 |
| 3 | Svanebo | Andreas | SWE | 01:20:21 |
| 4 | Kirillov | Evgeny | RUS | 01:21:04 |
| 5 | Comazzi | Alberto | ITA | 01:21:11 |
| 6 | Kuzmin | Maximum | RUS | 01:21:25 |
| 7 | Jurkovic | Tomas | SVK | 01:22:07 |
| 8 | Bregeda | Dmitriy | RUS | 01:22:13 |
| 9 | Erguin | Jon | ESP | 01:22:45 |
| 10 | Monsen | Kristian | NOR | 01:22:56 |
Female Classification
| | | | | |
| --- | --- | --- | --- | --- |
| POSITION | NAME | LAST NAME | COUNTRIES | TOTAL TIME |
| 1 | Erbenova | Helena | CZE | 01:31:51 |
| 2 | oravamäki | May | END | 01:32:00 |
| 3 | Lovset | Borghild | NOR | 01:32:03 |
| 4 | Grabmullerova | Sarka | CZE | 01:35:51 |
| 5 | Charochkina | Tatiana | RUS | 01:37:11 |
| 6 | Steinecker | Simone | TUE | 01:38:42 |
| 7 | Chernykh | Ksenia | RUS | 01:39:27 |
| 8 | Nystrom | Eva | SWE | 01:39:36 |
| 9 | Surikova | Testimonial: Yulia | RUS | 01:41:38 |
| 10 | Lavonen | Suvi | END | 01:53:35 |