The 2013 European will be held in Turkey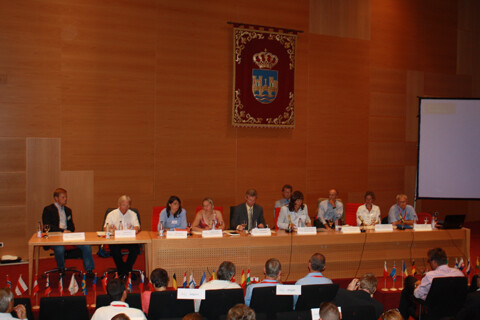 The ETU congress chose the venue for the next European.
The European Triathlon Union this afternoon named Turkey as the country in charge of hosting the 2013 European Triathlon Championship, in the course of the ETU annual assembly, which was held today at the Pazo da Cultura.
The table of authorities was made up of the president, Philip Schändler, in charge of welcoming all attendees, the vice-president, the treasurer and the secretary general of the ETU, as well as seven other members representing the athletes' committee. Alicia García, General Secretary of the Spanish Triathlon Federation and Member of the ITU Executive Committee.
Likewise, among the first rows were the guests to the congress: the Spanish Marisol Casado, President of the International Triathlon Federation and CIO member, Gergely Markus, sports director, Antonio Fernández, ITU administrative and financial director, and Francisco Villanueva, president of the Galician Federation, among others. The president, during her speech, stated "We have already secured the championships for the next two and next year is the last to qualify for the Olympic Games, that is why it is very important." The European of the year 2012 will be held in Israel and the 2013 in Turkey.
The two morning seminars were dedicated to improving paratriathlon participation and technical issues of winter triathlon. Subsequently, the 2010 budget for these activities was approved, collecting all the information and agreements in the report prepared by the president.
The afternoon session was marked by decision-making, such as the election of the new ETU treasurer, the Italian Renato Bertrandi. Likewise, the members who will form the audit committee during a one-year period were selected: the Italian Stefano Mondello and the Portuguese María Teresa Álvarez Rodríguez.
After announcing the country where the next European Championship will be held, the president of the Spanish Federation reminded the attendees: "Pontevedra is going to offer us an extraordinary championship and we are very grateful to be here to see it."
Similarly, Alicia García, also from the Federation, affirms that "in these times of economic crisis, collaboration between all institutions and organizations is essential, so that the sport of triathlon continues to grow."
Source: FETRI