El Fluvial, champion of the King's Cup of Triathlon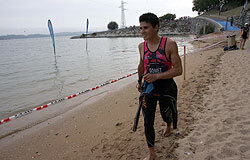 Fluvial de Lugo reconquered the Copa del Rey triathlon. The team led by Javier Gómez Noya climbed to the top of the podium in Ferrol thanks to a three-second advantage over Arcade Inforhouse Santiago, who played a magnificent role and caressed the victory in Caranza, while Diablillos de Rivas finished third. In this way, the world champion has won again in his city, achieving the goal of removing the thorn in the fateful European Championship of Pontevedra.
The triumph of the Lugo team has been a double game thanks to the sensational victory of the women's team. Tritoledo qualified in second position and, as Cali Formoso, president of the Ferrol Triathlon Club, predicted, his girls got on the podium with a creditable third place.
Photo Kiko Delgado
The Spanish Aquathlon Championship is being held today with 400 athletes who will swim 1.000 meters and run 5 kilometers. The competition will begin at ten in the morning for the age, cadet and junior groups, while the elite women's event will be at 11.30:12.00 am and the men's at XNUMX:XNUMX pm.
Source: www.elcorreogallego.es