El Gran Fondo La Falla opens registration
The route runs along the roads of the Catalan and Aragonese Pyrenees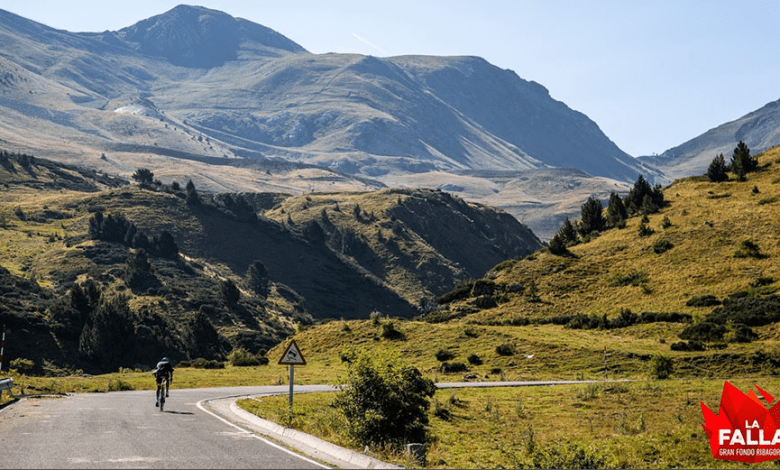 The Gran Fondo Ribagorça Fault the most unknown ports of the regions of the Catalan High Ribagorça and the Aragonese Ribagorza will be flooded again on September 26, 2020.
After three editions, marked by positive comments from all participants, the organization of the test has marked the challenge of achieving a full consolidation of the reference cyclist in the Pyrenees of Lleida and East of Aragon.
To achieve this, the organization has a solid involvement of the public institutions in the area (municipalities of El Pont de Suert, Vilaller, Montanuy or Vall de Boí, county councils of Alta Ribagorça and Ribagorza and Diputación de Lleida), the collaboration of the fabric business and, above all, the enthusiasm of the almost 1.500 cyclists who have already participated.
The tour
The Gran Fondo La Falla route runs along the roads of the Catalan and Aragonese Pyrenees, in the Ribagorça and Ribagorza regions.
The participants will enjoy landscapes and places as spectacular as the Baliera Valley, the Barravés Valley, the Caldes de Boi Spa, the Aigüestortes National Park and the Boi Valley with the Romanesque churches as protagonists declared World Heritage of Humanity by the UNESCO.
2 registration draw
The novelties for this 2020 are:
Change of test day to September 26 to not occupy summer vacations

It will be held on Saturday, instead of Sunday, to facilitate the rest of the participants

Departure time is advanced - at 9 am to avoid the cold of the first hour of the morning

Chronoscalada also for the short circuit (GRAND MONTANUY AWARD)

Sum of the two time scales for the long circuit (GRAND FONDO LA FALLA GRAND PRIZE)

Finisher medal
Two distances to choose
Again, the possibility of enrolling in the Big backyard (133 km, with 3.000m positive) or in the Half Fund (85 km, with 1.700m positive).
The two distances include little known and beautiful climbs such as the Alto de Bonansa, the Alto de Espés or the Alto de la Cámara de Montanuy ,.
Those who dare with the Gran Fondo will also have to overcome the climb to the Boí-Taüll ski resort (also time-climbing) and the Caldes de Boí balenario.
Taking care of all the details
The organizers of The Gran Fondo Ribagorça Fault is taking care of all the details to continue highlighting with the qualitative aspects of the test
Among them are the complete supplies, exclusive jersey, the possibility of completing the kit with garments designed for the occasion, pictures y Free videos
On the other hand the area has a good offer of accommodationor complete to make this cyclist the opportunity to spend a weekend with friends or family discovering the surroundings of the National Park of Aigüestortes, the Romanesque of the Boi Valley and all the fantastic villages that hide in this part of the Pyrenees.
All information about the test and registration in: www.granfondolafalla.com