Japanese Kengo Suzuki, first non-African man to lose 2:05 in a marathon
Has done it in the oldest marathon in Japan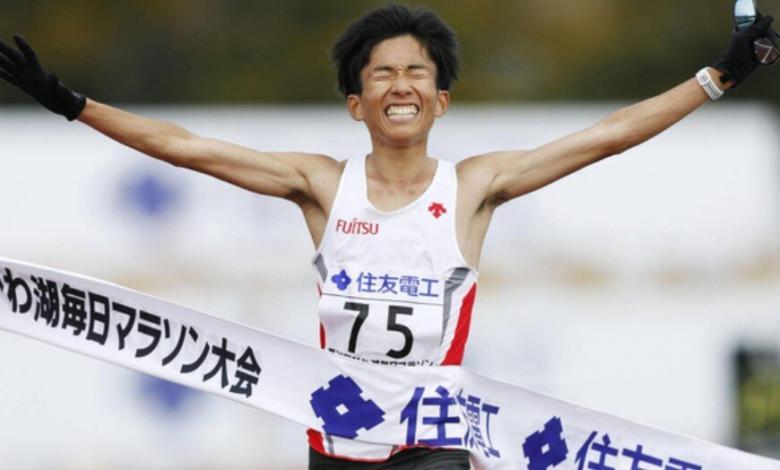 This Sunday the Japanese Kengo Suzuki he has become the first athlete not born on the African continent to drop below 2:05 in a marathon.
He has achieved it in the Lake Biwa marathon, the oldest in Japan, with a 2 time: 04: 56 also achieving the record of Japan in the distance in 2h.05: 29 that Suguru Osako had
Suzuki, who was wearing Nike sneakers with the latest technologies, has his personal best in more than 5 minutes
First non-African to go down from 2:05
With this victory, the Japanese Kengo Suzuki has become the 59th person who has managed to get off in a marathon of 2:05.
The important thing about this data is that it was the first one not born in Africa to do so.
All of the above were Kenyans or Ethiopians except the Turk Kaan Kigen Özbilen (Kenyan by birth), the Bahraini El-Hassan El-Abbassi (Moroccan by birth) and the Belgian Bashir Abdi (Somali by birth).
【# び わ 湖 毎 日 マ ラ ソ ン 】# 鈴木 健 吾 (富士 通) が 2 時間 4 分 56 秒 (正式 結果) で フ ィ ニ ッ シ ュ !!!
日本 新 記録 ㊗️#marathonhttps://t.co/3rrtaWxkG4 pic.twitter.com/m87DK7hNhC

- 日本 陸上 競技 連 盟 (@jaaf_official) -
The first 15 drop from 2:08
In the same test, the 15 first classified managed to drop from 2:08 and even the 42nd classified did less than 2:10.
"I did not expect to have a time like this. I'm more surprised than anyone, "said Suzuki at the end of the race in statements collected by the public channel NHK, in which he was happy to have established the brand in this latest edition.
Will not be at the Games
Suzuki finished seventh in the national qualifying event for the Olympic Games in Tokyo 2020 and lost the selection.
The runner regretted missing the Olympic event that is scheduled to start next July, but said he was training with a change of mind for the Paris Games. I've been having a good workout. (….) I want to continue like this », he pointed out.
Source: Brand