Alejandro Santamaría from Madrid achieves podium in the iroman of Cozumel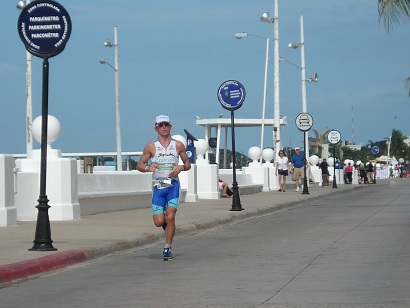 Excellent performance by the Madrid triathlete at the Cozumel Ironman, where after an impressive comeback in the foot race, he achieved this well-deserved third place on the podium.
In a year of excellent results worldwide for the Spanish triathlon, Alejandro Santamaría this weekend has managed to prove himself, adding a third place on the podium in one of the most internationally recognized Ironman.
"I had trained hard this summer and the week after Orihuela I did some wild training days with very demanding days. All thinking about this Ironman "
"After the disaster caused by the Spanish championship in Orihuela, where I didn't even have the option to compete in the test, I wanted to get my thorn out in Cozumel. I was in shape and I just had to show it "
The exit of the water was a little behind, with 8 minutes of difference with the first triathlete, which did not give the possibility of being part of the group of head
"I didn't swim as well as I would have liked. I lost the good group and got cut into a slower group. I did not settle and I went alone trying not to waste more time but it did not go quite well. The bike started regular, at first it was hard for me to get up to speed and I had 180km ahead. What a beating awaited me! Luckily at 40km I started to perform better and began to climb. My pace was getting better despite the kilometers and I was overtaking rivals faster and faster. I felt like I was having a great race because I passed some favorites and they were much slower "
However, when it seemed that he was going to take the lead group, an altercation arose, where he collided with another triathlete.
"It seems like I'm stumped… because at km 150 I hit a bend that made a strange maneuver and I ran into him. What a mess! I was doing a rush and this has to happen to me. Luckily the bike did not break, I had to adjust it from the blow and also recover myself and help the other competitor. I lost a few minutes but not too many "
After this inconvenience, the Madrid triathlete, knew how to draw strength and not leave behind his goal of being among the first classified in this competition.
"I start to run regularly, the blow has left me some discomfort and it costs me. Little by little I am picking up pace and references from my rivals. I'm starting to climb but there are still many kilometers left and everything can change. The former go far but this is a very tough marathon.
As the kilometers go by, my pace continues to be good, the best, and I continue to climb. 8th, 6th, 4th until I am 3rd with 14km to go, but I can't relax because 4th comes very strong from behind and I have to do the last 7km very hard to keep my position. I had my first podium and with what it costs to get it I had to fight it to the end. The last kilometers were difficult because we suffered a storm and the puddles reached our ankles but that was for everyone, so I thought of all those who support me and I found the strength to run faster and faster. I got the best time in the marathon (02:52:00) and with 3rd place on the podium and only 2 'of the second "
"After so much effort, so many kilometers trained and so much sacrifice, getting a podium in an Ironman is a great satisfaction. And having achieved it in Latin America pleases me even more "
The Madrilenian Triathlete will stay a few days in Mexico as he participates in the program "Run for PRONIÑO", which fights against child exploitation and educates children, in which it has already managed to have more than 250.000 sponsored and has several schools in the zone.
"On Tuesday I will be able to visit a school to share my experiences with these children and to be able to motivate them to continue striving to learn and study in a difficult world for them"
Alejandro Santamaría achieved his first podium at the international level in the Junior category in 1997, when he was proclaimed Duathlon World Champion in this category. With more than a decade of experience, Alex has proven once again to be a committed triathlete as well as a true ambassador for the sport.