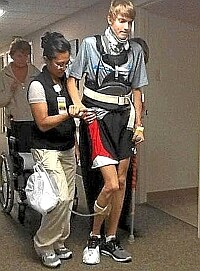 While the eyes of the world were on the Olympic Games in London, a young Lithuanian triathlete, Lukas Verzbicas, was training the 31 of July like a madman in the circuit of Colorado where the national team works. He launched himself in a descent as he always did, to the fullest, until the wheel of his bike skidded when braking on a wet area before a bend. He was fired against the guardrail.
With just 19 years, Verzbicas, considered one of the jewels of triathlon, tried to get up, without success. The legs did not respond. Immediately he realized that his injuries were serious and reached for the phone to ask for help, but could barely breathe much less talk. At that moment his training partner arrived and the operation was launched to save his life.
The medical examination revealed a fracture of the clavicle, a perforated lung and two fractured vertebrae, with medullar displacement of an 20%. Seven hours in the operating room, in the hands of Dr. Roger Nagy, allowed to stabilize his injuries, waiting to see the evolution of spinal damage, which paralyzed his right leg. "The truth, I never thought I would walk again. We thought about the wheelchair or, at the most, walking with crutches, "said Dr. Nagy.
I did not have the desire to overcome the young triathlete born in Lithuania, who moved to the United States at nine, fed by his stepfather, who on the first day of his rehabilitation put a blackboard in his hospital room in which he had written : 2016 River.
Having recovered the motivation after the initial depression, Lukas began a spectacular race towards recovery that allowed him to leave the hospital five weeks after the accident, 12 days earlier than expected, to continue his way to the top of the triathlon, where he was heading before of his accident, when he won the Banyoles World Cup in June against professional triathletes such as Vidal or Polyanskiy.
"I will return to the triathlon at the end of 2013", he says now on social networks while he continues to suffer and ingesting calories to recover the lost kilos - an 40% of his body weight - and to be the kid who left athletics for triathlon in 2011 to dedicate the victory in the Junior World Cup to his friend Kevin McDowell, who had detected a Hodgkin lymphoma
Source: Marca.com
You may also be interested in this