The "pique" of Lionel Sanders with a former professional cyclist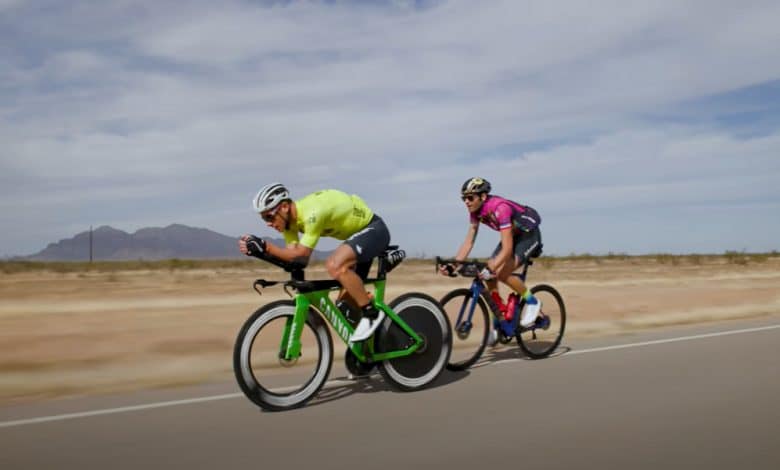 The Canadian triathlete media Lionel Sanders He has published a new video on his YouTube channel where he has done a training session with the former North American cyclist phil gaimon.
Gaimon, who was a professional cyclist until 2016, got the Strava KOM in the Mount Lemmon climb (Arizona) with 42 kilometers and a gradient of 4% elevation, although Sanders snatched it last year.
Well, now both athletes have shared training in order to improve Sanders' cycling segment.
The training consisted of 7 series of 10' with 2' recovery
These have been your data
| | | | | |
| --- | --- | --- | --- | --- |
| series 1 | Heart Rate | Speed | Power | |
| Lionel Sanders | 132 | 28,9 | 373 | |
| phil gaimon | 167 | 28,9 | 358 | |
| series 2 | Heart Rate | Speed | Power | |
| Lionel Sanders | 130 | 28,3 | 373 | |
| phil gaimon | 162 | 28,3 | 325 | |
| series 3 | Heart Rate | Speed | Power | |
| Lionel Sanders | 131 | 21,9 | 365 | |
| phil gaimon | 160 | 21,9 | 328 | |
| series 4 | Heart Rate | Speed | Power | |
| Lionel Sanders | 133 | 20,6 | 365 | |
| phil gaimon | 164 | 20,6 | 333 | |
| series 5 | Heart Rate | Speed | Power | |
| Lionel Sanders | 131 | 40,3 | 363 | |
| phil gaimon | 166 | 40,3 | 333 | |
| series 6 | Heart Rate | Speed | Power | |
| Lionel Sanders | 133 | 29,9 | 364 | |
| phil gaimon | 171 | 29,9 | 348 | |
| series 7 | Heart Rate | Speed | Power | |
| Lionel Sanders | 134 | 28,7 | 367 | |
| phil gaimon | 174 | 28,7 | 342 | |