The next weekend Águilas will host the elite of the European triathlon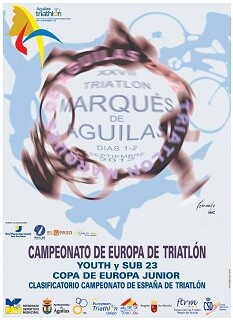 During the days 1 and 2 of September, the municipality of Águilas will host the XXVII Triathlon "Marques de Águilas", valid for the Youth and Under 23 European Championship, the Junior Triathlon European Cup and qualifying for the Spanish Triathlon Championship .
With the objective set in these titles, about 500 top-level triathletes have already registered, although the final participation is expected to be around 800. It serves as proof of the participation of the elite of this sport in Europe who have already confirmed their assistance several Olympic athletes such as Spanish Mario Mola, the Dutch Maaike Caelers, the Russians Andrey Bryukhankov, Igor Polyanskiy and Denis Vasiliev, the Portuguese Joao Silva, the Slovak Richard Varga or the Italian Davide Uccellarii among others.
Along with them, athletes from around 30 European countries that are joined by Venezuelan and even Australian athletes will turn the municipality of Águilas into the triathlon capital in Europe.
After the celebration last May of the Spanish Duathlon Championship, the city continues with its firm commitment to this sport in which it has a long history of sports, endorsed by an excellent organization and management of all sporting events that are held in the coastal municipality.
Organized by the Municipal Sports Board, it has the collaboration of the Spanish and Murcian Triathlon Federations, in addition to the work of 150 volunteers from the Board, as well as members of all the health and safety bodies of Águilas.
Source: murcia.com