Saturday, XXVI edition of the Guadalajara Triathlon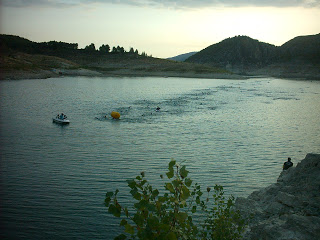 Alejandro Santamaria, Jose Almagro, Alvaro Velazquez, Ivan Tejero or Salvador Gil, favorites to win
Ana burgos, Estefanía Dominguez Cristina Azanza favorites in females.

On this occasion, the triathletes will have to swim 1900 meters in the Azud de Pareja, take their bicycles and complete the almost 90 km from that town to Guadalajara, making 5 marked climbs (Auñon, Alhondiga, Fuenteleviejo, Pinilla and Lupiana) and later, running 20 km around the Fuente de la Niña, Paseo San Roque and Adoratrices facilities. The start is scheduled at 14:00 p.m. at the aforementioned Azud and the athletes are expected to arrive in Guadalajara around 16:45 p.m. to begin the running segment, estimating the arrival of the first runners-up after 18:00 p.m.: 21 hours and the last around XNUMXh.
The running area runs through the park near the Sonia Reyes Pool, Paseo San Roque, Santa Maria Micaela and the finish line on the Athletics Tracks. Participation is around 230 triathletes, with a record of local participation representing 15% of those registered, a remarkable fact given the recognized hardness of this test.
As for the favorites, a beautiful show is expected, since the level is very high in this edition, with more than 10 firm candidates for victory, highlighting Alejandro Santamaria (5 times champion in Guadalajara), Jose Almagro (former cyclist and champion in Palmaces), Alvaro Velazquez, Ivan Tejero or Salvador Gil, without forgetting the Portuguese participation that always contributes its leading figures (we will have the Champion of Portugal in Medium Distance) or the locals Carlos Pomar and Alberto Codinach who, in full preparation of the Cto. of the World in Hawaii, they do not want to miss the Guadalajara test.
In women, the favorite is the international triathlete immersed in the Olympic classification Ana Burgos, who already won in the last edition, but Estefanía Dominguez, Cristina Azanza or the local Yolanda Santos, will surely present a tough battle. Everything is already prepared from the organization of the Guadalajara Triathlon Club, which has the main sponsorship of the Hon. Guadalajara City Council, and the outstanding collaboration of the Provincial Council, also having the support of the Community Board and the Pareja City Council and companies such as Proin Balizamientos, Coca Cola, Fontvella, Heavy Rent, Gesfrio, Alberto Doñoro Physiotherapy,…. .
And as it could not be less for the structure of such a complicated test we have the support of the Civil Guard, Local Police, Civil Protection and Red Cross, and about 200 volunteers from different sports clubs in Guadalajara and surroundings, who collaborate effectively to that the test passes with the necessary security. We thank all of them for their collaboration. From the organization, invite you all to enjoy the spectacle that this test supposes.
Source: globalhenares.com