The Reinosa-Alto Campoo White Triathlon suspended due to adverse weather conditions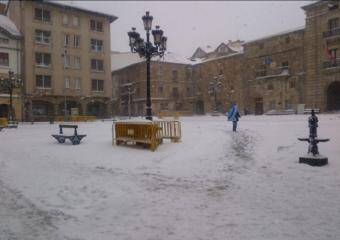 The adverse weather conditions lead the Reinosa City Council to suspend the celebration of the XXVI Triathlon The Reinosa City Council has decided to suspend the celebration of the XXVI White Reinosa-Alto Campoo Triathlon, XXII regional Championship and scoring for the Spanish Cup scheduled for this Saturday 4 of February.
The decision, announced early in the morning by Sports Councilor Sergio Balbontín, has been adopted "as it is not possible to guarantee the safety of the athletes on their way up to the Alto Campoo Winter Station." A circumstance marked by the current state of the access road and joined by the "unfavorable weather forecasts issued for this weekend, in which exceptionally cold temperatures will be recorded." In this sense, the mayor has stressed that "the regulation of the Spanish Triathlon Federation prohibits holding a competition with records lower than -18ºC". Some records that could be achieved this Saturday at the facilities of the Winter Station.
Prior to the announcement of the suspension of the test, Sergio Balbontín has met with all the institutions, associations and clubs involved in the organization of the Triathlon as well as with members of the Spanish and Cantabrian federations. Finally and after listening to all the entities involved "it was decided, together with the technical delegate of the event and member of the Spanish Triathlon Federation Joaquín Hevia, to suspend the event".