Zarautz triathlon will have more than 650 triathletes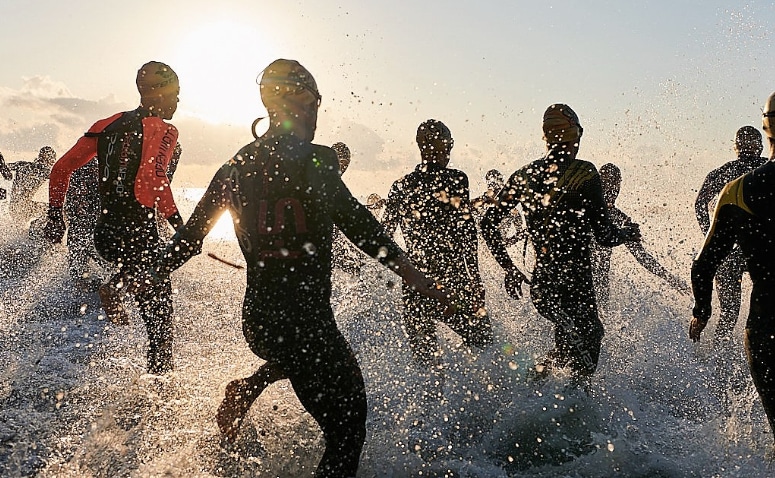 The traditional Zarautz Triathlon, which in its 25th anniversary will be called BH Zarauzko Triatloia 2011, will have more than 650 participants on June 11, among which will be the best specialists on the planet, as announced yesterday at the presentation ceremony at the The regional deputy for Sports, Iñaki Galdos, the mayor of Zarautz, Jon Urien, Zigor Saizar, vice president of the Zarautz Triathlon Association, and José Torres, representative of the TriGrandPrix world series, among other personalities, were present. To celebrate this XXV edition, the organization will prepare various events in order to create a festive atmosphere.
The Zarauzko Triatloia 2011, whose registration for last year's participants will open this Saturday and for the rest on March 5, will count, for the moment, with the participation of Eneko Llanos, Timo Bracht, Clemente Alonso, Peru Alfaro, Michael Lovato, Mikel Elguezabal, Mathias Hecht, Ted As, Francisco Pontano, Ciro Tobar, Eneko Elosegui, Hektor Llanos, Kieran Doe, Rasmus Stubager, Richard Calle, Tom Sturdy, Víctor del Corral and Xabi Boneta, in the male category; while in women they will be Cat Morrison, Amanda Lovato, Ana Casares, Angela Naeth, Lucie Zelenkova, Rachel Joyce, Eva Ledesma and Julia Grant. The Zarautz Triathlon can boast of this cast of top-class triathletes because the test is part of the TriGrandPrix world series.
On this occasion, the bicycle section will vary slightly in order to close traffic in both directions of the 76-kilometre route. In addition, the distance to swim will be 2,5 kilometers and the one on foot, 20 km.
the inscriptions Registration, which will open next Saturday under the aforementioned terms, will cost 100 euros for those athletes who have the chip and 102 euros for those who do not. It should be noted that the organization will distribute 20.000 euros in prizes for the first classified.
Among the festive activities that will be carried out are a sports-gastronomic fair in which the stands the exhibition will be occupied by sports brands and specialized triathlon stores and will be combined with those of txakoli and other gastronomic products; music at various points along the route; and departure on Sunday June 12 -the test will be on Saturday the 11th- to get to know the area, which will include visits to txakoli wineries.