Triathlon News
The Madrid triathlon celebrates the success of the 2019 at its Triathlon gala
For the third consecutive year, the season closes with a party in which the best clubs in Madrid are rewarded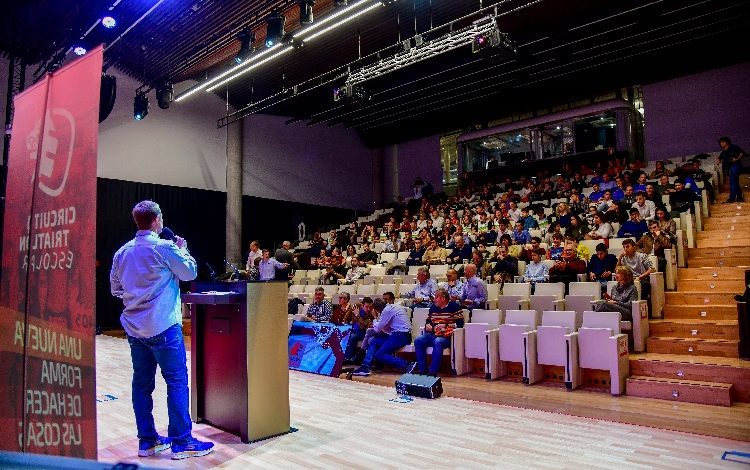 The Madrid Triathlon Federation held on Wednesday November 20 in the afternoon the Madrid Triathlon Gala 2019.
For the third consecutive year, the season closes with a party in which the best clubs Madrid residents 2019 and best athletes cadets, children and fry of the School Triathlon Circuit.
The Santander Bank Auditorium, one of the sponsors of this Federation, has been the stage in which it has been consecrated Marlins Triathlon Madrid as the best Madrid club 2019, winning both the men's and women's classification.
In 2020 there will be € 15.000 in prizes
The Federation has endowed this ranking with 10.000 euros in the current year and the prizes for the best teams involved in the Madrid calendar will rise to 15.000 euros in 2020.
This was stated by Ramiro Lahera in his speech, in which he also reported that in 2020 another 10.000 euros will be allocated in scholarships to Madrid triathletes.
The 2020 calendar was presented
The President of the Madrid Federation has also taken the opportunity to present the 2020 calendar (the 2019 calendar had 27 tests) and to present its Board of Directors and the work group of the Federation itself.
Athletes from the 2019 award-winning men's and women's clubs attended the 10 Madrid Triathlon Gala (28 scored in the women's ranking and 64 in the men's; there are 116 federated clubs in Madrid), the 18 triathletes on the podium in the Triathlon Circuit School, representatives of the sponsoring companies of the Federation (Banco Santander, Coca Cola, Orca, Skechers and Visiorama) and various authorities.
Among the different sports authorities, point out the presence and the words of José Hidalgo, President of the Spanish Triathlon Federation, and Alberto Álvarez Filgueira, General Director of Infrastructure and Physical Activity and Sports Programs of the Community of Madrid.
Sara Bonilla, Adrián Escanciano and Felipe Gutiérrez awarded at the gala
Enrique Álvarez, president of UFEDEMA, was also present. The Gala has also recognized the work, effort and career of 3 people related to the Madrid triathlon.
triathlete Sara Bonilla, an example as an athlete and as a person, Adrian Escanciano, on behalf of Madrid officials, and Felipe Gutiérrez for his long career as a coach.
More than 5.800 federated
2019 ends and 2020 begins, the Olympic year, where the federation faces with great enthusiasm and enthusiasm to continue a work that has left more than 5.800 federated in Madrid this year, also taking into account that a quarter of the triathletes are women.