Triathlon Villa de Madrid gathers 3.300 triathletes at the premiere of the Škoda Triathlon Series 2014 circuit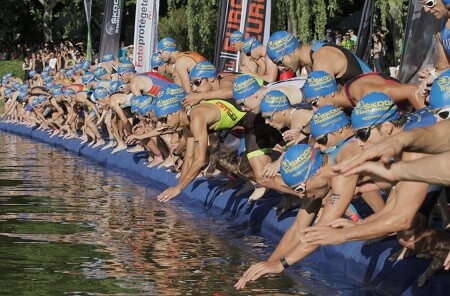 After a first day devoted entirely to popular distances, José Almagro and Natalia Raña were the winners of Half
El Triathlon Villa de Madrid has opened the circuit season Škoda Triathlon Series 2014 This weekend, 28 and 29 of June, 3.300 triathletes have gathered at the Casa de Campo to star in two intense days of popular sports. With distances for all types of athletes, from the Supersprint (350 m swimming / 7,7 km cycling / 2 km race on foot) to the Half (1,9 km swimming / 80 km cycling / 21 km race on foot), the Villa de Madrid has become, one more year, one of the triathlons of reference at national level.
On Saturday, the shortest distances took all of a marathon day that lasted beyond twelve hours. A party of the popular triathlon of which the public could be a participant thanks to the disposition of the tracings of the three disciplines (swimming, cycling and running on foot), all of them within the perimeter of the Casa de Campo.
Smiles and victories
Javier Lorente (0: 28: 20) and María del Carmen Ramírez (0: 35: 19) debuted the finish line with their victory in the Supersprint, followed by Ramón Ejeda (1: 06: 32) and Sara Pérez (1: 19: 35), winners of the Sprint. In Olympic distance, the triumph went to Víctor Sánchez-Mariscal (2: 12: 25) and Ana Caleya (2: 35: 15). Along with them, thousands of athletes celebrated with a smile the satisfaction of having completed a challenge.
Already on Sunday, the same stage was reconverted to house the Short and the Half, both without drafting. Carlos Aznar (01: 55: 35) and Esther Leal (02: 19: 09) won the Short; while José Almagro (04: 01: 49) and Natalia Raña (04: 35: 32) were the winners of the hardest weekend race.
Last 72 hours to join Castellón!
After the Madrid competition, the Škoda Triathlon Series already travels to Castellón, where the 6 in July will be held the third edition of this event. After the registered 1.000, the Valencian test will close registrations in 48 hours.
Enjoy triathlon Choose your goal!
Further information: www.skodatriathlonseries.org