Emilio Martín, new Spanish Duathlon Champion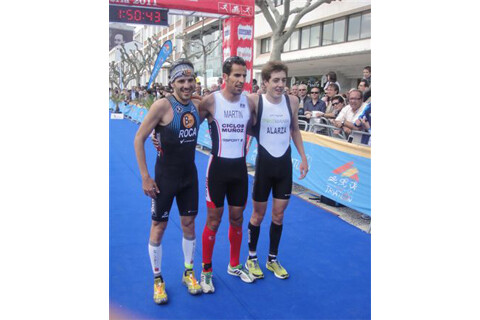 We all knew and expected that in Soria in the men's category there was going to be a strong fight to win the title. Nothing was clear and the pools were very open. At the start, the good runners: Martín, Fuentes Pila, Alarza, Roca... set a hellish pace and placed the more than one hundred participants in a long line.
At the time of the bicycle, there were three who took the lead and who would eventually occupy the podium places. Martín, a magnificent 1.500 athlete, showed that he is already a phenomenal duathlete. He has been training seriously since January more or less and since Friday, finally! He already has a good bike and as he said in post-finish statements "I went out with it for the first time on Friday, to try it out". It is nice to see new faces on the podium.
But Roger Roca, who was second and repeated last year's position, gave everything to be the Spanish champion and let's face it if he deserves it, but he found a rival who didn't let him breathe and who finally finished him off, now his hopes are in the Gijón World Cup.
And third the hope of our sport Fernando AlarzaHe was ahead, he fought with the best at all times and was able to be third and champion of Spain under 23. What is clear is that he still has victories in his legs, a true champion.
By clubs, the winner was the Kebi-Triathlon that was favored by the disqualification of Félix Javier Martínez since the Camargo Triathlon had achieved victory before that elimination.
The best duathlete in the age groups was Rubén Galván from the Crevillent Marathon who took 1:59:04.
The best were the following:
TOP 10 INDIVIDUAL
1º Martin Romero, Emilio Antonio- CT Morón 1:49:46
2nd Roca Dalmau, Roger- Cerrr Igualada 1:50:06
3rd Alarza Vicente, Fernando -Club Triatmania - Lusitania 1:50:27
4th Ruiz Ichazo, Kepa- Kebi Triathlon- 1:51:12
5th Santamaría Perez, Alejandro- ADTriatlon Camargo 1:52:06
6th Gil Martínez, Salvador- Ferrol Triathlon 1:52:12
7th Amatriain Arraiza, Raúl- Lagunak-Saltoki Trikideak 1:52:14
8º Vega Saiz, Manuel- ADTriatlon Camargo 1:52:15
9º Fidalgo Rosello, Miguel Angel Ada Calvia 1:52:24
10th Cáceres Lopez, Ivan -CT Diablillos de Rivas. 1:52:34
CLUBS
1º KEBI -TRIATLON- 5:36:34 (KEPA RUIZ / FERNANDO GOMEZ / JAVIER GARCIA)
2º CERRR IGUALADA 5:36:43 (ROGER ROCA / JAUME CONSOLA / PAU CASTELLVELL)
3rd CT DIABLILLOS DE RIVAS. 5:39:40 (IVAN CACERES / JUAN CARLOS NIEVA / MIGUEL ANGEL GARNACHO)
TOP 10 SUB 23
1º Alarza Vicente, Fernando - Triatmania Club - Lusitania 1:50:27
2nd Fidalgo Rosello, Miguel Angel -Ada Calvia 1:52:24
3º Sánchez Salmerón, Sergio - Deporama Triatlon Soriano 1:53:10
4th Candel Muñoz, Victor -Tragaleguas.org 1:53:22
5th Castellvell Bella, Pau -Cerrr Igualada 1:53:46
6th Moreno Molins, Albert -Cerrr Igualada 1:54:12
7º Gomar Garcia, Jesus - Cidade de Lugo Fluvial 1:54:57
8º Lopez De Haro, Pedro Antonio -Club Triathlon Cartagena 1:57:19
9º Rodriguez Valencia, Alberto- Tragaleguas.org 1:57:27
10th Cuchillo Bermejo, Guillermo -Ecosport Triathlon Alcobendas 2:00:30
CLUBS SUB 23
1º TRAGALEGUAS.ORG 5:57:15 (VICTOR CANDEL/ ALBERTO RODRIGUEZ/ ALEJANDRO GIMENEZ)
2º CERRR IGUALADA 6:04:02 (PAU CASTELLVELL / ALBERT MORENO / SERGIO BURON)
3rd DEPORAMA TRIATHLON SORIANO 6:37:01 (SERGIO SANCHEZ/ RUBEN SANCHEZ/ ANDRES APARICIO)
Source: FETRI