Enduroman, the 2012 starts with strength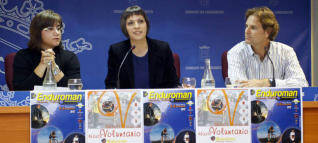 The II Enduroman Lanzarote Triathlon Festival, which will take place in the tourist town of Playa Blanca (Yaiza) on February 3 and 4, will double the number of participants in the first edition. Although registration will close on February 2, the official figures already reach the number of 202 participants in the four official distances that the event has: Olympic, Half Enduroman, Enduroman and Double Enduroman.
Of the 202 registered, 113 will participate in the Olympic Enduroman (swimming, 1,5 km; cycling, 40 km; and running, 10 km); 41 athletes in the Half Enduroman (swimming, 1,9 km; cycling, 90 km; and running, 21 km); 8 in the Enduroman (swimming, 3,8 km; cycling, 180 km and running, 42,195 km); and 40 in the Double Enduroman (swimming, 7,6 km; cycling, 360 km and running, 84,390 km).
Among the triathletes who have confirmed their participation, the presence of four components of the Spanish Olympic team stands out, such as José Miguel Pérez and Zuriñe Rodríguez, who currently accumulate the necessary score to be able to attend London 2012, and the juniors Uxío Abuín and Melina Alonso. In addition, athletes from Spain, Germany or Great Britain will attend, but also from Slovenia, Poland, the US, Guatemala and Colombia.
The Councilor for Sports of the Cabildo, Migdalia Machín, highlighted yesterday during the presentation of this event the "exceptional conditions that the island of Lanzarote meets for the practice of outdoor sports, especially in the winter season when in the rest of Europe - it's very cold and here we are at 20 degrees".
For his part, the organizer of the race, Félix Andrés, wanted to praise the response obtained from the island's public institutions to help organize the race, and also highlighted the collaboration of various sponsoring companies such as LA PROVINCIA / DLP, NH Resort Hotels, Flex, Hotel Hesperia Playa Dorada and the Hotel Princesa Yaiza. De Andrés highlighted the consolidation of a test that is unique in Spain. The mayoress of Yaiza, Gladys Acuña, described this type of sporting event as a "tourist reef" for the municipality.
Source: laprovincia.es