Eneko Llanos 3º in Ironman Cozumel. Peru Alfaro and Saleta Castro in the TOP 10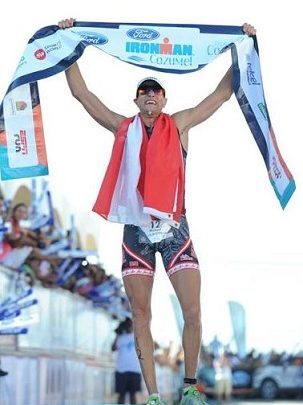 They had to shorten the swimming sector due to bad weather
This Sunday, the Ironman of Cozumel, where the Spanish Eneko Llanos that started as favorite, has achieved the 3º position. The Austrian Michael Weiss has achieved the victory setting a time of 7h55'23 "followed by Tyler Butterfield with a time of 8h02'42 "and Eneko Llanos with 8h05'21"
This was the first time Weiss has competed since 2011, after a 2-year sanction for having tested positive for a drug test in 2005 when he was competing as a mountain biker.
Due to the weather, the swimming sector had to be cut to 3 km, which meant that the triathletes got great times when they reached the finish line.
Eneko Llanos managed to reach the leading group on the 40 km of the cycling sector, which a little later White I overtake them getting to the start of the race with 10 minutes of advantage.
Already in the Weiss marathon complete the 42 km in a time of 2: 51: 23 that served him to arrive in 1º position with more than 6 minutes of advantage over Butterfield.
Highlight the great performance of Spanish Peru Alfaro who managed to finish in 7th position with a time of 8:29:04. While Iván Tejero I finish in 22ª position.
In the feminine category the British one prevailed Rachel Joyce with a time 8:52:28 followed by the North Americans jessie donavan with a chronometer of 9: 01: 12 and of Amanda Stevens with a final time of 9:06:40
We must highlight the great performance of Saleta Castro finishing the test in seventh position with a time of 09: 19: 32. The other Spanish representative Arrate Mintegui He had to abandon the test due to mechanical problems.
TOP 10 MASCULINE
| | | |
| --- | --- | --- |
| Name | Country | Finish |
| WEISS, MICHAEL | AUSTRIA | 7:55:23 |
| BUTTERFIELD, TYLER BARBOUR | BERMUDA | 8:02:42 |
| LLANOS, ENEKO | SPAIN | 8:05:21 |
| JASKOLKA, MAREK JERZY | POLAND | 8:13:29 |
| FROMMHOLD, NILS | GERMANY | 8:20:16 |
| DAERR, JUSTIN | USA | 8:27:11 |
| ALFARO SAN ILDEFONSO, PERU | SPAIN | 8:29:04 |
| CARVALHO, FABIO BOTELHO | BRAZIL | 8:31:12 |
| BLOKHIN, ANTON | UKRAINE | 8:34:06 |
| SKIPWORTH, TODD | AUSTRALIA | 8:36:58 |
TOP 10 FEMALE
| | | |
| --- | --- | --- |
| Name | Country | Finish |
| JOYCE, RACHEL SARAH | UK | 8:52:28 |
| DONAVAN, JESSIE | USA | 9:01:12 |
| STEVENS, AMANDA | USA | 9:06:40 |
| SCHARER, CELINE | SWITZERLAND | 9:12:40 |
| WEE, BREE | USA | 9:16:26 |
| CLIFFORD, ASHLEY | USA | 9:19:15 |
| CASTRO, SALETA | SPAIN | 9:19:32 |
| ARENDT, JACKIE M | USA | 9:27:05 |
| GROSSRIEDER, MONIQUE | SWITZERLAND | 9:29:57 |
| HOMO, MALAIKA | USA | 9:33:57 |
Photo:FinisherPix