Eneko Llanos closes campaign winning Arizona Ironman in less than eight hours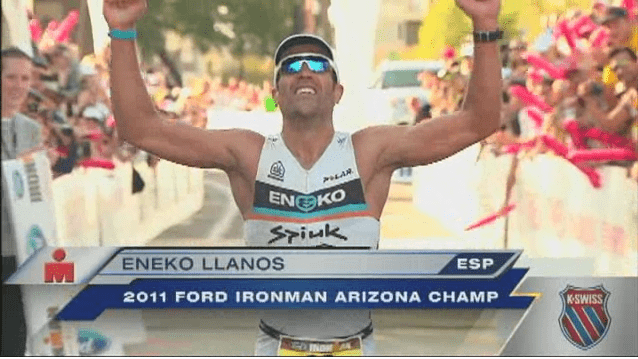 The Alavés Eneko Llanos has closed the season by winning the Ironman of Arizona held today, Sunday, in Tempe, United States, achieving a time of less than eight hours of race.
The man from Vitoria finished the race with a time of seven hours, 59 minutes and 38 seconds and becomes the second triathlete in history to finish below the eight hour barrier in an Ironman event held in the United States.
Eneko closed the 2011 season with this victory, after a hard fight in the race sector, ahead of the British Paul Arney, who crossed the finish line with a time of eight hours, one minute and 29 seconds.
This data demonstrates the good form of the player from Alava in the last round of the competitive calendar and the good preparation he has made for the race.
Llanos has been the strongest and has gone from less to more in the swimming, cycling and running sectors.
The man from Vitoria arrived in eleventh position at the transition between the swimming and cycling events, two minutes behind the head of the race.
On the cycling tour, Llanos has shown that it is the specialty he best masters because he has begun to surpass rivals to take the lead in the Ironman in the middle of the cycling sector, leading Arney by more than a minute and a half.
Llanos continued his good work on the bicycle and in the final change to get off the two wheels and start the final foot race, he was ahead of the Danish Martin Jensen and the local Tim O'Donnell by a minute and a half, while Arney lost almost two minutes from fifth place.
The man from Alava started off weak in the footrace, while Arney displayed all his strength and hunted him down at eleven kilometers, from which time they have gone together, taking a comfortable advantage over the rest of the rivals.
With the two favorites to win at the head of the race, the kilometers were consumed and, in the final stretch, Eneko burned the ships, distanced the Briton with less than four thousand meters to go and rode victoriously to the finish line.
Source: .abc.es