Eneko Llanos and Gurutze Frades are imposed in the ICAN Valladolid 2012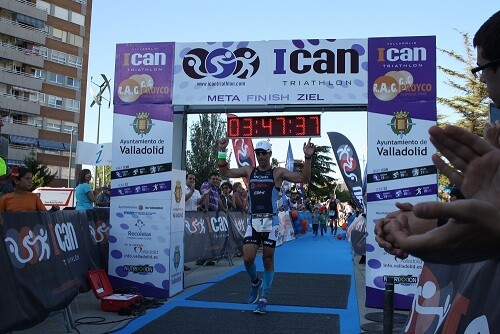 This Saturday, July 7, the first ICAN VALLADOLID 2012 triathlon was held with about 300 participants, which has had as great winners Eneko Llanos in the HALF ICAN, and Javier Barragán in the ICAN 52. The heat, the wind and the large influx of public marked a race that was enjoyed by triathletes and fans.
In the queen distance, HALF ICAN, the Vitorian did not disappoint, asserted his status as favorite and achieved the final victory with a comfortable advantage. He entered the finish line with a time of 3 hours 47 minutes and 37 seconds, leaving Juan Carlos Campillo Vicente at 24 minutes, who finished second. The podium was completed by his teammate from Molpesa-Univest, José Vicente Bermejo Martín, from Valladolid, who signed a time of 4 hours 18 minutes and 59 seconds. The bad news was the withdrawal from the foot race due to injury of Portuguese Pedro Gomes, who could not achieve a good result as he did at ICAN Marbella on April 15.
On the other hand, in the ICAN 52 test, Javier Barragán prevailed with a total time of 2 hours 22 minutes and 55 seconds, while Guillermo Bogas-Oliva stayed very close to victory by stopping the clock 1 minute and 15 seconds more late. The Valladolid from the Pisuerga Triathlon Club, Víctor Manuel González, used a little more time to finish the route, entering the finish line after 2 hours 28 minutes and 52 seconds of racing.
As for the girls, the Basque Gurutze Frades he claimed the final victory by stopping the clock after 4 hours 33 minutes and 48 seconds of the race. The second step on the podium went to Esther Leal, who entered the finish line 16 minutes later. Ruth Varona, third, arrived after 5 hours and 6 minutes of competition. For her part, Águeda Rodríguez Martín entered the ICAN 52 first with a time of 2 hours 41 minutes and 57 seconds, followed by María Eugenia Ortiz 15 minutes later. The third place was finally for Silvia Ruiz Lucio from Valladolid from the Atalanta Sports Club, who managed to reach the Millennium Dome after 3 hours 5 minutes and 37 seconds of racing.