Eneko Llanos and Mónica Sáez champions of Spain winter triathlon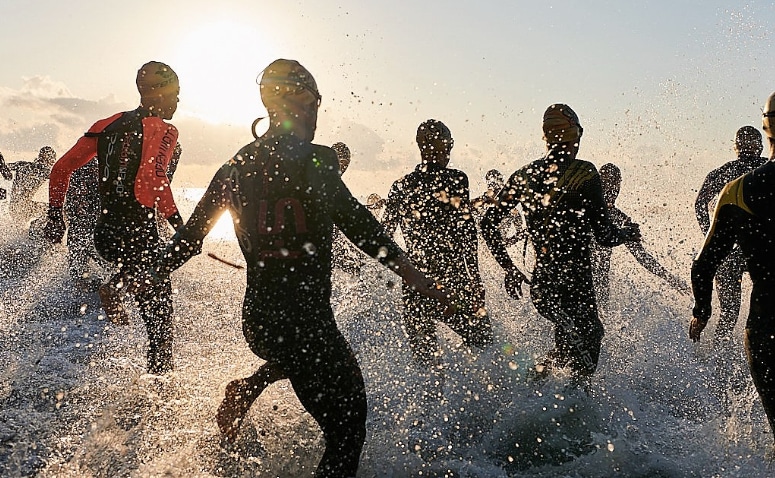 The XXV edition of the Reinosa Triathlon served to proclaim the new 2011 Winter Triathlon Spanish Champions.

After a dubious week due to the problems with the snow and the event was about to be postponed, the snow and the triathletes finally arrived at Alto Campoo, although they had to climb 4 more kilometers to the Chivo slopes which was the place chosen by those responsible for the station in order to ensure better track conditions.
At 11 in the morning the women left, of which Inmaculada Pereiro soon stood out, who was the champion of Spain last year and trying to distance herself from strong rivals who would undoubtedly prepare a strong fight from behind to get close to Inma at ski slopes.
And after a hard climb with cold, wind and snow, the fight focused on the ski circuit and there the best was the Mayencos triathlete, Mónica Sáez, who achieved her first national title. Behind the fight was between Ana Casares and Inmaculada Pereiro herself, with the silver medal for Ana Casares from Navarra, while Inmaculada had to settle for bronze, thus losing her hegemony in the winter triathlon.
But who really arrived at Chivo in first position willing to prove to be the most complete was Eneko Llanos that from the first meters of the race on foot he already took the head of the race so as not to leave it and crossing the finish line in first position with a three minute difference with the second classified. Therefore, a victory for Eneko that he did not yet have in his palmares and that is finally crowned in Reinosa as the best in the specialty.
Behind Jon Erguin, fighting with the Aragonese Sergio Gimeno finally completed the podium and highlighting the fourth place of Juan Carlos Apilluelo who despite his birthday is among the best. Perhaps his preparation as a summer triathlete looking to do long-distance tests make him relive a state of unbeatable form.
Reinosa gave the stature in its XXV edition and it was an excellent test where some tough and magnificent triathletes showed that the toughness of the test is not enough to make them put their feet on the ground. Congratulations to everyone, where you must undoubtedly include the hundreds of volunteers who fight for this test to continue in the gap after these twenty-five years. Happy Birthday Reina.
The best ones were:
Elite Men
1º LLANOS BURGERA, ENEKO SVC- SECURITY 2:02:34
2nd ERGUIN DORRONSORO, JON TRIGOI TT 2:05:32
3rd GIMENO BLAS, SERGIO M. DUATLON FONCASA-CALATAY 2:07:15
4º APILLUELO FERNÁNDEZ, JUAN C MAYENCOS BRICO-JACA TRIAT 2:09:58
5TH ZALAKAIN ERBITI, EGOITZ KRAFFT ATLETICO S.SEBASTIA 2:14:15
6th LÓPEZ ALLUÉ, MIGUEL STADIUM CASABLANCA- 2:15:28
7th GARCIA AJA, FERNANDO SVC- SECURITY 2:17:23
8th ROZAS OSINAGA, IKER LAGUNAK-SALTOKI 2:17:58
9º OF THE UNANUE DAM, MIKEL STAND TECNUN.COM TRIAT 2:18:17
10th GARCÍA COLÁS, JESÚS ALBERT DUATLON FONCASA-CALATAY 2:20:37
Female Elite
1st SAEZ TOLEDANO, MONICA MAYENCOS BRICO-JACA TRIAT 2:33:31
2ª CASARES POLO, ANA AC TRIATHLÓN 2:35:38
3rd PEREIRO GONZALEZ, INMACULA SVC- SECURITY 2:36:31
4th BONASTRE RODRIGUEZ, MERCH CNPRAT-TRIATLO- 2:52:39
5th MAGALLÓN VALLEJO, YOLANDA MAYENCOS BRICO-JACA TRIAT 3:01:47
6th ARAGON FALCES, MARI CRUZ MAYENCOS BRICO-JACA TRIAT 3:04:12
7th AUBESO MARTÍNEZ, NURIA UNO ADVERTISING TRAGALEGU 3:05:51
8th ARIAS JANUARY, ESTHER MAYENCOS BRICO-JACA TRIAT 3:07:41
9th FARRIOLS ARIMONT, IVET CNREUS PLOMS- 3:10:33
10th BARRERO FRANQUET, ANNA CNREUS PLOMS- 3:12:01
Women's Clubs
1º MAYENCOS BRICO-JACA TRIATHLON 8:39:30
2nd CNREUS PLOMS- 9:53:01
3st CT DIABLILLOS DE RIVAS. 10:30:10
Men's Clubs
1st DUATHLON FONCASA-CALATAYUD 7:02:39
2nd LAGUNAK-SALTOKI 7:23:23
3rd ADT CAMPOO-REINOSA 7:26:26
FEMALE AGE GROUPS
JUNIOR
1st ONA PALLISE SUBIRATS CNREUS PLOMS- 3:30:27
SUB23
1ª IVET FARRIOLS ARIMONT CNREUS PLOMS- 3:10:33
GRUPO 20-24
1º BEATRIU GÓMEZ FRANQUET CNPRAT-TRIATLO- 3:20:58
GRUPO 25-29
1º ANNA BARRERO FRANQUET CNREUS PLOMS- 3:12:01
GRUPO 30-34
1 st ESTHER ARIAS JANUARY MAYENCOS BRICO-JACA TRIAT 3:07:41
GRUPO 35-39
1st YOLANDA MAGALLÓN VALLEJO MAYENCOS BRICO-JACA TRIAT 3:01:47
GRUPO 40-44
1st MERCHE BONASTRE RODRIGUEZ CNPRAT-TRIATLO- 2:52:39
GRUPO 50-54
1ª MARTA GIRIBET ABASOLO INDEPENDENT 3:24:10
MALE AGE GROUPS
JUNIOR
1st ALEX ALTUNA VELASCO ANTXINTXIKA TALDEA TRIATLOI 2:30:16
SUB23
1º LUCAS OJANGUREN FERNANDEZ GOAL LINE 3:19:51
GRUPO 20-24
1º FELIX MOLINA ARGUEDAS DUATHLON FONCASA-CALATAYU 2:56:59
GRUPO 25-29
1º MIGUEL LÓPEZ ALLUÉ STADIUM CASABLANCA- 2:15:28
GRUPO 30-34
1º EGOITZ ZALAKAIN ERBITI KRAFFT ATLETICO S. SEBASTIA 2:14:15
GRUPO 35-39
1st MIKEL DE LA PRESA UNANUE STAND TECNUN.COM TRIATH 2:18:17
GRUPO 40-44
1º ETOR MENDIA ZUFIRIA TRIGOI TT 2:28:51
GRUPO 45-49
1º JUAN CARLOS APILLUELO FERNÁNDEZ MAYENCOS BRICO-JACA TRIAT 2:09:58
GRUPO 50-54
1º JOSE MUJIKA IZAGIRRE SD UROLA KE 2:25:51
GRUPO 55-59
1º DANIEL GARCIA LOPEZ ADT CAMPOO-REINOSA 3:23:28
GRUPO 60-64
1º SISEBUTO GONZALEZ GOMEZ ADT CAMPOO-REINOSA 3:27:29
Source: www.triatlon.org