Interview with Gómez Noya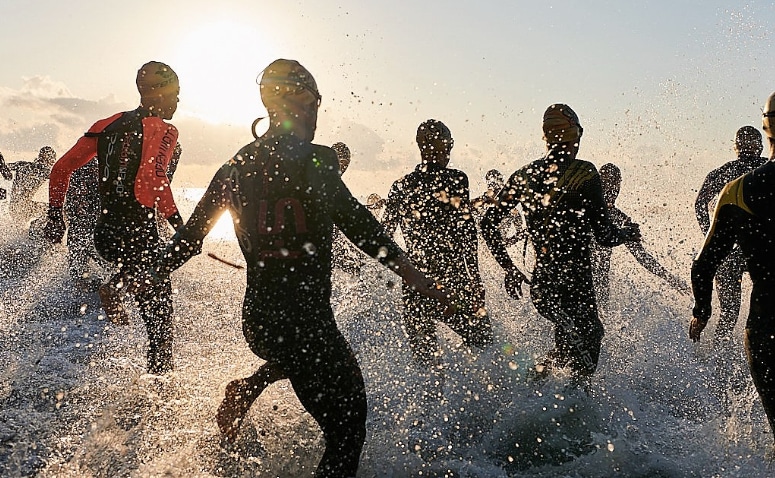 Javier Gómez Noya faces 2011 with his mind set on securing qualification for the London Olympic Games next year. Precisely the triathlete has been in the English capital recording an advertisement for Powerade and, while we share filming with him, we take the opportunity to talk about his goals, his previous Olympic experience in Beijing, the World Cup he won last year and Operation Greyhound.
We are in London, where in August 2012 will be the Olympic Games, a circuit that you know well from the World Cup ...
I have a very good feeling about racing here in Hyde Park. For example, last year was one of my best races and I won. Whenever I go out to train here I feel very good, I like it because of the climate because it is perhaps very similar to Galicia, but I also know that it does not mean anything, that in the Games it will be a completely different race. What you have to do is arrive well prepared, fit, without injuries and fight that day.
Fight like you did last year when you ended up proclaiming yourself world champion
Last year he started with an injury just a week before the first competition, when he was in pretty good shape and highly motivated. A discomfort appeared in the hip that left me touched for a month. I missed the first two competitions and all the form you lose from not training. The second race had no discomfort but I was not in good shape, I finished twelfth, a result that is not bad but it is if you aspire to the World Championship. In Madrid I already finished fourth, at a decent level, in the second European Championship and I began to get good results until I reached the final with a real chance of becoming world champion, which was not easy but as things turned out I was lucky and my rival did not have a good day but other times I had bad luck. Sport is like that and in general terms it was a great year and I value it very much for that, for having had problems at the beginning and for having been able to overcome them and achieve the objective.
And speaking of goals, which one have you set for yourself this season?
The first thing is to try to ensure qualification for the Olympic Games, if I'm at the level I've been up to now I shouldn't have a problem and there's a competition that especially motivates me and it's the European Championships because it's in Pontevedra, where I live. It only lasts one day and we are going to use it as a test for the Games. It makes you sharpen the preparation for tests that are only in one day. It is June 25 or 26. Especially to see if changes need to be made. Finding the set-up in this sport is difficult. Being three disciplines is not exact, you have to be good in all three on day D at time H.
Which reminds me of the Beijing Games. This year the last test of the world series is the Chinese capital. You return to a scene of not very pleasant memories...
I have good and bad memories. Bad for the Games, I was not as I would have liked with a lot of problems due to the heat, but I won in that same circuit in 2007, which makes me think that each race is different. The fact that you have achieved a good result one year does not mean that the following year you will do the same or vice versa. In the end, the rivals and how the race is going is what hardens the tests. The Beijing circuit is nothing special, it's not one of the flattest, there's a climb on the bike but in general it's going well for me. I don't think too much that in that circuit I was not very good at the Games because three years before I was. It will be one more race and to enjoy it, it will simply be the same scenario.
How does one recover emotionally when things don't go as planned?
It was a hard hit but I didn't stress too much either. I knew that I had been dragging an injury for a long time, which then cost me six months to run again after the Games. I gave everything I had, did everything I could and finished fourth. Maybe I heard a lot of criticism later, people who don't care about you for four years and then demand a medal from you. I have learned to pass, I do this because I like it, because it is my passion and whoever wants to value it should value it.
Come on, you do not do it for the medals
In Spain we are very given to talking about medals and starting to count them but those who count them don't know the sacrifice it costs even when they are well. There are sports that are more random than others, sports with a very important tactical component, including triathlon. You have to make many decisions in the race, whether or not to attack, when to do it, pay attention to the movements of your rivals and that means that the strongest does not always win. A one day race is almost a lottery. What we have to do is arrive as well as possible and fight that day like never before. Hard times make you learn. When everything goes well and you win, you always don't reflect too much on what you've done, but when things go wrong you think about why, preparing for the day of the race, what you did wrong and that makes you try to avoid them for the next race. There are always going to be good times and bad times, but you have to try to maintain mental stability: neither excessive euphoria when you win nor collapse when you lose. In this aspect I never doubted myself for having finished fourth in the Games, I know that I am capable of winning because I have already won many times but I am also realistic and I know that there are many very good rivals who can win. The important thing is to work well and not have injuries. With age you realize that the important thing is not to get injured because being well I can compete at a high level.
How does a triathlete take care of himself?
You have to take great care of yourself at all levels. You have to take care of your body with stretching, physio sessions, and also food, rest... It is a sport that can be quite harmful, especially due to the fact of changing from the bike to the race on foot. You have to be careful. Luckily I have not had many serious injuries, I was unfortunate that the most serious one was before the Games but as I get older I notice that my level is higher, that it is increasingly difficult for me to get in shape but when I do I walk more than a few years ago but also that there is more risk of injury. I train three sessions a day, one for each sport, plus gym, stretching... and when you realize it, the day is over. We are not machines, there are times when you need to disconnect, be with friends and not train so much. You have to give your head a break.
In Spain we are still immersed in Operation Greyhound, you who compete at an international level, do you think that Spanish athletes are looked at with a magnifying glass?
Yes, and I know it from my own experience. I pass more anti-doping controls in competition and surprise than the Germans or the English. We are always the same: people from Eastern Europe, South Americans and Spaniards. On the one hand, I think it's sad that news like Operation Greyhound is coming out, but on the other, I'm glad because there will be fewer cheats. What I would like is for it to be investigated to the end, for the appropriate measures to be taken and for there to be any sanctions that must be in place and for things not to remain up in the air because that damages the image of all Spanish athletes. Those of us who are clean are also in question abroad due to this news that is coming out. With doping there shouldn't be any kind of tolerance, I think the sanctions should be tougher. Let's hope that this time it goes all the way.
Source: www.marca.com