Interview with Iván Raña, prior to the last meeting of the WCHS to be held tomorrow in Yokohama Monday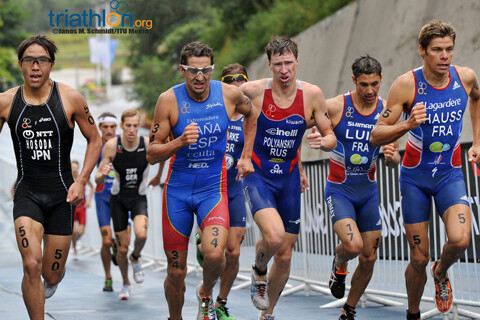 A few days after the celebration of the Grand Final of the Triathlon World Series in the Chinese city of Beijing, we have been able to speak with the Olympic Triathlete and Triathlon World Champion in 2002, Iván Raña, who will return to compete in the last round of the World Series in Yokohama.
Last weekend, in the competition considered the most important at the international level for Triathlon, Raña returned "to his old ways" offering us a spectacular race and finishing in the Top10.
After a year devoted to cycling at a professional level, Iván Raña returned to Triathlon this season. During all this time, Iván has maintained a constant battle to regain his level in swimming and running, and finally, the effort made is paying off, "Then I started running very well on the track, but not in triathlons. I refused to give in, to say that I had missed the train. When you see that it comes out… it excites her. Perhaps it is one of the moments that has filled me the most in sports. It's been like winning gold."
The Galician, Iván Raña, was the first in Spanish to proclaim himself World Champion, then later he would take over from Javier Gómez Noya, an Olympic triathlete who has already climbed to the podium 5 consecutive times in the World Series final.
Upon arrival at the finish line in the Grand Final of the World Triathlon Series, Raña told us about his feelings "The race was pretty clean, for me, in the water. I came out in 30th place or so, just as I thought. By bike it rained a lot, the wet road toughened the test a little more and also increased the tension in the group. In this segment I limited myself to riding sheltered from the wind, but attentive to breakaways. If there was a cut I would try to get in. I wasn't going to force it. I really wanted to see what my performance on foot was. In London I ran away and then on foot I didn't run to the limit, so I needed to see exactly how I was. Of course, I took one of the premiums on the rise, they are not bad.
In the foot race I came out strong. Plus I started running first. The Brownlees passed me and I decided not to follow that pace... I wanted to see how long I would last, but I let them follow their rhythm. My race was consistent, and I think on the last lap I ran well. I am very happy with this result. I have been working more than ever for two years to be at this level, again."
In the cycling segment we saw you take the lead in first position. What did you think at this moment?
"That he was beginning to notice me like before, and that he would go out for a run thinking that he would be in the top. He made me face the race with more determination. I love that moment, the tension in the group, knowing how to position yourself and find the gap "
Do you think the year in which you dedicated yourself to cycling has been noticed in this test?
" My time in cycling has helped me, but in the things that I lived there. Go in a peloton, for kms and relaxed. Knowing how to work as a team, riding in a fan, going down for water... The triathlon is very specific and it is run in a different way, my performance on the bike has increased, but 40km after swimming is not the same as riding alone. On longer distances or on climbs it also improves. That experience helps me not to lose the race if I get cut in the water.
But I have to tell you the most important thing that I learned, this I did live a lot ...do not give No matter how busted you go!
In the last 10 years, has the level of triathletes improved worldwide?
"Yes, it has improved. They are different times. The triathletes of before with the facilities of now would also walk more. Before there were many people recycled from another sport, not now."
How do you see the evolution of triathlon, equipment, training, food ...?
I see that the genetic quality of the triathletes is the same, but they come more prepared from a young age. That is what makes it more level. They are triathletes from a very young age. Matter hasn't evolved that much, I think. I think it's more of a professional issue. More money, help and more media coverage, that makes more people practice it, there is more youth."
Your arrival at the finish line just 44 seconds from the World Champion, makes us feel like we will have "Raña" for a while! It has been really exciting. !! Congratulations!! Tell us, what will your next challenge be?
"Being on the podium is my challenge. In 99 I made my first podium in the World Cup. At that time there were also phenomena. I ran with them, and now 12 years later I see myself in front again with other very good people. Adapting to today's rhythms, in a sport that evolves every day. For half a year as a cyclist and to redo myself as a triathlete. This has cost me a lot, a lot, that's why I hope to last longer here. There have been many days in which I thought about being home alone, because I did not run the same. If he needed more time to adapt or where he was failing. I trained twice as much and walked less than before. Then I started to run very well on the track, but not in triathlons. I refused to give in, to say that I had missed the train. When you see that it comes out… he excites. Perhaps it is one of the moments that has filled me the most in sports. It has been like winning gold. After the year of cycling I was running 12 seconds per thousand slower. Now I am in my time. And if I lose 2-3 seconds per thousand, I can be on the podium "
This weekend, we will be able to see Raña compete again in the last round of the World Series, Yokohama (Japan), where we hope to enjoy a great race as well.
The test was scheduled as the second of the appointments, but was temporarily postponed due to the situation in the country at that time after the tsunami.
In this event, the triathletes will again seek to improve their position in the world ranking to obtain the necessary points to go to the Olympic Games. Ainhoa ​​Murua and Javier Gómez Noya will not take part in this test, since they have already achieved their place for the Olympic Games after the grand final. But we will be able to see them compete in the Spanish Triathlon Championship that is held in Vigo today, Sunday.
In the last event of this year of the World Series we will be able to count on the presence in the Male Elite category of Iván Raña, Mario Mola and Jose Miguel Pérez. In Elite Feminine, Marina Damlaimcourt and Zuriñe Rodríguez.
The appointment will begin on Monday, September 19 at 08.05 for Elite Women and 11.05 for Elite Men, local time in Yokohama.
To follow the test live: www.triathlonlive.tv or via Twitter at twitter.com/triathlonlive
More information and Start List: http://yokohama.triathlon.org/