Interview with Javier Gómez Noya, "I always go out to win; If you don't come out to win, they pass you over"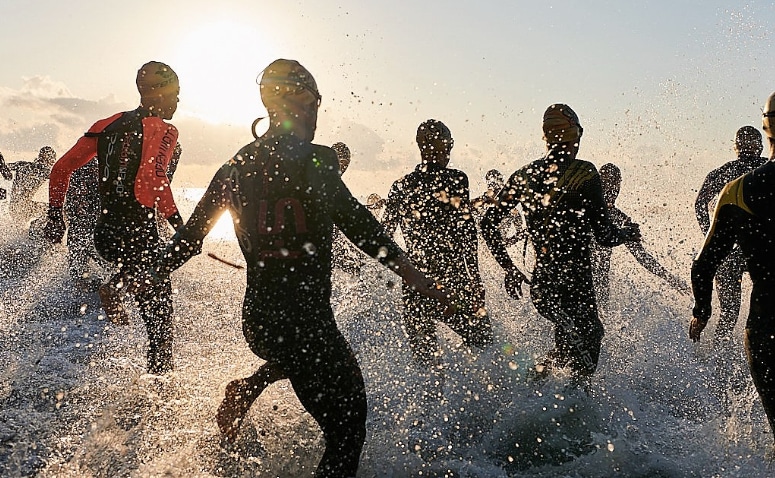 The Spanish Javier Gómez Noya, double world and European triathlon champion, who this Saturday will be the great attraction in the World Cup event that will be held in Madrid, where the leader of the competition arrives, told Efe that he "always" goes out to win and that he will do so this weekend.
"I always go out to win; If you don't go out to win, they run over you", he explained in a telephone interview with EFE from the Madrid town of Tres Cantos, where he has been concentrated for the last eight days preparing for the event at the Casa de Campo in Madrid, together with his coach - the Asturian Omar González- the Galician champion.
Gómez Noya returned to Spain on May 23rd after competing with his team (EC Satrouville) in a French Grand Prix test (which he won, in Dunkerque), to outline the two tests he has this month, which are very important for him: the World Cup in Madrid and the European Championship in Pontevedra, where he will fight, on the last weekend of June, for a third continental title.
"I wanted to acclimatize, because the Madrid test is always difficult for me. Perhaps because of the height, since I usually train at sea level. This time it seems that there will be less heat than last year and that will be good for me. And that the test is held at ten in the morning, too," the double world champion of the Olympic sport that combines swimming, cycling and running on foot told Efe.
Gómez Noya won the opening round of the World Cup, last April in Sydney (Australia), which is enough for him to enter the lead in Madrid, given that, due to the Fukushima catastrophe, it was postponed until September -after the Great Beijing Final- and scoring for next year's World Cup, the second race, scheduled a few weeks ago in Yokohama, also in Japan.
"The postponement of Yokohama did not change my plans much either and it did not affect me that much. The one in Madrid is a very important test, because it is from the World Cup and it motivates me, but almost even more important on this occasion is the European one, because it is a race that decides a title and this time it is held in Pontevedra, at home", he said Gomez Noya.
"That does not mean that in Madrid I will not go out and try to do the best I can. The goal is to win. I always want to win. Although the level is very high and that will not be easy. But if you don't come up with the idea of ​​winning, you don't win. They run over you", the Ferrol triathlete born in Basel (Switzerland) 28 years ago told Efe.
"In Madrid I think they will be, except (the British) Tim Don, all the best. I don't know if thanks to the postponement of Yokohama or not. But the whole world will be there, practically. And, above all, the (English brothers Alistair and Jonathan) Brownlee stand out, who are the ones who set the level right now. After what I have seen in the last sprint tests in France, I can guarantee that they are very strong", he declared.
"They are very similar," explained Javi, about the English brothers, with whom he shares a team in the French club league.
"Alistair is one point higher, but Jonathan is very strong, as he showed last year in London and this year in Sydney (he was second, behind him, in both tests). For me, they are the two great favorites for Saturday in Madrid", he told Efe to Gómez Noya, who, starting tomorrow, Wednesday, will already be in the Spanish capital focused on all the events related to the World Cup event.
"I don't know how the Spaniards are doing, because I haven't seen them for a long time, but (the Galician) Iván (Raña, world champion in 2002) has a lot of experience and Madrid motivates him, so he can do well. He had some good races this year and I'm sure he'll be there. (The Balearic) Mario (Mola), depending on swimming, can be dangerous. And Ramón (Ejeda), who lives in Madrid, will have extra motivation", he commented.
"In girls, (the Gipuzkoan) Ainhoa ​​(Murúa) is at a high level. The circuit is hard and it can come in handy. (From Biscay) Zuriñe (Rodríguez) and (from Madrid) Marina (Damlaimcourt) will try to get points", indicated Javi, for whom the Casa de Campo circuit "is one of the toughest in the World Cup".
"It is hard, above all, because of the eight climbs by bike to the cable car slope, about 800 meters. And if it's hot, it will be even harder. Running, in the going 'pica' up; and around, down. Madrid is more a test of endurance and strength than a fast race. It will be hard", concluded Gómez Noya.
Source: adn.es