Interview with triathlete Eneko Llanos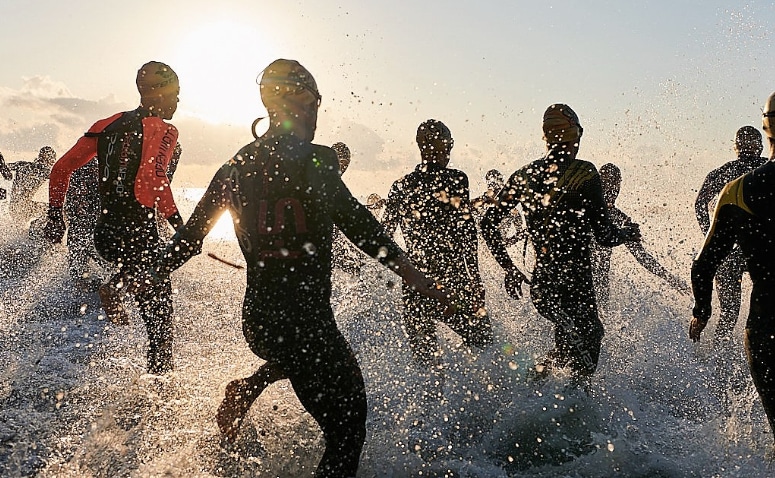 Eneko Llanos
considers that triathlon serves to fight against difficulties and to constantly improve oneself. A mountain fan since he was a child, he believes that sports related to this medium coincide with the effort and resistance that triathlon requires. His main sporting successes include having been runner-up in the Ironman World in 2008 and twice an Olympian (Sydney 2000 and Athens 2004). Its current sponsorships are POLAR (training computer and power meter), BH (bicycle) or Spiuk (clothing, cycling shoes, helmet and glasses), AVIA (running shoes), BAT Basque Team (aid from the Government of the Basque Country) , HED (wheels and handlebars), Sailfish (neoprene), Mulebar (energy bars and gels), SVC Seguridad, 3BAT (store specialized in triathlon).
How did you approach triathlon and since when do you practice it?
My brother Hektor started a few years before me and let's say he infected me. In 1993 I did my first triathlon and since 1997 I make a living practicing this sport.
What is your connection with the mountain?
I have been fond of the mountains since I was little and I also go out to train in it from time to time, both running and walking. In addition, I also do mountain triathlons.
How are a mountain triathlon different from an urban triathlon?
The effort and power you need is the same, but the skill and technique required in a mountain triathlon are greater. On mountain circuits, you have to be more technical when it comes to running and cycling, for example when controlling the descents.
How do you think triathlon and mountain sports are alike?
Both are endurance sports and, depending on the facet of the mountain, both require long-term efforts. They also share the desire to improve and the need to be constant.
Do you consider that being an athlete of your size is sacrificed?
It's hard, but I do what I want and I like. For me, that makes up for all the sacrifice.
Is it difficult for you to combine your personal and professional life?
My girlfriend is also a triathlete, although not a professional, and she is my greatest support, as well as a fundamental part of my team. My environment is closely related to the world of triathlon so most of the time my personal and professional life merge.
Why do you think triathlon practice has grown so much?
Because it is a challenge, and when you set yourself a challenge, work on it and finally overcome it, the satisfaction is so great that you immediately start thinking about the next one.
For someone who wants to prepare their first triathlon, what advice would you give them? In which of the three disciplines should I train more?
It will depend on your sporting past, but swimming tends to raise quite a few fears and fears. So I would advise you to sign up for a swimming course to properly learn the technique and gain confidence in the water.
What is your daily training based on? How many hours a day do you train?
It depends on the time of year. At times of maximum volume we do three daily sessions (swimming + bike + running) and at the end of the day we go around 7-8 hours of training.
How do you rate the use of heart rate monitors in your workouts? Do you use them in competitions?
It is an essential tool when it comes to measuring the intensities and rhythms at which I have to train. I use the POLAR RS8000CX daily in training and in all competitions. It is also an ideal tool for analyzing training and racing afterwards. Both the POLAR RS8000CX and the included Polar ProTrainer 5 software are ideal tools for planning and later analyzing workouts and race results. It helps both my coach and me to adjust loads and recoveries and thus optimize my performance to the maximum.
What have been the biggest difficulties you have encountered until you get to where you have arrived?
In elite sport, the most difficult thing is knowing how to stay motivated day after day, year after year.
What are your most immediate plans? And in the long term?
I have another season ahead of me with Cto. of the world of Hawaii Ironman in October. In the short term, in March I run the Abu Dhabi International Triathlon, which I won last year, and in April the I Can in Marbella. Once my life as a professional triathlete is over, I will continue to be linked to sport for sure, but we will see in what field, I still have many years ahead of me!