Triathlon News
Interview Miquel Blanchart «EL IRONMAN Lanzarote is the essence of IRONMAN»
Miquel will be back at the IRONMAN Lanzarote
We interviewed the Catalan triathlete Miquel Blanchart, who will be at IRONMAN Lanzarote again this year in search of his Slot in order to compete in the IRONMAN World Championship in Kona.
Miquel, trialteta Skechers ,, last year was third in the IRONMAN Barcelona and starred in some of the best comebacks in the foot race in the IRONMAN Lanzarote, where he achieved a score of 2:45:35, one of the best in the tough test.
Do you want to know your goals for the season, how are you and some tips to face the Ironman Lanzarote?
We asked him in this interview, about his fitness, his options, his goals for the season and to give us advice for all those who participate in this test for the first time, one of the toughest in the world.
Your first objective of the year is IM Lanzarote, which you are preparing thoroughly. How do you see yourself for the test? Do you see yourself with options to be upstairs?
On May 4 I will participate in the Half Infinitri of Peñíscola and it will serve me a little as a preamble for the Ironman of Lanzarote. So I will be able to see how I have prepared it and I will try to carry in the Infinitri the rhythms that I would have to carry in Lanzarote even a little higher to prove myself.
For Lanzarote I really look good, although the same thing always happens. It is as if I lived in another world, because you are training, the feeling is that you are doing your homework well, the sensations that you are training hard, the sensations are that the rhythms are good and that things look good. Then you get to D-day at H-hour and you see that there are people who are from another planet no and you understand how it is possible that they go so strong especially in the cycling segment. But hey, that's the grace of competition and live performance.
I see myself with options to be up. I always say that yes I arrive with a quarter of an hour compared to the first ones to T2, the options are good and I have options to be in head positions at the end of the test. But well we will see because in Lanzarote it is magical and everything can happen.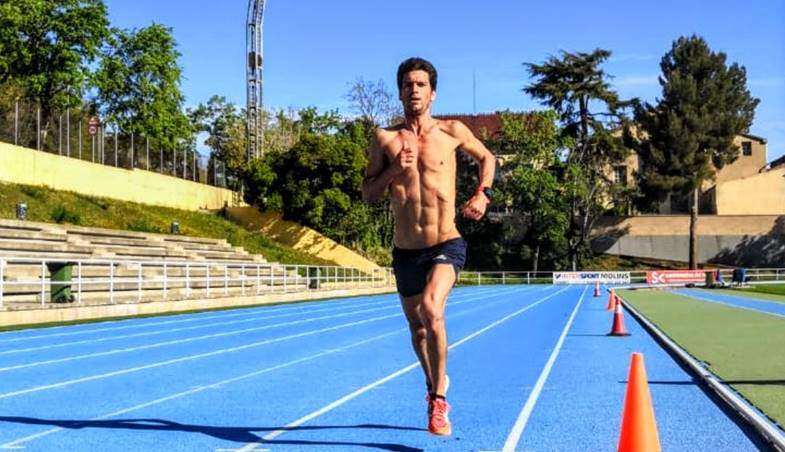 Does IRONMAN Vitoria enter your plans?
After Lanzarote, Vitoria enters my plans, is a test that has been done several times but not in IRONMAN format.
I love Vitoria, it is a city that turns to athletes and I think I will be on the starting line for sure.
If you get the Slot for Kona will you go?
If I get a slot for Kona I will surely go . For me it is the most important race, it is a race that I think I am very good at due to my conditions and it is a dream
I've been to a state once before, and the first time is the one you're most excited about and it's the time you enjoy it a little more.
But well as every human being we always want a little more, and I want to be again. I'm sure I will, I will want to be again and so on until the end of the days of Miquel Blanchart as a triathlete (laughs)
In your opinion, how do you see the classification change for Kona? Does it benefit or harm you?
As for the classification change for Kona, I think it's the same, I even think it's more fair now, because if you make a good result you are classified, instead before you could have a good result and not get the slot and that was not so fair.
If it is true that before, because it gives you a little more the vibe is that you were between the points and that more or less could be there and classified.
The most important factor in ranking for Hawaii is that you don't wear out as much. By the mere fact that you are or are not in Kona. If you see a starlist that there is already a level where there are three boys or three girls who are sure to beat you and who do not have a place because you have it very clear and do not compete, before you would have to do it.
Will you try to be in the Nice IM 70.3 Championship?
Try to be the IRONMAN 70.3 championship in Nice? No. I already see that in the 70.3 format I am not competitive. There are people who climb from a short distance that really impose dizzying rhythms in this type of test. Also it is not a test that motivates me much
Would you give us some advice for people who are facing IM Lanzarote for the first time? He is one of the toughest in the world and I'm sure people appreciate your experience in the test and as a coach.
The advice that I would give to people who go to the IM in Lanzarote is above all that enjoy the test.
Lanzarote is a test that really test your preparation, that is, you have to do the test your rhythm without looking at others, without getting hooked in any skirmish, without anything at your own pace, at your ball and make the test as uniform as possible, without any drops or anything. Think of eating every thirty forty minutes, drinking every twenty of thirty minutes and waiting to get off the bike.
You have to think that the bike is always half an hour or forty minutes more than in another test. Another important thing is to go down to the marathon and run at the rates set from start to finish
I already tell you it's a test that It is the total essence of IRONMAN and I think it is the best test for one for a person who wants to face this IRONMAN modality