Erik Merino second in the ExtremeMan Narbonne
Bad weather conditions forced swimming to be cut back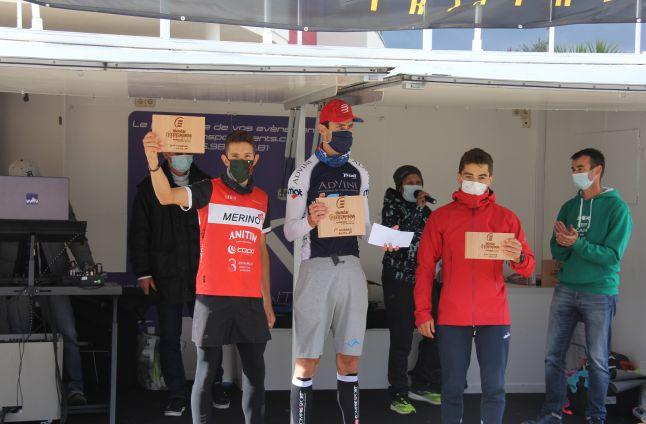 Erik Merino (Club Triatló Granollers) finished second in the Narbonne ExtremeMan Triathlon, a medium distance test held on Sunday September 28 in the French town of Narbonne.
The day dawned with strong winds and it is for this reason that the organization had to modify swimming course which consists of only two laps of 700m. Erik came out of the water just over 4 minutes from the head.
The cycling segment was also marked by the strong winds, more than 80km / h and force 8. The course consisted of 3 laps of 30 kilometers where the triathlete from Muntanyola climbed positions to place second.
The final leg of the running race was a duel between the race leader, French triathlete Bertrand Billard (ITU world long distance triathlon champion) and Erik.
The distance between the two at the start of the half marathon was 4 minutes, but little by little Erik recovered time until he was very close to the French triathlete.
A small intestinal problem forced him to stop in the bathroom and lose a precious 40 seconds.
At the end of the test Bertrand Billard he won with a time of 03:53:56 and just 15 seconds later Erik did.
In post-race statements Erik told us: "I am satisfied with the race, it has been a very hard day due to the wind. I have recovered a lot of time and by very little I have not won".
Results: chronoweb.com/resultats.php